Navistar International (NYSE:NAV) and activist investors Carl Icahn and Mark Rachesky reached a deal last week, allowing the pair to acquire 8 million shares and nominate two board members each. Combined, Icahn and Rachesky could own up to an almost 40 percent stake, up from 30. Widely seen as a move to stave off a proxy contest, Icahn and Rachesky already have bought extra shares in the truck, bus and engine maker and are likely to buy more. This news boosted Navistar's stock by 10 percent.
Navistar is trying to recover from a disastrous engine redesign that failed to meet environmental standards, wiped a billion dollars off its market capitalization and led to its management being replaced. Icahn criticized Navistar for appointing executives with no heavy truck experience and chided the company for its lack of meaningful engagement with shareholders, lavish spending on its headquarters and management's desire to protect their perks.
The agreement among Navistar, Icahn and Rachesky comes as the company releases its new heavy-duty truck line. Bill Kozek, formerly of PACCAR (NASDAQ:PCAR), was appointed to President of its North American truck and parts division, someone with heavy truck experience. Walter Borst, formerly of General Motors (NYSE:GM), became CFO last month. Given the concessions to activist shareholders, can Navistar turn around its dire performance, or is an other outcome waiting in the wings?
A review of the company's balance sheets is revealing. To offset declining revenues, Navistar essentially restructured its current debt obligations to long-term commitments and cashed in some long-term assets. While supporting its current liquidity, Navistar dramatically increased levels of indebtedness and sunk its negative book value even more. This company's balance sheet has never looked worse.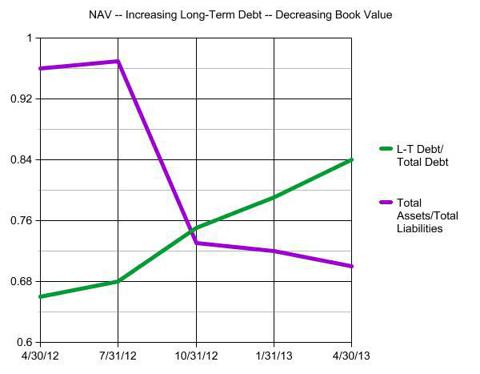 Click to enlarge
Earlier this month, Mario Gabelli, whose GAMCO holds around 12 percent of Navistar, hinted that Fiat Industrial (OTC:FNDSF) could be tempted to pursue an offer for the company. But Navistar's long-term liabilities, particularly its $3.6-billion pension fund deficit is a major discouragement to potential suitors for merger or acquisition. The pension fund actually sued the company over Navstar's EGR engine debacle.
In efforts to cut costs, Navistar this year slashed its research and development expenditures by more than a quarter from its 2012 peak. This is hardly a sign of a growth company. Navistar's stubborn promotion of its failed EGR engine is not likely to be followed by further attempts at innovation. Some have suggested that Navistar could pioneer natural gas engines in heavy trucks, but their commitment in dollars says otherwise.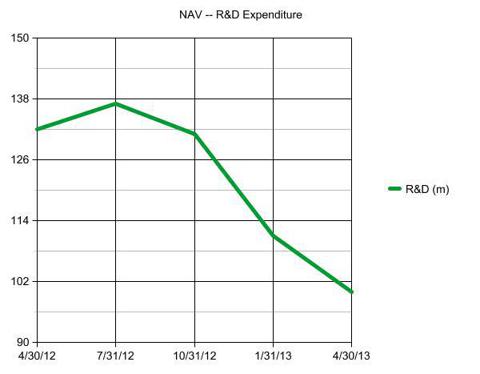 Click to enlarge
For all the drama and jawboning by insiders, there is little for investors to be excited about. Chronically declining revenues, huge debt and pension liabilities, and a lack of commitment to growth make this equity highly unappealing. Worse still is the damaged reputation of a company with deep roots, not only from its product flop, but from the public infighting among its board and major shareholders. Navistar's next earnings statement should be interesting, but this is no time to back up the truck.
Disclosure: I have no positions in any stocks mentioned, and no plans to initiate any positions within the next 72 hours. I wrote this article myself, and it expresses my own opinions. I am not receiving compensation for it (other than from Seeking Alpha). I have no business relationship with any company whose stock is mentioned in this article.