Hermès (OTCPK:HESAF) vs. Wal-Mart (NYSE:WMT); upscale vs. downscale. It hardly seems like a fair fight in these trying economic times. The venerable Paris-based fashion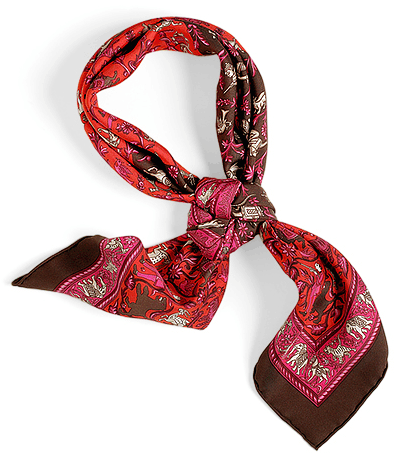 house, whose customers range from traditional royalty to Paris Hilton and Madonna pitted against the world's largest retailer, the Bentonville, Arkansas-based discounting behemoth, whose customers seem as likely to achieve fame on the Jerry Springer Show as anywhere else.
In fact, it is Hermès and the luxury retailers such as Louis Vuitton Moet Hennessy (OTCPK:LVMUY) that have been prospering as of late. Last month, Hermès reported a 12% revenue gain for the second quarter. Yesterday, Wal-Mart weighed in with a 1.4% decline in sales, citing "a sales environment more difficult than we expected."
For a reality check on some of the relevant stocks, I have included the ratio chart below (click to enlarge) from StockCharts.com. The ratio tracks a ratio of the Claymore/Robb Report Global Luxury Index ETF (ROB) to Wal-Mart. ROB's top holdings include Porsche, Daimler (DAI), BMW, Louis Vuitton Moet Hennessy, Hermès, Luxottica (NYSE:LUX), Pernod Ricard, etc. As the graphic shows, the luxury segment has been dramatically outperforming the discount retailer since the March bottom.
ROB has still not exceeded last Friday's top on an absolute basis or relative to Wal-Mart. While this fact is not yet noteworthy from a technical analysis perspective, it does bear watching going forward.
For a related post, readers may wish to check: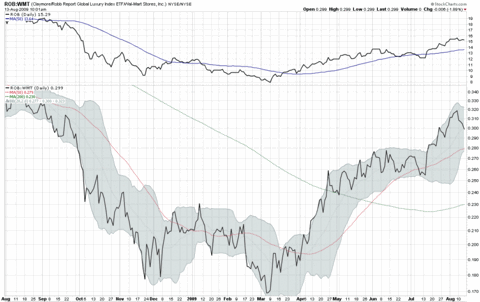 [source: StockCharts]