The other day I wrote about a smaller mall REIT, Pennsylvania REIT, in which I noted the value in smaller, lesser followed REITs. During the course of that review, I made a mental note to write about another lesser known mall REIT - CBL & Associates (NYSE:CBL).
CBL is one of the largest mall REITs in the United States and owns, holds interests in or manages 159 properties including 95 market dominant enclosed malls and open-air centers from coast to coast. CBL is an active developer of new regional malls, open-air centers, lifestyle and community centers. CBL was formed in 1978 and became publicly listed in 1993.
CBL is predominately located in the Eastern United States, but their geographic footprint has been increasing. The REIT has also diversified the types of malls in their portfolio.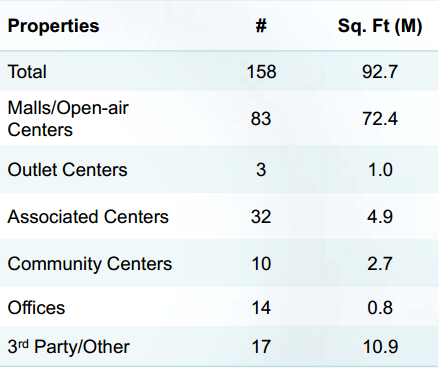 Supporting these malls is a strong tenant roster, where over 80% of gross leasable area is comprised of national and regional retailers.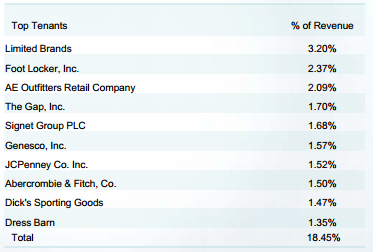 The two retailers I often see within anchored strip malls and larger malls that I am concerned about are Sears (NASDAQ:SHLD) and J.C. Penney (NYSE:JCP). Both of these retailers are struggling and their viability longer term is questionable. CBL's exposure to these two is manageable and consists of the following:
Sears
50 Owned Stores
20 Leased Stores (Avg. Occ Cost ~3%)
0.76% of Total Annualized Revenues
J.C. Penney
36 Owned Stores
39 Leased Stores
1.58% of Total Annualized Revenues
A broad geographic footprint and strong tenant roster work if the malls are occupied and profitable.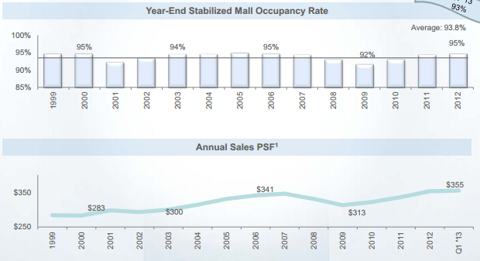 Click to enlarge
(Click to enlarge)
The strong occupancy rate and growing sales per square foot should lead to decent financial performance. CBL's management has been able to take these variables and translate them into financial performance (source: SNL).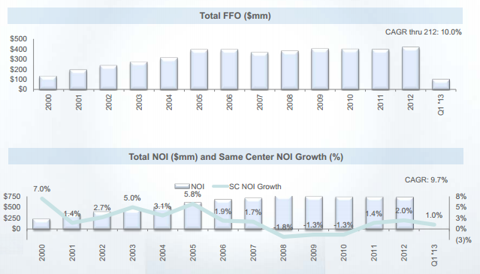 Click to enlarge
(Click to enlarge)
As the above charts show, CBL has been increasing FFO and NOI as a result of improving occupancy and sales per square foot. Their financial performance has not gone unnoticed. As a result of the REIT's performance and focus on reducing debt and unsecured NOI, they were recently upgraded by Moody's. From the company's press release on the rating:
Moody's indicated in their announcement that the Baa3 issuer rating reflects the strong financial performance and stable cash flows afforded by CBL's market-dominant mall portfolio with consistently high occupancy rates. In addition, Moody's noted CBL's healthy credit profile with a high EBITDA margin and solid fixed charge coverage ratio. Further, according to Moody's, CBL has demonstrated its commitment to growing the unencumbered net operating income ("NOI") and believes that continuing this strategy would lead to further enhancement of CBL's credit profile.
I believe that CBL is a financially sound REIT whose financial profile has been improving and should help continue to drive growth. If this is the case, then it has to be determined if there is any relative value in CBL & Associates.
In order to do this, a comparison between CBL and their peer group is in order. For this, the following mall REITs will be used as peers:
Simon Property Group (NYSE:SPG),
General Growth Properties (NYSE:GGP),
Taubman Centers (NYSE:TCO),
Glimcher Realty Trust (GRT),
Pennsylvania REIT (NYSE:PEI), and
Tanger Factory Outlets (NYSE:SKT)

Click to enlarge
(Click to enlarge)
The first thing you will notice in my summary is how CBL stands relative to the peer group and whether that is a positive or negative from a fundamental standpoint.
Looking at the price/FFO metric, which is significantly below the peer group and the next lowest (Pennsylvania REIT) and yet the REIT has a strong FFO/sh growth rate. The dividend yield is above the entire peer group, and given the low payout ratio, it is a sustainable yield. The price/book is a little high, but is comparable with the larger players in the sector.
Ultimately, I believe that CBL & Associates is undervalued and should see upside due to FFO growth and multiple expansion. In addition to the capital appreciation, an investor gets paid the highest dividend yield in the sector.
Turning to the preferred stock, the following is a comparison to the same peer group (those with preferred stock):

Click to enlarge
(Click to enlarge)
I have highlighted those yields that are the highest in their category. As we can see, PREIT has the highest yields in three of the four yield categories. CBL, while having respectable yields and a strong financial profile, does not present a yield focused opportunity within the sector.
Bottom Line: I like the equity profile of CBL & Associates and believe there is upside in the REIT's stock. The preferred stock, however, has a decent yield but is more appropriately priced and does not appear cheap.
Disclosure: I have no positions in any stocks mentioned, and no plans to initiate any positions within the next 72 hours. I wrote this article myself, and it expresses my own opinions. I am not receiving compensation for it (other than from Seeking Alpha). I have no business relationship with any company whose stock is mentioned in this article. This article is for informational purposes only, it is not a recommendation to buy or sell any security and is strictly the opinion of Rubicon Associates LLC. Every investor is strongly encouraged to do their own research prior to investing.