NQ Mobile (NYSE:NQ) is a rapidly growing global mobile platform company (2013 revenue growth over 100% y/y) trading at an ultra-depressed valuation. NQ closed at $10.98 on July 19, 2013. My price target is $44.00. I know that such a large gap between NQ's current trading level and my price target will be met with skepticism. Frankly, I was skeptical too as I was performing my due diligence and analysis.
I first wrote about NQ on Seeking Alpha in November 2012, when the share price was just over $5.00. Since then, I have spent several days at both NQ's U.S. headquarters in Dallas and NQ's China headquarters in Beijing. I have had over 60 conference calls and exchanged over 600 emails with various members of NQ's management team. I located ex-employees of NQ and some of NQ's current distributors in China (without the assistance or knowledge of NQ) and met in-person in China with several of these people to cross check information. I have also met in-person with the management teams of NationSky, FL Mobile and Yidatong. I have gained strong conviction in the strength of NQ's business and the path forward.

Click to enlarge
NQ has 3 strategically synergistic business units that are all performing extremely well. In fact, the company told investors last week that NQ is "firing on all cylinders" on a conference call where NQ preannounced a revenue beat for 2Q13 (July 15, 2013 Conference Call, VP Capital Markets Matt Mathison). NQ's three business units are:
Consumer - NQ is a leading global SaaS provider of security and productivity solutions for smartphones with over 325 million registered users.
Enterprise - NQ's NationSky subsidiary provides enterprise mobility hardware and software solutions (including mobile security) for more than 1,250 large and medium enterprises in China. A key growth driver for NationSky is its mobile device management (MDM) product offering, NQSky.
Mobile Games and Apps - NQ's FL Mobile subsidiary is a leading mobile game publisher and operator in China, with a mobile interest-based community platform that engages users in real-time mobile online gaming activities.
Several positive events have occurred over the last four weeks that make NQ a better buy at/around $10.98 now than at any other point ever.
June 24, 2013 - Target (NYSE:TGT) and NQ announced a partnership where Target will sell all three of NQ's software products in over 1,500 Target stores in the US. The Target relationship increases the number of US retail stores selling NQ's software mobile products to over 3,500. I expect the Target relationship to generate over $6 million of the incremental EBITDA annually for NQ (below). I believe my assumption for the number of Android smartphones sold per store per day is likely quite conservative in the Expected case.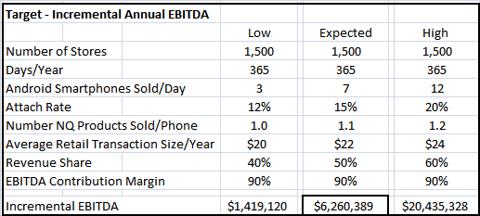 Click to enlarge
June 25, 2013 NQ Hires VP of Capital Markets, Matt Mathison - Since NQ's May 2011 IPO, the company severely lacked Investor Relations competence. NQ's management team formally believed if the company just delivered stellar financial results (which NQ has done every quarter since its IPO), Wall Street and institutional investors would discover NQ, invest time to do due diligence and the stock would trade at a fair value. Admittedly, this was a naïve perspective. Matt Mathison is a seasoned well-respected Wall Street veteran and joined NQ at the end of June. Matt previously worked at Goldman Sachs (NYSE:GS), was one of the founders of Wedge Partners and then became the portfolio manager of WP Asset Management (Wedge's hedge fund). Matt has extensive experience with US-listed Chinese companies. He is a perfect fit for NQ. One of Matt's early priorities is to present NQ's story to relevant institutional investors. Though Matt has only been onboard for a few weeks, he has already made a positive impact. I am confident NQ's holder list will become increasingly institutionalized over the next 3 - 6 months.
June 26, 2013 - NQ Expands its Relationship with US Cellular - US Cellular is now selling NQ's Mobile Security and NQ Mobile Vault to its 5.2 million subscribers in addition to NQ Family Guardian.
July 2, 2013 - Atlantis Investment Management Becomes an NQ Anchor Investor - Atlantis is a $3.2 billion asset management firm located in Hong Kong managed by Yang Lui. Atlantis has a strong reputation for discovering undervalued tech and mobile companies and taking large ownership positions in these companies. Given Atlantis's strong track record with these types of TMT investments, other investors tend to take notice when Atlantis buys a meaningful position in a new company. Atlantis bought 1.5 million shares directly from NQ and another 1 million shares in the market (as of the date of the announcement). It is expected Atlantis will continue to acquire shares in the market until it reaches a position size of 5 - 6 million shares (10% - 12% of NQ's total shares outstanding). Hence, Atlantis is likely buying another 2.5 - 3.5 million shares.
July 2, 2103 - NQ increased its buyback to a total of $35 million and there is $31 million remaining. NQ believes its stock is severely undervalued and will likely be buying stock as soon as the company is not in possession of material non-public information after its 2Q13 earnings call in August 2013.
July 9, 2013 - NationSky announces early success with its mobile device management product NQSky. Since NQSky's February 2013 launch, over 20 large enterprise companies in China have become customers and the sales pipeline is extremely full.
July 11, 2013 - FL Mobile announced it is expanding its relationship with TenCent's (OTCPK:TCEHY) mobile games. FL has repeatedly demonstrated its best-in-class mobile game management and operating skills result in better monetization of TenCent's games…even better than TenCent can do themselves.
July 15, 2013 - NQ Positively Preannounced 2Q13 with revenue to exceed $40 million (vs. guidance of $38.5 - $38.8 million) and said "business is hitting on all cylinders……Our consumer security business remains strong. FL Mobile's game and advertising business continues to grow rapidly and NationSky's enterprise business is performing extremely well. It is an exciting time to be at the center of the global consumer and enterprise mobility trends."
July 15, 2013 - NQ buys the remaining 45% of NationSky. NationSky's mobile device management offering NQSky is getting tremendous traction. The MDM product launched in February 2013 and has already signed over 20 enterprise clients, including GE Healthcare China and AnBang Insurance (one of the largest insurance companies in China). Nation Sky has over 1250 enterprise customers currently to sell its NQ Sky MDM product offering to. I met with the Nation Sky team recently in China. They are extremely confident and their customer pipeline is very full.
NQ Valuation
My target price for NQ is arrived at using four different valuation methodologies; (1) Sum of the Parts, (2) Comparable Company Multiples, (3) Discounted Cash Flow, and (4) Enterprise Value/Free Cash Flow/Growth multiple analysis.
Sum of the Parts
Since NQ has three synergistic business units.
FL Mobile - 91 Wireless is a great comp for FL Mobile. On July 15, 2013 Baidu (NASDAQ:BIDU) announced a deal to acquire 91 Wireless from Net dragon (OTC:NDWTY) in a deal valued at $1.9 billion. That price is nearly FOUR TIMES the EV of NQ. Four times!! NQ's current valuation looks absurdly low in comparison. 91 Wireless (per Nomura's most recent analyst note) will generate about $110 million of revenue in 2013 and $154 million in 2014 (40% y/y growth). I estimate NQ will generate $185.7 million of revenue in 2013 and $264 million of revenue in 2014 (42% growth). NQ is more than twice as profitable as 91 Wireless, which is inherently a lower-margin business since it is a middleman while NQ is predominantly a publisher. Shanda (NASDAQ:GAME) gained nearly 50% last week as excitement around one of its mobile games spurred buying. The game that got the market excited is named Million Arthur and recently ranked #3 in Apple's App Store in China. In other words, Shanda's market cap increased over $517 million based on just one mobile game's initial success. Think about it….NQ's entire market cap was gained by Shanda in less than one week based on one game. NQ's martial arts game (called Wu lin Meng Zhu) is ranking #2 and Dragon War ranks in the top 5 in the China Apple App Store. NQ's mobile game division alone will generate $28 million in NET REVENUE (after all revenue splits are paid to Apple and 3rd party developers) in 2013.
NationSky - NationSky (NS) provides unparalleled enterprise mobility hardware and software solutions for more than 1,250 large and medium enterprises in China. NS's NQSky mobile device management product launched in February 2013 and recently announced over 20 enterprise customers with a full pipeline. In fact, there are over 400 enterprise customers currently testing/trialing NQSky! NS has several advantages over competitors. NS provides its own local support in China and does not use 3rd party local deployment and support team (like SAP, MobileIron, etc.). NS is a Tier 1 distributor with China Mobile for Apple and Blackberry. Also, NS has on-premises Android push notification services. Most of NS's bank customers in China need to place all the MDM services and mobile devices inside their intranet because of the industrial policy. NS is the only MDM vendor that can provide on-premises Android push notification server in China. NS will grow over 125% in 2013, but given its smaller size, I will use a 50% discount to MobileIron's estimated revenue multiple.
Consumer Security and Productivity - NQ signed several key distribution partnerships in 2013 with Target (1500 stores), American Movil (NYSE:AMX) (over 270 million subscribers), US Cellular (5.2 million subscribers, I-Mobile (leading mobile handset provider in Thailand and Southeast Asia), Axion Telecom (leading Middle East distributor and retailer with over 3,700 points of sale) and over 500 Verizon Premium retail stores in the US. This business unit should organically grow approximately 60% in 2013. I will use the same revenue 2013 multiple as the Internet comps (see below).

Click to enlarge
The sum of the parts analysis yields a value per share for NQ of $39.94.
Comparable Company Analysis
Performing comparable company (comp) analysis is slightly difficult for NQ. With the exception of QIHU, other SaaS and Consumer Internet companies are not perfect comps. Therefore, I selected a set of 5 SaaS and 5 Consumer Internet companies that have similar revenue levels and growth rates as NQ. The consensus estimates for these companies is sourced from Capital IQ. NQ has higher growth rates than almost all of the SaaS companies and NQ has far better margins. Given the current infatuation with SaaS companies, two of the SaaS companies, Demandware (DWRE) and Cornerstone (CSOD), with market caps of $1.4 billion and $2.5 billion respectively are both 2013E EBITDA negative and have lower growth rates than NQ. Go figure. Given the negative or minimal EBITDA generated by the SaaS comps, I used 2013 and 2014 EV/Rev multiples for comparison.
The consumer Internet comps have higher revenue growth than the SaaS comps and generate relatively better EBITDA, but NQ is still growing slightly faster than the consumer Internet comps with far better EBITDA margins. Given that Angie's List (ANGI) will be EBITDA negative in 2013, I used EV/Rev multiples for 2013 and 2014 and the EV/EBITDA multiple for 2014 for the consumer Internet comps. I averaged the implied values generated by the 5 multiples to arrive at a blended valuation for NQ based on these comps. NQ's comp-based value is $44.85.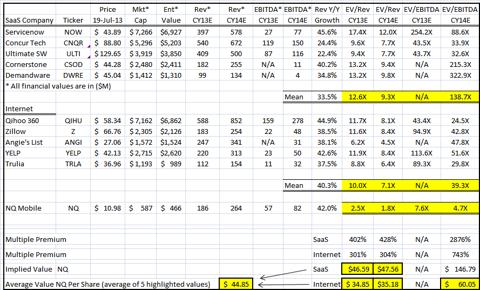 Click to enlarge
Discounted Cash Flow
Given NQ's extremely high revenue growth rate (over 100% in 2013), one should use conservative assumptions over the DCF forecast period to ensure the final result is not misleadingly bullish. I dramatically decelerated NQ's growth rate from 102% in 2013 to 18% in the final forecast year. I marginally lowered NQ's EBIT margin and aggressively ramped up the assumed amount of cash taxes NQ will pay in the second half of the forecast period. Further, I assumed NQ will continue to have negative working capital throughout the entire forecast period. Even with these conservative assumptions, the DCF model indicates NQ is worth $48.44 today.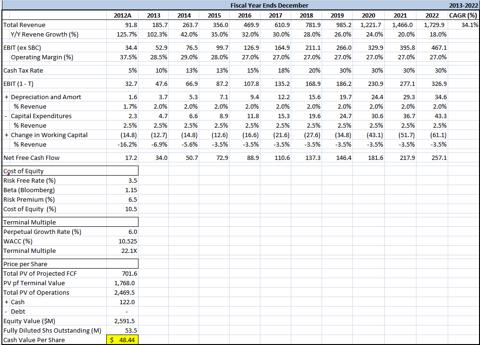 Click to enlarge
EV/FCF/Growth
As I wrote in a previous article, my preferred growth valuation metric is EV/FCF/G, as I believe it is more insightful than a simple PEG ratio. EV = Enterprise Value, FCF = Free Cash Flow and G = Growth. "EV" is preferable to "P" since EV takes into account the whole balance sheet and does not reward heavily levered companies nor penalize companies with large net cash positions. P (Price) solely relates to a company's market capitalization and does not adjust for strong or weak balance sheets. NQ has a spectacular balance sheet with $2.28/share of net cash and zero debt. "FCF" is preferable over "E" as free cash flow is the life blood of a company and reported E (net earnings) can be easily manipulated. Investors generally believe companies with EV/FCF/G ratios equal to 1.0 are attractively valued since the investor is receiving growth at a reasonable price. I believe it is quite conservative to assume a hyper-growth company like NQ should only be valued at an EV/FCF/G ratio equal to 1.0, given that many hyper-growth companies trade at EV/FCF/G ratios over 2.0. NQ would trade at $43.50, if NQ just traded at a 1.0 EV/FCF/G ratio.

Click to enlarge
NQ's Blended Value
I assigned equal weight to each of the 4 valuation methodologies and averaged them to arrived at NQ's overall blended target price of $44.18.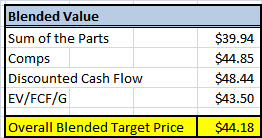 NQ's Path Forward Is Clear
Let's connect the dots. I have spoken with most of the top holders of NQ. The top holders uniformly believe NQ is deeply undervalued and should be trading somewhere between $30 - $50 on just the current set of deals and partnerships. As NQ announces new distribution deals, these price target expectations will increase further. This is relevant because NQ's large holders are not likely to sell anywhere near current levels. There are several new institutional buyers currently building positions in NQ. Hence, the amount of NQ stock that remains in "weaker hands" is rapidly declining and will soon be completely exhausted. After this occurs, the march towards fair value ($44) is likely to accelerate. As pointed out by Toro Investment Partners in a recent article, when investor sentiment changes on a Chinese TMT stock, gains of 3x - 7x multiples of invested capital can occur over investment periods as brief as 9 months. Recent examples include VIPS (up 7x), HIMX (up 4.5x), NetDragon (up 4x) and QIHU (up 4x) among others. Therefore, is it not unreasonable to expect a deeply unvalued stock like NQ to be the next one to experience a similar sharp move upward.
Atlantis manages $3.2 billion in assets. They need a 5 - 6 million share position to move the P&L needle for them. Atlantis bought 1.5 million shares from NQ directly and another 1 million shares in the open market as of the time of the announcement. Hence, Atlantis likely has another 2.5 - 3.5 million shares of NQ to buy. Atlantis has been a steady buyer over the last 2 weeks and will likely continue to buy for the next few weeks. This will take the stock higher (to $12 - $14).
NQ recently increased the amount of its buyback and has $31 million remaining. NQ management team and Board view the stock price as completely disconnected from NQ's fundamentals. I expect NQ to opportunistically buy stock after the blackout period ends after its 2Q13 conference call in August (to $14 - $16).
NQ was advised by Macquarie on the private placement to Atlantis. I would not be surprised to see Macquarie initiate coverage on NQ in the coming weeks. Macquarie's analyst is well-followed and respected in Hong Kong and Asia. Expect more incremental demand for NQ from a very positive Macquarie initiation = stock price goes higher (to $16 - $18).
The NQ shorts are getting increasingly uncomfortable (for good reason). There are almost 4.8 million shares of NQ currently short. The shorts were taken by complete surprise by the Atlantis deal and do not appreciate the outstanding performance all three of NQ's business units. Atlantis has a reputation for performing extremely deep due diligence and is regarded as "smart money" in Asia. It is likely that many of the shorts will capitulate and cover as the stock price continues to move higher, providing additional buying. Stock price to $20.
NQ FINALLY has a rock star in the Investor Relations (NYSE:IR)/Capital Markets role in Matt Mathison. NQ went from worst-in-class IR (dismal) to best-in-class IR with this key hire. Matt will be working to institutionalize NQ's holder list over the next 6 months. Every new fund that buys is another 500,000 - 5 million shares of incremental demand. This incremental new buying demand takes the stock up the next level ($20 - $25).
As NQ management has repeatedly said, the deal pipeline remains full. I suspect we will hear more Tier 1 distribution and partner announcements in the coming weeks. Once NQ strikes another 1 - 2 distribution/partner deals with Tier 1 partners, the "Chinese credibility discount" will dissipate and NQ will trade towards its fair value of $44.
You can argue about the price levels for each of the above-described steps, but the path forward for NQ is clear. NQ is severely undervalued and is likely to move sharply higher over the next 3- 12 months.
Appendix: China Trip Notes - Part 2
Tianjin Yidatong - One of NQ's Service Providers
I have received emailed questions by several investors about the role of service providers in China and for more information on Tianjin Yidatong. I will present the information in Q&A format.
What is Yidatong and why are service providers necessary in China?
Yidatong is a service provider (NASDAQ:SP) that acts as a bridge between mobile content, app developers and China Mobile (NYSE:CHL). In China, there are literally hundreds of thousands mobile content and apps companies. It would be overly burdensome for China Mobile to directly interact with all of these small mobile content and app companies. With the SP acting as an intermediary between China Mobile and the end user consumer, China Mobile only has to work with the approximately 2,000 SPs. SPs work to improve the quality of mobile content and services that China Mobile offers. SPs receive 5% - 25% of the billed revenue from its mobile services and app company clients, depending on business size and service quality. For an app developer or mobile content provider using the China Mobile network as a way for consumer to pay for and download their content, they must have SP relationships.
How does the payment flow work for a SP, carrier and app developer?
Carriers collect money from users for their voice and data plans and they also collect money for any downloaded content and apps. The carrier then sends an invoice to the SP. The SP in turn sends the report and payment to the mobile service/app company (like NQ). China Mobile has a billing platform that tracks all of the SP services and generates invoices/bills to SPs. The carriers control the entire billing process and it is done on a regional and local level. Therefore, all of the control for revenue reports and actual payments and cash flow starts and ends with China Mobile.
Does NQ use Yidatong exclusively for its SP services at China Mobile?
No. NQ uses several different SPs besides Yidatong. One of the other SPs is China Mobile Wallet, a JV company between China Mobile and China Union Pay. As mentioned before, SPs charge their mobile content/app developers rates that range from between 5-25%. Like most businesses, there is a volume advantage inherent in this business. The more a developer generates for an SP, the better the terms will be. In NQ's case, Yidatong is used for roughly 50-60% of NQ's SP revenues and therefore has better terms than with NQ's other lower volume SPs.
When was Yidatong created?
The business was formed and the necessary regulatory licenses to act in the SP capacity were issued in 2006. This is before NQ was founded in 2007.
Who owns Yidatong?
75% owned by Xu Rong and 25% owned by Ma Jun
Are they related directly or indirectly to Henry Lin (NQ's co-CEO)?
No
How did Xu Rong come to own Yidatong?
In 2007 she bought 75% of Yidatong.
Did Xu Rong ever work at NQ?
Yes, in 2007, when NQ was a very small company with less than $500,000 in revenue, they did not have a good person running marketing. They asked Xu Rong to join as an advisor directing the marketing of the business. She was with NQ for less than six months before leaving and buying her interest in Yidatong.
Does Yidatong support other app developers and mobile content providers besides NQ?
Yes. Yidatong derives roughly 60% of its revenues from NQ. But, they have other customers and revenue sources for the remaining 40% of their total business from mobile gaming companies and a partnership with a TV station that joins TV programs using SMS as a communication channel as an example.
Does Xu Rong own or have ownership positions in other businesses that happen to share an address with NQ?
In 2007 and 2008, NQ was very small (2007 revenue was under $0.5 million and 2008 revenue was under $4.0 million). The current address of NQ is a group of buildings (a small business park grouping). In the early years, NQ shared these offices in this small group of buildings with many other companies. Today, NQ occupies most of the buildings at their address -- but there are still other companies in this location (same grouping of buildings, but different actual offices within the park). After Xu Rong left NQ, in addition to buying Yidatong, she also became a shareholder of 9hcom -- which is a gaming company. NQ in 2008 shared the office with 9hcom (when NQ had less than 150 employees). Today, NQ occupies that entire building, plus others in the same park. Separately, Yidatong was founded in Tianjin City before the actual founding of the company NQ.
Is there any relationship between Henry Lin and 9hcom?
No.
What percentage of NQ's revenue flows through Yidatong? What percentage flows through SPs in total?
If you look at mobile security service revenue in China --- about 55% of that flows through SPs. 60% of SP revenue flows through Yidatong. Based on NQ's 1Q13 reported revenue --- that means that roughly 30% of total revenues would have flowed through SPs (30% of the reported 33.2 million) and then roughly 60% of that would be the total that flowed through Yidatong which means that about 18% of total revenues flowed through Yidatong. This number will trend down as more revenue growth occurs in other businesses that do not flow through SPs.
Disclosure: I am long NQ. I wrote this article myself, and it expresses my own opinions. I am not receiving compensation for it (other than from Seeking Alpha). I have no business relationship with any company whose stock is mentioned in this article.