Peabody Energy Corp (BTU) is scheduled to report its second-quarter earnings before the market opens on Tuesday, July 23. Ahead of this release, I wanted to highlight stronger price action in Peabody's shares and improving underlying coal fundamentals.
Nascent Relative Strength
For the first time since the second half of 2012 (ahead of the presidential election, which turned out to be false optimism), Peabody's shares are showing relative strength versus the broader market as shown in the chart below: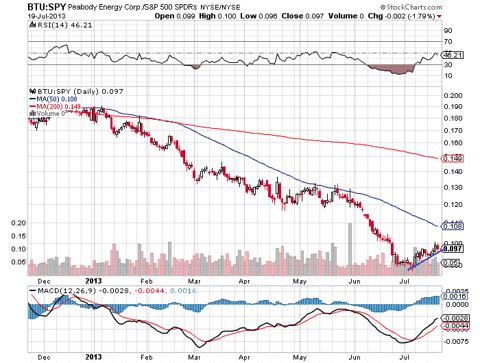 While it is too early to tell if Peabody's emerging change in relative strength will be a short-term affair, similar to the late July 2012 to early November 2012 period, or the start of a larger long-term trend change in the performance of coal stocks versus the broader markets, as I believe is the case, the odds are heavily in favor of at least a multi-month rally in relative performance.
Historic Decline = Incredible Opportunity
Over the last 2 years and 4 months, which roughly marks the starting point of the underperformance of commodity stocks versus the broader markets, the S&P 500 (NYSEARCA:SPY) has rallied over 35%. Meanwhile, Peabody is down over 76%! This performance is illustrated in the following chart with Peabody's performance in red and the SPY's performance in black: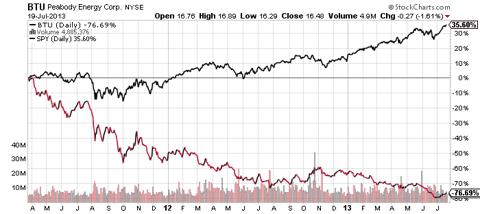 Amazingly, Peabody has been one of the better performers among the domestic coal stock universe over this timeframe due to its size and scale. Alpha Natural Resources (ANR), and Arch Coal (ACI), the second and third largest U.S. coal companies by revenues behind Peabody, have seen their shares fall by 90% and 88% respectively. From a valuation standpoint, ANR and ACI currently trade at significantly cheaper valuations with both companies having price-to-book ratios of 0.3 versus Peabody's 0.9. For this reason, in a coal stock rebound, ANR and ACI will likely gain more in percentage terms as long as they do not significantly dilute current shareholders. While not as cheap as ANR or ACI in absolute terms, Peabody trades significantly below its five-year average valuation ratios as the table below illustrates:
| | | | | |
| --- | --- | --- | --- | --- |
| | Peabody | Industry Avg | S&P 500 | Peabody 5y Avg |
| | | | | |
| Price/Earnings | NA | NA | 16.6 | 10 |
| | | | | |
| Price/Book | 0.9 | 1 | 2.3 | 2.4 |
| | | | | |
| Price/Sales | 0.6 | 0.7 | 1.5 | 1.5 |
| | | | | |
| Price/Cash Flow | 3.2 | 5.5 | 9.9 | 8.7 |
Building on the above, I could not find a period in its history where Peabody's shares have traded at a larger discount to the S&P 500 on both price-to-book and price-to-sales valuation metrics. Thus, with any turn in the fundamentals of the coal market and/or a change in perception regarding coal stocks, Peabody's shares are poised to post substantial gains. Large investors, including most hedge funds, will often choose the strongest company in an industry to invest in when then overall trend of the sector changes from negative to positive. For coal stocks, Peabody is the cream of the crop. As a result, the ultimate gains in the share price of Peabody may not be as large as the potential gains in the share prices of ANR, ACI, Walter Energy (NYSE:WLT) or other depressed coal stocks, but they may be front loaded as larger investors establish stakes in this downtrodden sector. Overall, the enormity of the decline in the stock prices of the coal companies and the current negative sentiment surrounding coal and coal stocks has created a historic contrarian opportunity. At some point, there will be a reversion to the mean trade, and it will be spectacularly profitable.
The Catalyst - Continued Improvement In Coal Fundamentals
U.S. coal inventories recently dropped below their five-year average for the first time since December of 2011 as indicated in this chart from the EIA: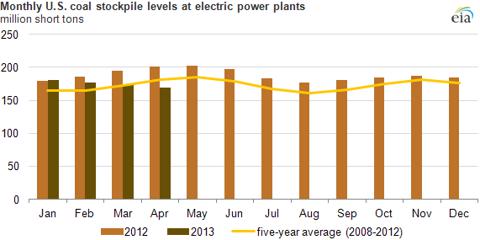 As utilities have burned through their excess coal inventories, domestic coal prices are now rising. Union Pacific (NYSE:UNP), the largest publicly traded railroad company, indicated in its quarterly conference call that coal inventories are now below normal. I believe that the second half of 2013 will see a strong rise in coal prices across the coal complex as reduced supply finally intersects with increasing demand. An improving outlook for future coal prices will be the positive catalyst that sparks a sustainable rally in coal stocks.
Bottom Line - Relative Strength Just Beginning
I believe that Peabody shares are exhibiting early signs of relative strength, which are foreshadowing a major trend change in the performance of coal stocks versus the broader market. The last article I authored on Seeking Alpha on July 1st (The Coming Rebound In Commodities, Coal, & Coal Stocks) postulated that the broader markets were at an important inflection point, where commodities, and particularly commodity stocks, were set to outperform stocks and bonds after underperforming since April of 2011. While the broader markets have rallied and made new highs since bottoming in late June, there has been a subtle outperformance of commodity stocks relative to the market. With earnings reports scheduled for many commodity companies over the next several weeks, it will be interesting to see how the prices of commodity stocks respond. Peabody will give us one of the first data points this coming Tuesday, followed by Consol Energy (NYSE:CNX) on July 25. A confirmation of the improved fundamentals will add another leg to the emerging rally in coal stocks. In summary, the degree of underperformance of commodity stocks in the face of unprecedented global quantitative easing over the last two-plus years has been hard to fathom. Similar to a forest fire, the collapse in prices has removed future supply and created a fertile environment for a spectacular rebound. We are seeing the first "green shoots" of this potential rally.
Disclosure: I am long BTU, ANR, ACI, WLT, CNX. I wrote this article myself, and it expresses my own opinions. I am not receiving compensation for it (other than from Seeking Alpha). I have no business relationship with any company whose stock is mentioned in this article.