[Editor's Note, 7/24: This article has been republished with revisions, after a material error was discovered in the original version.]
Healthcare stocks have been no stranger to volatility over the last few years as healthcare reform in the U.S. has begun to take hold. But after finding confidence in hopes that volumes of new patients covered under insurance will offset any price controls relating to the reduction of reimbursements, healthcare stocks have taken off. Within the healthcare sector, biotech has performed even better. With the iShares Nasdaq Biotech index up over 80% in the last two years vs. the S&P 500 gain of nearly 30%, there has been a clear indication that investors have an increased confidence in the sector.
But with such large gains in a short period of time, opportunities going forward will likely exist in individual companies providing innovative products rather than in the sector as a whole. Northwest Biotherapeutics, Inc. (NWBO) may be one of those opportunities. NWBO is providing groundbreaking cancer treatment therapies for a number of different types of cancer. While the company still faces challenges through its Clinical trials currently underway for DCVax, the results so far and future potential of the treatment are promising.
Northwest Biotherapeutics, Inc.
Northwest Biotherapeutics is a development stage biotechnology currently working on breakthrough immunotherapy products to treat cancers more effectively than current treatments. There are certainly a large number of cancer treatment options on the market, and that number is growing, but Northwest Bitherapeutic's DCVax has the potential to treat many forms of cancer without the toxicity associated with chemotherapy and many of the existing treatments. The DCVax innovative treatment uses the patient's own dendritic cells as the therapeutic agent, reducing the possibility of the body rejecting treatments.
In the DCVax treatment process, the dendritic cells are removed from the patient's body and "educated" by loading them with biomarkers (antigens) from the patient's own cancer site. This shifts the dendritic cells into "attack mode." The cells are then reintroduced into the body to carry out their job of attacking the tumor. As the only treatment of its kind, the process shows tremendous potential and has already exhibited successful results through Phase I and Phase II trials. In these earlier phases of development, results of DCVax-Prostate for treatment of prostate cancer, DCVax-Direct for solid tumors, and DCVax-L for brain cancers showed that treatments delayed disease progression and extended survival by years, rather than weeks or months as shown with other treatments currently on the market. In essence, the entire process educates the body's immune system on what and how to attack.
The broad capabilities of DCVax to many cancers provides significant opportunities for partnering and commercialization. However, DCVax-L has shown promising results in Phases I and II for various brain cancers and is now enrolling patients through UCLA for Phase III clinical trials. Because of the promising results shown so far, difficulties in treating these brain cancers by traditional methods, and a lack of other similar treatments on the market, and DCVax-L could be the breakthrough that turns this company from a development stage biotech to a revenue generating powerhouse in the world of cancer treatment.
DCVax-L – The Secret to NWBO's Success
Even though the DCVax therapeutic process could theoretically be applied to most types of cancerous tumors, the current trials for DCVax-L would be the spring-board for carrying this company into its next stage of success, likely taking its stock price higher along the way. If approved by the FDA for widespread use, the treatment would immediately be applicable to a huge group of patients. The primary target for this treatment is Glioblastoma Multiforme (GBM) which, according to the American Association of Neurological Surgeons (AANS), is the most common and malignant brain tumor and accounts for 15% of all brain tumors and occurs primarily in adults age 45-70 with the median age for death from the cancer at 64. In addition, the National Cancer Institute estimated in 2012 that 22,910 adults would be diagnosed with brain and other nervous system tumors in 2012. Of those, more than half are expected to result in death. With the onset of GBM being later in life, it will primarily affect older adults. With age 45-70 cohort being comprised mostly of baby boom generation, it is likely that there will be a rapid increase in the occurrence of GBM as this segment of the population ages and becomes more susceptible to GBM and other cancers that onset in the second phase of life.
The pool of possible lives saved and revenue producing treatment patients is already large, and it is growing by the day. If occurrences of GBM continue to follow similar trends as they have in the past, the occurrences of GBM are likely to increase dramatically due to the simple fact that the largest portion of the U.S. population is currently in or beginning to reach an age at which GBM is likely to occur.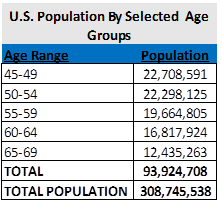 According to the U.S. Census, adults age 45-70 (the age group in which GBM is most likely to occur) make up more than 30% of the total population.
The potential for a company like NWBO providing treatments to this segment of the population cannot be understated. A breakthrough with the DCVax-L treatment would provide revenue to the company, allowing it to then pursue the treatment of other types of cancer with DCVax-Direct.
DCVax Early Clinical Trials
Phase III of the clinical trials for DCVax-L is currently undergoing patient enrollment in partnership with UCLA. Initial trials supported the overall safety of DCVax-L for use in the treatment of GBM and suggested a delayed time to disease recurrence and increased survival. Typically, patients in the category of newly diagnosed GBM show a median time to progression of 8-9 months and median survival of 15-16 months. However, results during earlier DCVax-L trials showed a much different response for study participants. During the early trials, clinical data showed a median survival of 33.8 months (and still ongoing) for DCVax-L treated patients with 9 of 19 patients still living after 8-18 months of initial surgery. Further, most of those patients showed no evidence of tumor recurrence. Based on these results, it appears the group of DCVax-L patients responded favorably.
Ongoing Financial Operations
With spotty revenues over the company's history, NWBO has relied on investors to fund research and operations in its pursuit of breakthrough cancer treatments. However, promising results and novel applications of cancer treatment across multiple types of cancer have kept investors satisfied. The company has not had trouble continuing operations in light of previous capital needs and may be able to continue as investors see the potential of future revenues if any of its drugs are approved by the FDA for commercial use. An existing S-3 registration filed with the SEC allows for the sale of $100 million of stock without additional public filings required. Of course, investors must be willing to purchase shares for the S-3 to be useful, but prior capital raises have shown there are willing investors. During 2012, the company raised $13.9 million through common stock offerings and $13.1 million from the issuance of convertible notes. Further, a $5.5 million grant from the German government awarded in May 2012 is available to the company to cover certain costs associated with clinical trials and manufacturing. This is a non-dilutive source of funding that will provide a level of support to the company's cash needs. As with any development stage biotech, ongoing capital raises are a crucial part of success. NWBO has shown promising trial results, attracting willing investors that will allow for continued funding.
Risk and Reward
As with any development stage biotech, there are certainly risks inherent in investing in these stocks. However, those that make it past development and into the realm of revenue producing products can provide massive returns to investors. NWBO faces the ongoing costs of Phase III trials and other clinical development without the revenue to support it. If additional capital raises are needed to support ongoing operations, this could negatively affect the company's financial situation and ability to continue operations. In addition, the company could face uncertainties with regard to healthcare reform. The effects of the Affordable Care Act on healthcare companies is still an unknown risk for many healthcare companies.
While the company still has a long way to go to make it through the Phase III trials and actually have the DCVax series of drugs approved for mass use, it has demonstrated promise with results so far. With high risks of investing in this company also comes the potential for great reward if DCVax drugs makes it to market.
Disclosure: I have no positions in any stocks mentioned, and no plans to initiate any positions within the next 72 hours.
Business relationship disclosure: Market Exclusive is a team of analysts and writers. This article was written by Carlos Uribe, one of our Group contributors. We did not receive compensation for this article (other than from Seeking Alpha), and we have no business relationship with any company whose stock is mentioned in this article.