In early July, although shares of NetApp (NASDAQ:NTAP) were trading near 52-week highs, the stock was still stuck in a long term bearish trend. Since peaking at over $61 in February 2011, shares had succumbed to a consistent descent culminating in both lower lows and lower highs. By November 2012, NetApp was trading just over $26 and had lost almost 60% of its value since the preceding high.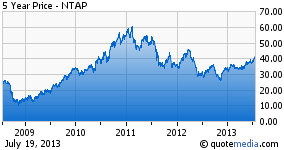 With the recent breakout over $40, however, shares reversed their long term decline and have created a more favorable short term environment for interested investors. Still, that short term buying may face significant headwinds in the future.
One thing that should make investors a little nervous heading into the company's first quarter 2014 earnings report on August 15th is the shares propensity to fall hard and fast after such reports. Over NetApp's last 12 earnings reports, shares have retraced at least 12% four times. Investors maybe particularly sensitive concerning this report as the company has already lowered forecasts to call for first-quarter adjusted earnings of 45 cents to 50 cents per share with revenue between $1.48 and $1.58 billion. That's below the initial projection of 53 cents per share on revenue of $1.6 billion.
Also notable in the last quarter's report was the negative impact military cuts had on the company's bottom line. This has left NetApp to depend on increased demand for smartphones and tablets. While that may appear to provide a relatively strong market for the franchise to fall back on, whether it will make up entirely for continued military and intelligence cutbacks is uncertain.
NetApp may also be putting too much of an emphasis on appeasing shareholders. Although denied by the company's CEO, believed pressure from activist shareholder Eliott Management, which owns about 4.3% of the company's shares, led NetApp to expand its share buyback program from $1.6 billion to $3 billion over the next three years starting this past May. At the same time, the company started offering quarterly dividends of 15 cents a share which is expected to increase over time.
Such moves seem daring considering revenues for the fiscal year 2013 rose only 1.6% or well below the 22% growth of the prior year. This attention to the company's stock and shareholders also comes in the face of the company laying off 900 workers or approximately 7% of their staff earlier this year.
Still, the biggest warning sign for investors should come via the insider selling by management in early June. NetApp President and CEO Thomas Georgens exercised options and sold 100,000 shares for $38.02 while also selling 21,122 shares at an average price of $37.56. Overall, leaving him directly owning only 9,653 shares. Meanwhile, Chief Financial Officer Nicholas Noviello sold 4,496 shares. The company's executive chairman and executive vice president of field operations also sold shares leaving none of the executives holding a direct stake of even 1% of the company's stock.
In the two times NetApp's stock has managed to break $40 since September 2011, shares topped out at $44.49 and $46.80, respectively. Overall, leaving $42 to $44 as possibly the apex for the stock and a good exit point for shareholders especially with an uncertain earnings report only a few weeks away.
After all, if the company insiders want out, so should you.
Disclosure: I have no positions in any stocks mentioned, and no plans to initiate any positions within the next 72 hours. I wrote this article myself, and it expresses my own opinions. I am not receiving compensation for it (other than from Seeking Alpha). I have no business relationship with any company whose stock is mentioned in this article.