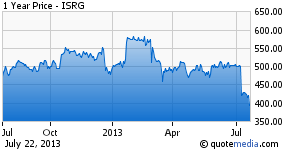 On Thursday, July 19, after hours, Intuitive Surgical (NASDAQ:ISRG), the dominant manufacturer of robotic surgical devices, continued its recent decline after it disclosed a Food and Drug Administration ("FDA") warning letter and also reduced its sales forecast. The company did not provide the letter, but merely referred to it. The company noted that though sales of instruments and accessories increased 18 percent during the second quarter, revenue from sales of the actual "da Vinci" surgical robot declined six percent.
The da Vinci surgical system and related accessories generated about $2.2 billion revenue for Intuitive Surgical in 2012, with the staring price of each machine costing roughly $1.5 million. I had predicted this system sales decline would likely occur following the initial government scrutiny, and would not be surprised if ISRG's related sales softness continues until the overhanging regulatory consternation is resolved, as hospital administrators are less likely to purchase the machine while a regulatory review is ongoing.
Earlier this month, the company reported that its Q2 sales of the da Vinci robot system had declined compared to a year earlier. The company reduced its sales growth estimates to a seven percent increase in 2013, compared to its January forecast for annual sales growth of 16 percent to 19 percent. This reduction had already weighed down shares in advance of this new FDA scrutiny announcement.
According to ISRG's Chief Executive Officer, Gary Guthart, the FDA warning letter indicated that in April and May, inspections found a number of deficiencies, including that ISRG did not adequately report device corrections and patient adverse events. The safety and cost-effectiveness of the company's da Vinci robot devices has been under scrutiny for a while. Regulators are investigating an apparent increase in adverse event reports relating to da Vinci procedures.
Possible causes for the increased adverse events could include device defects or a less trained/skilled group of surgeons branching out into use of the device, as well as many other possible causes. Intuitive da Vinci robotic surgery system has been at the center of negligence lawsuits where patients allege they were injured during surgeries due to the device. Procedures where the robot is used include hysterectomies, cancerous tumor growth and gall bladder removals.
Initial reviews of ISRG started with the FDA asking surgeons at numerous hospitals to identify complications with the da Vinci machines. The responses and issues to doctors and hospitals involve not only safety concerns, but also questions as to whether the robotic surgeries are really worth the extra cost to the hospital for the device and to the patient for the da Vinci assisted surgery.
In February, the Journal of the American Medical Association ("JAMA") published an article that analyzed data from hysterectomies performed between 2007 and 2010, and concluded that "robotically assisted and laparoscopic hysterectomy had similar morbidity profiles, but the use of robotic technology resulted in substantially more costs." The study found that a robot assisted hysterectomy for benign circumstances cost $2,189 more than without the robot (based on average costs across 441 U.S. hospitals for 264,758 procedures).
This JAMA-published research report may have contributed to the FDA's decision to so substantially probe Intuitive Surgical. The study did not fully consider possible external costs associated with the procedure, such as post-surgical recovery times and related costs associated with potentially longer recoveries for non-surgically assisted procedures (assuming such extended recovery times exist and are substantial enough to generate significant costs and/or pain that someone would possibly prefer to pay to not have to experience).
The FDA must discover whether a rise in incident reports is a true reflection of problems with the robots or the result of other issues. Adverse event reports sent to the FDA comprised serious complications, including bodily damage such as uterine injury during gynecological surgeries, burns and pieces of the machine breaking and falling into patients. Many of these instances were quickly resolved, often during the same surgery, but the FDA concluded the occurrences are frequent and concerning enough to substantiate a probe. Other concerns include questions as to whether the machines are being properly sanitized, including whether any sanitization deficiency is due to a design defect and/or improper instructions.
The methods for the usage of da Vinci robots are designed with significant redundancies that are aimed at reducing injuries, but these redundancies come at a price. While safety is clearly an important matter, a question exists as to whether the machines are safe enough to justify the added expenses, or even generally safer than traditional non-robotically assisted procedures. Further, the JAMA study indicates that the added expense may sometimes generate no greater safety profile. If post-surgical rehabilitation was also considered, this may have changed.
A large part of the increase in the usage of these machines as part of the hospital landscape is that patients are seeking out robotic surgery. This is at least partially because hospitals market their ownership of the machines as something that makes them better than competing facilities without the robots. This has compelled many facilities to purchase the machines for fear of declining procedures due to patient demand for da Vinci robots.
Beyond patients, many surgeons are also eager to work at facilities where they can train to operate the robots. The allure of training with the newest and best technology is also often strongest amongst surgeons who might already have a better safety record than the average. . If such is true, then it could have been that in initial reduced occurrence of injury with the da Vinci robot may not be because of the robot, but instead because the better than average surgeons who were primarily using them. If true, then as the number of doctors who use the robot expanded, any initially superior safety profile may have begun to revert towards the norm.
While a robot may be more precise with a scalpel and have better vision than a human, there are also concerns about potential limitations that are difficult to quantify. For example, surgeons will often probe around and feel for problems that are not visible. The surgeon's inability to receive tactile responses when using the robot may not only limit their ability to identify certain issues, but also contribute to the causation of some injuries.
Because of the potential for the machine to fail, part of the general failsafe system is to have another surgeon in the operating room ready as a back-up. If the procedure goes well, then the surgeon in the operating room is truly redundant, unless needed for performing some sort of tactile probing that is not doable through the machine. A redundant surgeon is a significant added expense to a procedure.
The debate over the extent of proper use for the da Vinci robot is far from over. While the robot is undoubtedly beneficial for numerous procedures and situations, what appears to be the case is that its scope of use may have been extended due to the cool-factor that makes both patients and surgeons prefer it. Similarly, facilities have become almost obligated to obtain the machines in order to compete for business, and especially at the higher end, where patients have the income to choose more expensive options.
The usage of robots in surgical procedures is likely to continue increasing over time, but the near term speed at which usage grows may slow due to headwinds, including budget conscious decision makers and a potential wave of data indicating the machines are not as beneficial as previously thought. The ongoing government scrutiny of the da Vinci robot should be expected to prompt many hospital administrators to refrain from purchasing the reasonably expensive device until determinations are made. This effect has clearly already occurred, and it is the cause of the sales reduction ISRG noted, as well as why the company reduced its 2013 estimates.
It should be expected that IRSG will remain volatile and that some downgrades may be forthcoming. Despite this near-term uncertainty, the technology appears poised to inevitably expand into new surgical arenas and grow in usage in most already approved applications, as well as into many procedures for which it will likely eventually gain approval. Therefore, any further significant decline in share price will likely provide investors with a strong long-term investment opportunity.
Disclosure: I have no positions in any stocks mentioned, and no plans to initiate any positions within the next 72 hours. I wrote this article myself, and it expresses my own opinions. I am not receiving compensation for it (other than from Seeking Alpha). I have no business relationship with any company whose stock is mentioned in this article.