Should we consider the equity markets overbought? Let's have a walk through what the market is telling us.
We use the 200 day moving average as our "overbought" indicator. That is, the ratio of stocks trading above their 200 day moving average.
Historically, when the NYSE's and NASDAQ's moving average ratios moved above 80%, there has been a great chance of the major market indicies closing lower six months later.
Looking at the market now we can see that 75% of NASDAQ stocks and 88% of NYSE stocks are trading above their 200 day moving averages.

click to enlarge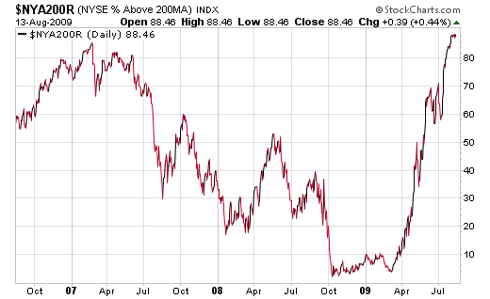 Click to enlarge
By our own standards, we should now be considering a bearish view on equities.
So let's consider the environment of the last 200 trading days, from mid-November 2008 until now. This would encompass a trading period that I believe most of us would rather forget. One look at the current weighted Value Line Index tells us that the market's current momentum is still powering on to another multi-week high.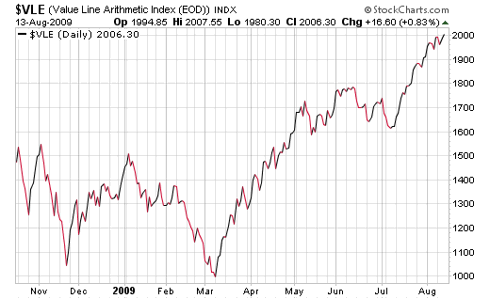 Click to enlarge
When taxi drivers and economists become share market bulls, we start getting worried. We have not seen that yet.
So having considered that we should we maybe now take a bearish view, we believe a bullish view is still in order.

Disclosure: Long IWM