RetailMeNot (NASDAQ:SALE) is the world's largest digital coupon marketplace, connecting consumers and retailers through a massive, searchable database of deals and promotions. In addition to its namesake U.S. website, retailmenot.com, SALE also operates a handful of similar websites in the U.K., Germany, France, and the Netherlands. After pricing its IPO at $21 per share on Friday, SALE saw its shares jump 32% to close at $27.70 on its first day of trading, raising $191 million and valuing the company at approximately $1.4 billion.
Over the past three years, SALE has seen its revenue skyrocket, jumping from $16.8 million in 2010 to $144.7 million in 2012. Its compelling business model coupled with a strong balance sheet and an eye toward international expansion suggests the company will likely continue to see impressive growth for the foreseeable future.
RetailMeNot May Be Similar to Groupon, but It's Not Identical
While a provider of business discounts over the Internet will likely remind many of Groupon (NASDAQ:GRPN) -- and that company's ensuing 80% plunge in its post-IPO share price -- SALE's underlying core business model is fundamentally different in a handful of ways. In terms of revenue generation, GRPN acts as a middleman of sorts, actively promoting deals to consumers, collecting payments, and then taking a cut of the payment before passing the balance along to the merchant. SALE, on the other hand, hosts a largely crowd-sourced database that advertises deals and provides a portal to merchant websites. The merchant is able to identify users who come to its website via SALE, and then pays SALE a percentage commission only after that user makes a purchase. Additionally, SALE generates revenue from selling advertising space on its website.
The two companies also vary significantly in terms of the scope of merchants they offer. GRPN generally focuses on selling vouchers for smaller, local vendors. These vouchers are often for services and must be redeemed in the future. Alternatively, SALE features many large, household name retailers, and often promotes goods that can be purchased online on the spot.
Another major difference between the two companies is how they reach consumers. GRPN is generally more of a "push" marketer, identifying characteristics of certain consumers and then aggressively marketing relevant deals to them. SALE, on the other hand, is more of a "pull" marketer. Consumers generally log on to one of SALE's websites with a specific product purchase in mind and with the conscious intent to spend money. For example, someone looking to purchase an air conditioner can search through RetailMeNot and find numerous offers, often through large nationwide retailers, and make an immediate purchase on the spot.
Value to Retailers
Retailers clearly see a large value proposition in SALE's business model. With an average of over 24 million visits to its U.S. and international websites every month, SALE draws more consumer traffic than many individual retailers do to their own websites. Thus, hosting coupons on SALE allows retailers to reach a large group of actively shopping consumers, while only having to pay after an actual purchase is made. SALE currently has over 10,000 commission-paying retailers and brands, and in 2012 these retailers recognized a total of $2.4 billion in sales directly attributable to consumer traffic via SALE.
Click to enlarge images.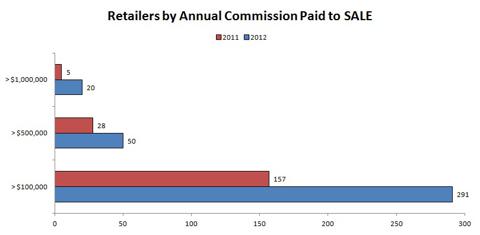 Source: Company filings.
In 2012, SALE had nearly 300 separate retailers who paid them at least $100,000 in commissions, with 20 retailers paying it over $1,000,000. Commissions from SALE's top 500 paid retailers accounted for approximately 80% of the company's 2012 revenue, with no single retailer representing more than 2%.
Strong Financial Condition
Despite being a rapidly expanding, high-growth company, SALE has achieved profitability. It currently enjoys a remarkably strong financial position.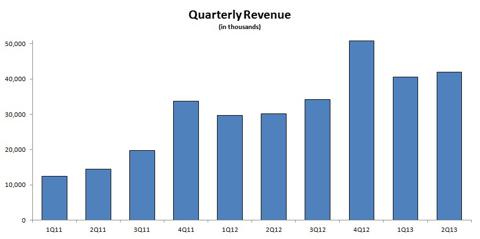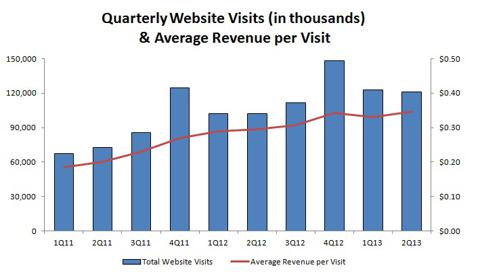 Source: Company filings.
Over the years, SALE's average revenue per user has steadily crept up, indicating that its top-line growth isn't solely attributable to increased traffic, but also to increased pricing power with retailers and higher purchase conversion rates. Another encouraging aspect of SALE's revenue is that it's been increasingly diversifying in terms of geography:

Source: Company filings.
While the U.S. accounted for over 90% of SALE's revenue in 2011, it now accounts for 78% as it expands its reach to various international markets.


Despite seeing substantial growth over the past three years, SALE has managed to keep its debt to a minimum and currently boasts an impressive balance sheet. While it has $21 million in debt outstanding, it also has $112 million in cash on hand as of March 31, 2013.

SALE is able to generate a significant stream of free cash flow, which will likely help the company to finance its plans for future international expansion and strategic acquisitions.
Conclusion
While there are certainly risks associated with SALE, investors would be wrong to dismiss it as "just another Groupon." Although the two may seem similar at first glance, there are major differences in how the two companies actually generate revenue, the scope of the deals they offer, and the way they reach consumers. These factors translate into bottom-line profitability for SALE, and should continue to do so going forward as the company continues to grow.
Disclosure: I have no positions in any stocks mentioned, and no plans to initiate any positions within the next 72 hours. I wrote this article myself, and it expresses my own opinions. I am not receiving compensation for it (other than from Seeking Alpha). I have no business relationship with any company whose stock is mentioned in this article.