The share price of VMware, Inc. (NYSE:VMW) declined substantially in the last year. That was probably caused by investors' worries about the company's growth. VMware is a cyclical company and the global economy continues to expand, so I don't think the share price decline is caused by worries about the economy.
Year to date the stock is down almost 25%, while the S&P 500 is up 20% (both are on a total return basis). Over the last three years, VMware has underperformed the market, but over the last five years VMware has outperformed the market. That suggests VMware could outperform the market in the coming years. Stocks that underperform over a three-year period have a tendency to bounce back.
The firm could be facing threats from competitors. That could be what the valuations and asset utilization ratios are reflecting. That said, at the current valuations, VMware is reasonably priced, and it could still be a growth stock. The industry grows at a high rate, relative to GDP. With the head-and-shoulders top in place, I am going to be careful about accumulating shares. But a high quality company with a solid position in the enterprise market that is trading in a bear market will almost always be near the top of my buy list. Watch for a bottom in this name.
Business Profile
VMware is the leader in virtualization infrastructure solutions utilized by organizations to help transform the way they build, deliver and consume information technology (IT) resources. It pioneered the development and application of virtualization technologies with x86 server-based computing, separating application software from the underlying hardware. The benefits to their customers include lower IT costs, cost-effective high availability across a wide range of applications and a more automated and resilient systems infrastructure capable of responding dynamically to variable business demands.
In 2012, VMware articulated a vision for the software-defined data center (SDDC), where increasingly infrastructure is virtualized and delivered as a service. The company's main product is the VMware vCloud Suite, which is their first integrated solution toward realizing the SDDC vision and is based on the VMware vSphere virtualization platform. The VMware vCloud Suite addresses virtualization of not only CPU and memory but also networks and associated security services.
A strength and a weakness, VMware has technology alliances with independent hardware vendors, independent software vendors and VMware service providers. Some of the more notable alliances include Dell (NASDAQ:DELL), Cisco (NASDAQ:CSCO), HP (NYSE:HPQ), IBM (NYSE:IBM), Lenovo, Intel (NASDAQ:INTC), and AT&T (NYSE:T). Also worth noting is that two distributors, Arrow Electronics and Tech Data Corporation, accounted for 27% of worldwide revenues in 2012.
In terms of competition, VMware faces competition in the cloud computing market from Amazon's EC2, Microsoft's Azure and emerging open source efforts, which present alternatives to VMware's hybrid cloud computing vision. Further, Microsoft is the primary competitor for data center virtualization solutions; in 2012, Microsoft released improved versions of its Hyper-V virtualization offering and System Center suite of virtualization management products and released further System Center enhancements in early 2013. These offerings are positioned to compete with VMware's virtual infrastructure, virtualization management and some of their free data center product offerings. Microsoft's Windows Azure has infrastructure as a service-like capabilities. Next, Citrix provides competition in the end-user computing solutions market.
VMware faces stiff competition from companies that are able to bundle products and thus provide a lower price than VMware can offer. Included in that are companies that can offer products with features that are similar or better than VMware's offerings. Many of their current and potential competitors have longer operating histories, greater name recognition, a larger customer base and significantly greater financial, technical, sales and marketing and other resources than they do. Overall however, a growing pie (market) helps VMware compete without having to take market share from rivals.
Besides the fiercely competitive technology sector, EMC (EMC) is the controlling shareholder of VMware. Almost all of the voting rights and material strategic decisions are controlled by EMC. VMware acts in the best interest of EMC, its class B shareholder, and not in the best interest of outside investors who own a portion of the class A share.
Risks
EMC is the controlling shareholder; thus, VMware may not be able to make strategic commitments that may be in its best interest.
The share price could continue to decline and valuations may reach seemingly irrationally low levels.
Competition in the technology sector is fierce. Microsoft is a formidable opponent. Thus, if VMware's management believe Microsoft may be able to win more often than not in emerging markets, that is probably true.
The slowing pace of licensing growth could weigh on valuations in the coming years.
Current Affairs
The firm completed its sale of Zimbra to Telligent. VMware remains focused on its three strategic growth priorities: software-defined data center, hybrid cloud, and end-user computing. Gartner placed VMware in the Leaders Quadrant in its 2013 report, "Magic Quadrant for x86 Server Virtualization Infrastructure." Also, Microsoft (NASDAQ:MSFT) is in the Leaders Quadrant and Oracle (NASDAQ:ORCL) is in the Challengers Quadrant. Citrix (NASDAQ:CTXS) is in the visionaries quadrant and Red Hat (NYSE:RHT) is a niche player.
Click to enlarge images.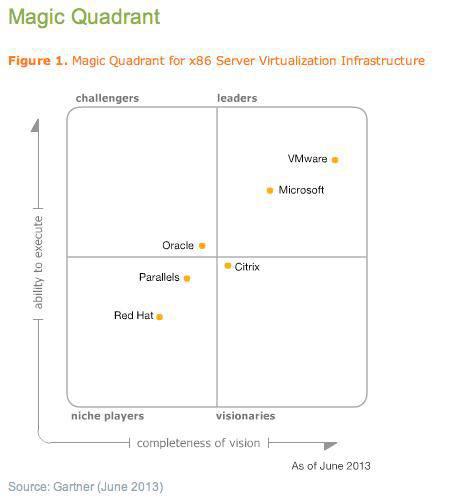 MapR Technologies, Inc. and VMware announced that MapR's Distribution for Apache Hadoop is now certified for VMware vSphere. The combination helps enterprises gain insights from Big Data as businesses will be capable of deploying new virtual Hadoop clusters in minutes using Project Serengeti and VMware vSphere. Hadoop enables the distributed processing of large data sets across clusters of commodity servers.
VMware introduced VMware vCenter Log Insight, a new automated log management and analytics product for the cloud era. By extending analytics to logs, VMware enables IT organizations to gain real-time insights from vast amounts of log data generated by applications, physical hardware and virtualized infrastructure, helping to minimize troubleshooting times as well as improve operational efficiency and reduce IT costs.
Investment Activities
Since 2010, besides the purchasing of fixed income securities, VMware spent almost $2 billion on acquisitions. In 2012, VMware acquired Nicira, a developer of software-defined networking solutions. The deal is marginally accretive to revenue, but adversely impacts net income. That is the only major deal since 2010. That said, the market is moving toward software-defined networking solutions. So I think this deal is a net positive.
Segment Analysis
There are two main operating segments or revenue generation categories. Licensing revenue was the largest segment, but software maintenance became the largest source of revenue in the first quarter. Software maintenance and professional services are within the services category. Additionally, VMware generates about half of its revenue in the U.S. and half of its revenue internationally.
In 2013, I am forecasting revenue from licensing to be in the $1.9 billion to $2.1 billion range; revenue in 2012 was $2.09 billion. VMware blamed a weak economic environment in the first quarter for slowing licensing revenue growth; I'm not buying that explanation. I think the competition impacted first-quarter revenue. Next, revenue from software maintenance could be in the $2.3 billion to $2.5 billion range; revenue in 2012 was $2.15 billion. Thus, revenue from software maintenance should grow in the high single digits to just over 10% range. Professional services revenue should be in the $350 million to $450 million range.
Given the investment climate, the segment analysis is bullish for the valuations of VMware as total revenue is forecast to be roughly flat to up in the mid- to high-single digits.
Consolidated Forecast and Valuations
Based on my forecast for the segments, I have revenue for 2013 in the $4.55 billion to $5.05 billion range. The operating margin should be in the 16% to 20% range. That means, operating income should be in the $728 million to $1.01 billion range. I'm looking for a profit margin in the 15% to 18% range and net income in the $683 million to $909 million range. Like everyone else in finance my forecast can be wrong, but it does serve as a solid model for comparing actual to forecast.
There could be a decline of operating income and net income relative to last year. One of the reasons could be increased competition from Microsoft, which would be partially offset by workforce rebalancing. The revenue number for the year will be the key statistic to analyze; if revenue comes in close to unchanged relative to last year, I will start to worry about the competition taking sales from VMware.
In terms of valuation, VMware is undervalued. On a time series basis VMware is undervalued and, relative to its five-year average valuations, VMware is undervalued. VMware is overvalued relative to the S&P 500. Paying 6.5 times sales and 5.1 times book value for a young, growth company is fair. The price/earnings ratio is 42, but the company is spending revenue on R&D and marketing.
Modeling a top isn't going to be difficult because a top is already in place.
Share Price Forecast and Return on Equity
Using the top that occurred during the first half of 2012, the share price of VMware is in the accumulation zone. On the other hand, it is a decline of primary degree that stemmed from a head-and-shoulders top pattern, which suggest the share price could decline to about $50. It isn't a good idea to disregard a head-and-shoulders top.
If you are already a shareholder, hopefully you aren't too frustrated with this stock. But, this a stock that is in a bear market, which creates a remarkable investment opportunity. Consequently, VMware is near the top of my "shopping list."
Now we'll discuss return on equity. I'm going to use $6.1 billion as my average shareholders' equity. Based on my net income estimates, investors are looking at a return on equity between 11% and 15%, which is well above VMware's cost of equity.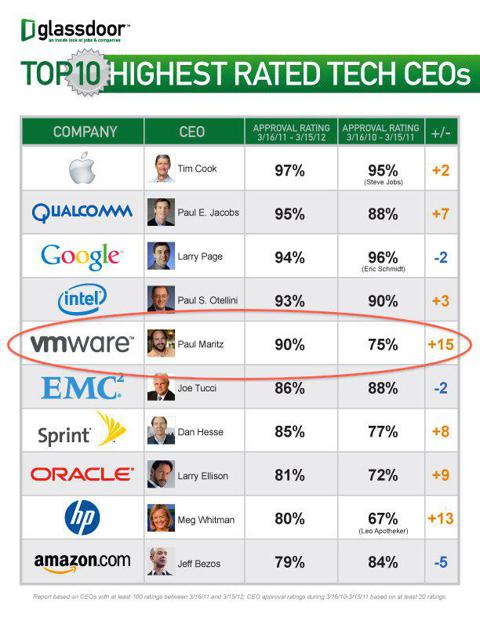 Thus, VMware is a company that is more reasonably valued because of a bear market and is creating wealth for equity investors.
Disclosure: I have no positions in any stocks mentioned, and no plans to initiate any positions within the next 72 hours. I wrote this article myself, and it expresses my own opinions. I am not receiving compensation for it (other than from Seeking Alpha). I have no business relationship with any company whose stock is mentioned in this article.