Advance Auto Parts (NYSE:AAP) reported a 7% rise in second-quarter profit Thursday, fueled by addition of new stores and strong sales at existing outlets as more customers got their old cars fixed instead of buying new ones (conference call transcript here). Quarterly income was $80.3 million, or 83 cents per share, compared with a year-ago profit of $75.4 million, or 78 cents.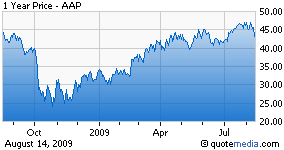 The automotive aftermarket retailer's quarterly sales rose 7% to $1.32 billion. This includes the addition of 82 new stores in the past 12 months and a 4.8% rise in same-store sales. The rise in comparable-store sales came from a 14.8% increase in commercial or do-it-for-me (DIFM) sales and a 0.7% growth in do-it-yourself (DIY) sales.
Advance Auto has always been striving to improve its supply chain and vendor terms. The company has continued investments in pricing capabilities, merchandising facilities and parts availability, decreased inventory shrink and better store execution. These measures helped in improving the percentage of gross profit in sales to 49.3% from 47.4% in the prior-year period.
Free cash flow rose 18% to $287.4 million during the quarter and helped the company in reducing its total outstanding bank debt by $173 million from the year-ago level.
Advance Auto continued to aggressively buy back shares. The company repurchased 344,530 shares for $14.4 million during the quarter, reflecting an average price of $41.71. It is now left with $174.6 million from the $250 million share repurchase that its Board of Directors had authorized in May last year.
Advance Auto opened 23 stores and relocated 3 during the quarter. It has also divested 20 stores and plans to get rid of another 40–55 unprofitable stores this year.