In the dog-eat-dog world of revenue growth, PetSmart (NASDAQ:PETM) occupies an extremely strategic position. The company's business model has attributes of both a defensive consumer company and a cyclical consumer company. Riding the tailwinds of rapid growth in the population of pets, this unique mix has allowed the company to adapt to both bull and bear markets over the past decade.
The Top 10 S&P 500 Companies by Lowest Standard Deviation of Revenue Growth:
(data from Morningstar) (click to enlarge)

A quick breakdown of the top S&P 500 companies by standard deviation of revenue growth reveals that 6 of these 10 companies are consumer defensive: PetSmart, Kroger (NYSE:KR), Ross Stores (NASDAQ:ROST), Kimberly Clark (NYSE:KMB), TJX Companies (NYSE:TJX), and Dollar General (NYSE:DG). With a standard deviation of 2.53, PetSmart leads consumer defensive companies. Standard deviation among the 30 Dow Jones Industrial companies reveals that PetSmart's revenue growth is 58% less variable on average. To understand the reasons, we must examine the differences between the pet industry and the rest of consumer defensive industries.
Pet Vs. Food Industry
What make's PetSmart unique is that is that pet population growth will always exceed human population growth.
Demographics
Consider for a moment that a large part of revenue growth for consumer companies is the growth of the population which they serve. Same store sales are bound to increase if population increases (all other factors being equal).
The following chart illustrates the relationship between historical US population and historical US grocery food sales (adjusted for inflation). The two are highly correlated. As such, one can safely assume that grocery companies are at the mercy of population growth.
(data from USDA and Census Bureau) (click to enlarge)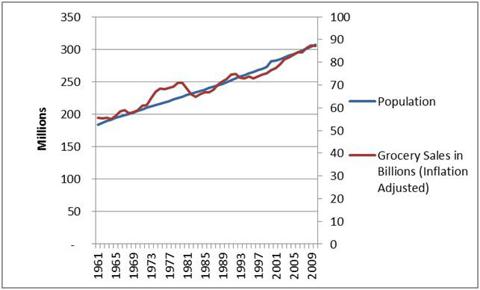 Since 1962, population has grown at an average rate of 1.05% annually while inflation-adjusted grocery food sales grew at an average rate of 0.97% annually. 1% is an incredibly low rate of growth for any company and as such, most grocery food companies must resort to opening new stores and tacking on inorganic growth such as acquisitions in order to entice investors.
If we examine the population of pets through the same lens, we find that historically the number of dogs and cats owned as pets in the US has grown at an average annual rate of 1.66% since 1981. Thus, we can conclude that pet population grows approximately 60% faster than human population. The reasoning is simple: over 3/5 of pet owners report owning more than 1 dog and/or cat. Looking forward, we can expect that for every one person added to US human population, there will be approximately 1.6 dogs and/or cats.
Naturally, to feed their pets, owners are obligated to purchase food, supplies, and sanitation, in much the same way they must purchase necessities for themselves. For this reason, we can expect that growth in sales of pet necessities will ALWAYS exceed growth in revenue from human consumer necessities, even in bear markets. As any growth investor knows, the implications of this are astounding.
Defensive Strategies
54% of PetSmart's revenue is derived from defensive products such as pet foods, treats, and litter. Even in a bear market, demand for these items will not decrease. In the bear consumer market of 2008 and 2009, PetSmart's revenue growth rate handily exceeded the Dow Jones companies, despite stingy consumers. This large chunk of the company's revenue acted as a perfect hedge against the unfavorable conditions.
Furthermore, every one of the company's 1,289 stores is leased. This means that if significant contraction in the pet industry occurs and stores must be closed, capital can be freed much more quickly than if stores were owned outright. Additionally, since approximately half of PetSmart's employees are part-time, payroll can be reduced with considerable ease if needed.
Catalysts For Aggressive Growth
While defensive strategies are in place to tackle bear markets, PetSmart is also positioned for aggressive growth when markets are favorable.
In-Store Experience
One of PetSmart's major competitive advantages is the fact that it provides solutions to all of pet owner's needs in one location. Owners can purchase food, supplies, and toys from a much larger selection of products than they would find online or at a grocery store. The company boasts a selection of over 11,000 unique products. Furthermore, stores are equipped for full service grooming, training, and pet lodging services. PetSmart also maintains a strategic partnership with Banfield Pet Hospitals whereby over 2/3 of PetSmart stores are equipped with a full service veterinary facility. PetSmart has also purchased a 21% equity position in the company.
Another major competitive advantage is that pet superstores are the only places where owners can bring their pet while shopping. Bringing a dog or cat to PetSmart is a mainstay of the in-store experience. Families can enjoy shopping time with their pets and gauge their pet's interest in toys or supplies before purchasing them. PetSmart can leverage this advantage to coax more spending from consumers on cyclical products such as toys.
Pet Foods
While we have already established that pet food revenue is a valuable defensive hedge for PetSmart, the wide range of food choices carried allows consumers to purchase higher-cost pet foods when consumers are willing to spend more. The result is aggressive revenue growth driven by higher-cost pet food sales during years of high consumer spending and defensive revenue growth driven by pet population growth during years of low consumer spending. This growth model is unique to PetSmart, since no other retailers have the same level of flexibility to quickly switch revenue from defensive products to cyclical products.
Also unique to PetSmart are many of the products themselves. The company's annual 10-K report says, "Many premium pet food brands, which offer higher levels of nutrition than non-premium brands, are not currently sold through grocery stores, warehouse clubs and other mass and general retail merchandisers due to manufacturers' restrictions, but are sold primarily through specialty pet supply stores, veterinarians and farm and feed stores. In addition our unique relationship with Banfield allows us to sell therapeutic pet foods at our stores with Banfield hospitals." Furthermore, the company recently announced partnerships with Toys "R" Us Pets, Bret Michaels Pets Rock, and Disney to produce exclusive product lines. These all of these products ensure that PetSmart is first in line to take advantage of increases in consumer spending.
Industry Position
PetSmart is the largest pet superstore in the world, its only major competitor being Petco (private). Since 2004, PetSmart has increased its percent share of pet industry sales from 8.71% to 12.17%, evidence of superior competitive advantages and positive customer relationships.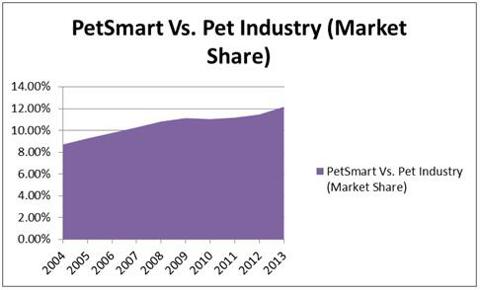 Fundamentals
Fundamental growth over the past 5 years has been consistent and superior. YOY revenue growth rates were 8.40% in 2009, 5.35% in 2010, 6.70% in 2011, 7.37% in 2012, and 10.55% in 2013. The 10-year CAGR (compound annual growth rate) is 9.63%.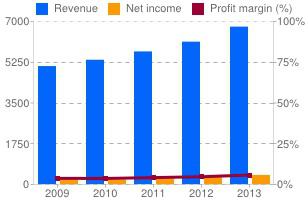 A look at YOY same-store-sales reveals that a large portion of revenue growth has been organic. The rest of growth came from the opening of new stores.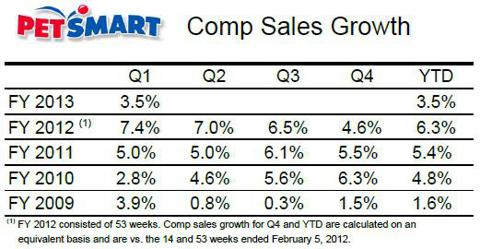 The company's balance sheet also shows a track record of organic growth. Despite rapidly growing revenue, assets have largely remained the same. What this means for investors is that there is very little chance the company will require more shareholder equity to fuel revenue growth. Furthermore, debt to assets has consistently decreased over the past 5 years, enhancing book value and return on equity.
Dividend Growth & Buybacks
PetSmart's use of cash has been highly effective. Dividends have skyrocketed from $0.03 per share in 2009 to $0.17 currently. Share buybacks accounted for nearly 60% of the company's operating cash flow in 2013, while dividends accounted for about 13% of operating cash flow. Combining the two, this means that the company currently returns about 73% of cash to shareholders while using the remaining 27% for capital expenditures and future needs. In addition to this, the company receives quarterly income from its equity position in Banfield (15 million in 2013).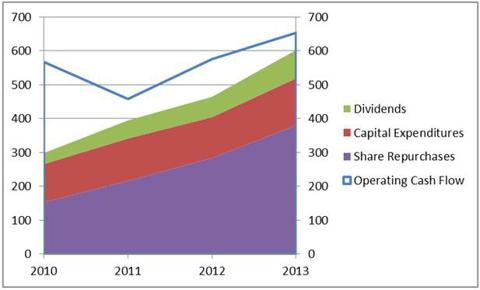 This track record of generous cash returns to shareholders may bear very lucrative fruit when and if the Board of Directors decides to cease share buybacks. If buybacks are ceased, there is a good chance that the BOD will continue generous cash returns by aggressively raising dividends. Since buybacks account for nearly 60% of operating cash flow, the BOD would have room to quadruple dividends without affecting capital expenditures for future growth.
Valuation
Using a Two-Stage Dividend Discount Model and identifiable trends in PetSmart's growth, we can effectively guess the current fair value of PetSmart stocks. The following table is a look at the company's 5 year history and the corresponding CAGRs that are implied (All figures except annual dividend and estimated share price are in millions). Note that I have chosen not to calculate a CAGR for capital expenditures because this value has not changed substantially in the past decade. I will use the mean average of 147 million in annual capital expenditures.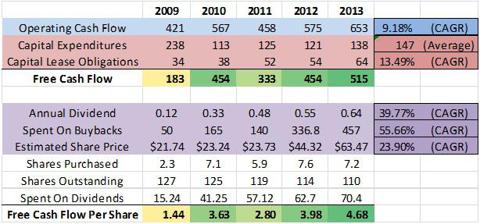 Looking forward, we can apply these trends through 2018 to get a better idea about cash flow 5 years from now. Here is the corresponding estimates for the next 5 years (all figures except for annual dividend and estimated share price are in millions).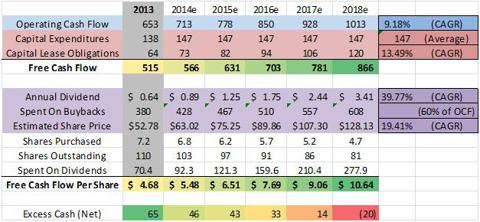 Given that a 56% CAGR in cash spent on buybacks is likely unsupportable, I have made estimates using the assumption that the BOD will continue to spend 60% of operating cash flow on buybacks. Estimated share price is not meant to be an indicator of what I believe the fair value will be. It is acting simply as a placeholder value to account for the fact that the company will have less purchasing power with its buyback funds when share price appreciates. Finally, excess cash measures the net change in cash that results from all predictions for the year.
Several conclusions that we can gather from this analysis is that free cash flow per share is estimated to double over the next 5 years, the company can support an increase in dividends to $3.41 per share over the next 5 years while still executing buybacks, and the company will have excess cash each year until 2018 from this estimation model.
Using this data, we can arrive at a fair value and measure sensitivity to the long term growth rate chosen, as well as assumed required return by the broad market.


At the current price of around $70 per share, investors are currently pricing PetSmart for 2% perpetual dividend growth beyond 2018 compared to current growth of 40% and a high estimating of broad market required return at 9%. A more fair valuation puts the price at $108.37, which is approximately a 50% premium to the current price.
Conclusions
Through PetSmart's unique and superior position among defensive consumer companies, the nature of growth in the pet industry, constantly increasing market share and ability to execute both cyclical and defensive strategies, I believe the company can support yearly dividend increases of 40% over the next 5 years while simultaneously buying back a considerable amount of shares.
Bottom Line:
Investors are undervaluing PetSmart at its current price of around $70 per share. Data shows that a fair price for the company is $108.37 per share.
Disclosure: I have no positions in any stocks mentioned, and no plans to initiate any positions within the next 72 hours. I wrote this article myself, and it expresses my own opinions. I am not receiving compensation for it (other than from Seeking Alpha). I have no business relationship with any company whose stock is mentioned in this article.