Following the 2Q13 Earnings Report, [pdf] Moody's issued a "credit negative" report on Nokia (NYSE:NOK) warning that its latest results may make its Ba3 rating untenable and result in a downgrade subject to review. Naturally this did not sound like good news for shareholders so I decided to investigate the relationship between Moody's ratings and Nokia and included a basic primer.
What does Moody's do?
Moody's is considered to be one of the "Big Three" credit rating agencies alongside Standard & Poor's and Fitch Group. Combined, they form 95% of the market and are used by many organizations, including the U.S. government to obtain ratings on bonds and certain other regulatory purposes.
Moody's itself categorizes [pdf] long-term bonds using the following rating system: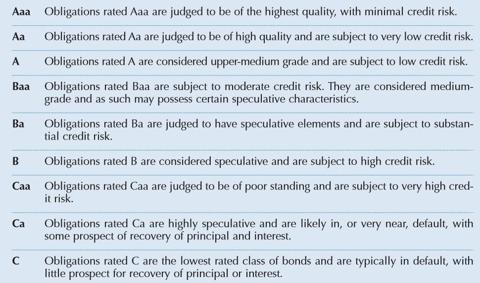 For short-term bonds/obligations, the following system is used:

For point of reference, Nokia is currently at Ba3/NP. This places it right at the cusp of falling much deeper into non-prime territory and firmly in the "speculative-grade" spectrum.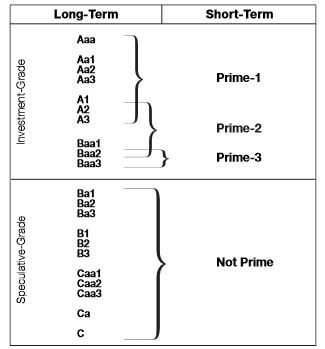 As a general rule, lower rated companies struggle more to raise finance and to support the amounts raised as they have to deal with higher interest rates. So for example, in October 2012, Nokia issued a EUR 750 million 5% convertible bond with a conversion price at EUR 2.61 ($3.41). With Nokia's rising share price, the value of these bonds has now gone up around 40% indicating just how expensive this form of debt-raising really was for Nokia. On the other hand, Microsoft with a rating of Aaa/P-1 recently raised notes at just 0.875% showing how much the market values credit stability.
Now, to make things slightly more complicated, Moody's doesn't just issue direct rating actions. It also has "issuer comments," which state if a recent event in the company is credit negative or credit positive. Overall, since June 2011, Moody has made 12 announcements regarding Nokia, 11 negative and 1 positive.
The impact of Moody's announcements on Nokia's share price
With that established, we can see if Moody's proclamations have any effect on Nokia.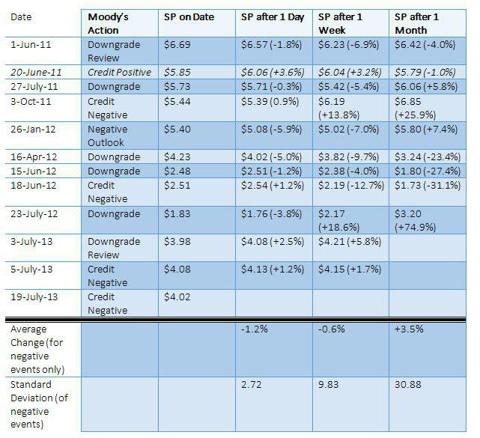 To make this data easier to follow, I've created the following graph and removed the solitary credit positive report issued on June 20, 2011.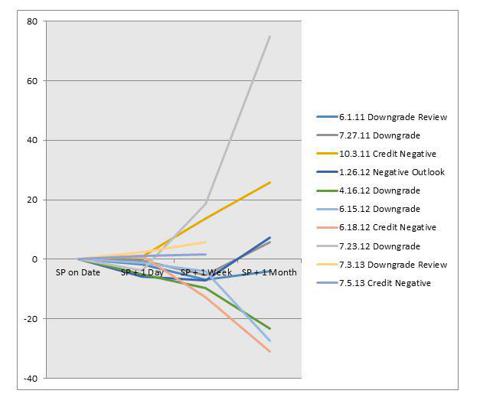 The above chart looks very spidery. The fact that the lines deviate wildly tells its own story about the lack of correlation. To help us confirm this, I've found the standard deviation, which can be found at the bottom of the preceding table. With that, we can create the following graph, which illustrates the effect of the Moody's announcement very nicely.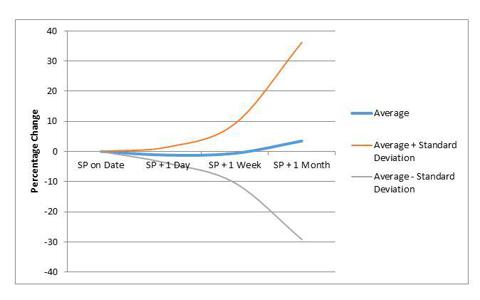 What we can say is that there is a negative impact on the share price to a Moody's announcement. However the standard deviation is large, so we could expect the share price to decline by -1.2% (+/- 2.7%) 1 day after the announcement.
In my eyes, that's a very wide margin and means we cannot assume that there will definitely be a share price decline. Furthermore, as we go 1 week out the standard deviation continues to increase to 9.8 and reaches 32.7 by 1 month out. With this knowledge I would say the following:
Yes, it is possible that the Moody's announcement will affect Nokia's share price in the extreme short term. However as we go on forward, we cannot find any correlation between these announcements and the impact on Nokia's share price. So for this reason, I would not worry too much and concentrate on the fundamentals of Nokia's stock. These include the improving margins at NSN, the roll-out of the L1020 and digesting the 2Q13 report.
Special thanks to Seppo2 for his advice and bringing the Moody's report to my attention. Thanks also to C.Guivi and JamesIngram32 for offering to help.

Disclosure: I am long NOK. I wrote this article myself, and it expresses my own opinions. I am not receiving compensation for it (other than from Seeking Alpha). I have no business relationship with any company whose stock is mentioned in this article.
Disclaimer: This article is not an investment recommendation. Any analysis presented in this article is illustrative in nature, is based on an incomplete set of information and has limitations to its accuracy, and is not meant to be relied upon for investment decisions. Please consult a qualified investment advisor. The information upon which this material is based was obtained from sources believed to be reliable, but has not been independently verified. Therefore, the author cannot guarantee its accuracy. Any opinions or estimates constitute the author's best judgment as of the date of publication, and are subject to change without notice.