The fears over the potential for the Federal Reserve to "taper" has pushed interest rates up significantly and caused a sell-off in the bond market. However, certain sectors of the market are already rebounding, including "junk bonds" and other oversold high-yielding assets.
Housing and automobiles have been the strongest growth drivers for the U.S. economy in the past several months, and this has been fueled by extremely low interest rates. With mortgage and auto loan rates substantially higher now, we are likely to see a slowdown in the economy in the coming months, and that is exactly why Bernanke probably won't be able to taper this year. I believe he already got what he wanted which was a move in rates that was enough to take the wind out of the speculative froth in the housing market. Investors can take advantage of the sell-off in high yielding assets and any future pullbacks by considering the stock picks below. Here are a few picks that could outperform in the coming weeks and months:
Western Asset High Yield Defined Opportunity Fund Inc. (NYSE:HYI) is a closed end fund or "CEF" that primarily invests in high yield bonds with shorter durations. It is managed by Legg Mason Global Asset Management. This fund has about 282 holdings in the portfolio with an average coupon of 8.33%, and an average maturity of just 4.21 years. This level of diversification and short duration reduces risks for investors. It also indicates that this CEF does not deserve to be part of the recent selloff to the level in which it has dropped. This excessive decline has created a buying opportunity for a number of reasons:
First of all, the general sell-off in bonds seems excessive because of mere "taper" talk. The economy has shown some strength due to housing and auto sales but with rates at current levels, that growth driver is likely to be snuffed out and that could make the economy too weak for any tapering to occur this year. Secondly, high yield or junk bonds tend to see some offset from higher rates in an improving economy because in theory, the credit quality of the borrowers will rise along with the economy. This can even lead to higher ratings for the bonds. In addition, the portfolio of bonds in this CEF has an average maturity of just over 4 years. That means duration risk is quite limited, so investors who have sold out of this CEF appear to be misjudging the downside risks.
With the current pullback this CEF now trades at a whopping discount of 9% to net asset value or "NAV". Historically, this CEF has traded very close to net asset value so it is highly likely that the current discount will narrow and return to historical standards. If so, there is a major opportunity to buy now and hold until the share price returns to NAV which is currently $19.27. In the past 52-weeks, this CEF has even traded for a premium to net asset value of 9%. The time to buy is when investors are giving shares away at a major discount, and then sell when it trades above NAV or hold it for the very generous 9% yield it provides.
This CEF pays a monthly dividend of 13 cents per share. This is already enough to beat out most income producing investments, but if it returns to net asset value, investors could gain even more. Interest rates have already had a large move in a very short time, and it is questionable if the U.S. economy can even handle the move. Because of this, it seems likely that rates could either stabilize at current levels or even soften a bit. Either way, since this CEF has shorter duration bonds and since it still yields 9% and trades at a major discount to net asset value, there appears to be more upside than downside. (Especially when compared to junk bond ETF's which yield considerably less.)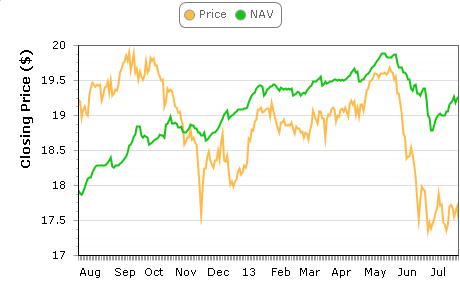 Look at the chart and you can see the current disconnect between the net asset value which is marked with the green trend line and the share price which is indicated by the orange trend line. There is a historically wide gap between the share price and the NAV, which is not likely to last long. While the NAV is down from the highs of about $19.75 to about $19.27, the share price has plunged from about $19.60 to just $17.55. The NAV is still even in an uptrend and has started to rebound, while the share price has yet to respond. This disconnect is not likely to last long and that is why the current pullback is such an ideal buying opportunity. The last time there was a major disconnect between the share price and the NAV was back in November 2012, and it quickly rebounded at that time, which is another reason to expect it will do the same thing this time. In the very short term, I see this CEF rebounding back to $18.03 per share (which is both the 50 and 200-day moving average), and then heading up to about $19.27 (current NAV) since it has historically (on average) traded right near the NAV for the past year.
Here are some key points for HYI:
Current share price: $17.65
The 52 week range is $16.78 to $19.97
Earnings estimates for 2013: n/a
Earnings estimates for 2014: n/a
Annual dividend: 13 cents per month, which yields about 9%
SPDR Barclays Capital High Yield Bond (NYSEARCA:JNK) is an exchange traded fund or "ETF" that owns a wide variety of high-yield bonds. This ETF recently declined in the bond selloff and went below the 50-day moving average of $40.15 and even below the 200-day moving average of $39.72. However, it has already rebounded back above those levels. While the yield this fund provides is still attractive at about 6.4%, patient investors should consider waiting for a pullback. Not only is this a highly liquid place to park some money, but it is also a tool as I use it to easily get a daily read on the junk bond market. For example, if "JNK" is up, then it is usually safe to assume that closed end funds are also seeing gains that day in net asset value. (This ETF currently trades for a slight premium of about .76%, to NAV.)
As the chart shows, this ETF is on the rebound. It now offers a monthly dividend of about 20 cents per share which provides a yield of about 6.4%. This ETF has about 631 holdings in its portfolio. This
diversification reduces risks for shareholders. The average maturity is about 6.82 years, however, the "modified adjusted duration" is just 4.36 years. (This term is used to calculate an option-adjusted measure of a portfolio's sensitivity to changes in interest rates.) Full portfolio data is available here, including information on net asset value.
Like any ETF that invests in junk bonds, there are a few downside risks to consider, including: interest rate risk, the potential for issuer default, liquidity risk, and inflation risk. However, investors who have accepted these potential risks for the past few years and even longer periods of time have generally done well. Although this fund yields about 3% less when compared to some CEF's (including the one mentioned above), this ETF makes sense to consider on pullbacks due to its generous yield and liquidity. Investors who want to further limit duration risk should consider another ETF which is called the "SPDR Barclays Capital Short Term High Yield Bond ETF" (NYSEARCA:SJNK).
Here are some key points for JNK:
Current share price: $40.71
The 52 week range is $38.21 to $41.95
Earnings estimates for 2013: n/a
Earnings estimates for 2014: n/a
Annual dividend: about 20 cents per month, which yields around 6.4%
American Capital Agency (NASDAQ:AGNC) shares were trading for about $32 in May but have since plunged to about $22 over fears that the Federal Reserve's plans to taper will negatively impact mortgage real estate investment trusts or "mREITs". There is no doubt that rising rates can lower the value of mortgage assets that are held by companies in this sector. However, with roughly a third of the share priced wiped out in a matter of weeks, this might be a case of severe overreaction.
As the chart shows, after a steep plunge to about $20, this stock has started to rebound somewhat. It could have further upside as the stock appears to have digested a lot of bad news and negative investor sentiment. Not long ago this company reduced the dividend payout which put pressure on the stock; then there was the general decline and mREIT sector sell-off when the market became concerned with "taper" talk. On July 19, there was also a downgrade of this stock issued by Zacks Equity Research. However, there are some bright spots for contrarian investors to consider.
These shares are now oversold and appear cheap when considering some of the fundamentals. First of all, it looks cheap based on book value which is $28.94 per share. Secondly, if interest rates stabilize
at or near current levels or even decline, the sell-off in this stock will seem excessive in hindsight. Furthermore, many mREIT companies like American Capital Agency use hedges to minimize interest rate risks for at least a portion of the portfolio. It is also important to remember that mREITs have historically been profitable even when rates were at current levels and even at higher levels. Even after a recent dividend cut this stock yields about 19%. That is an extraordinarily generous yield and even if it was cut a bit further, investors who buy on this or any additional pullbacks could easily outperform other stocks in the long run.
A recent Barron's article says there could be potential for either Annaly Capital Management (NYSE:NLY) or American Capital Agency to be included in the S&P 500 Index (NYSEARCA:SPY). I would not count on this, but it sure would have a positive impact on the stock. The article states: an "estimated need of 112 million shares, should Annaly be chosen, implied seven full days of buying volume - or four days' worth for American Capital." Demand for 112 million shares if either of these stocks were included in the index would certainly help.
Plenty of risks remain, and it is possible that the book value will decline from current levels due to the recent pullback in bonds and mortgage securities. The various risks include interest rates, Federal Reserve policy, regulations on the status of REITs, just to name a few. This company could announce disappointing results when it reports second quarter earnings on July 29. However, a lot of negativity is priced into this stock at just $22. According to Earningswhispers.com, the consensus estimate is for a profit of 91 cents per share.
When you see the huge variance in the 52-week range for this stock from $20.20 to $36.77, and the extremely generous yield, you have to know you are taking on some risks. With this kind of volatility in the share price, you don't want to have too much invested in this stock or the mREIT sector. However, the recent plunge appears like an ideal buying opportunity for a small position that could provide rebound potential and very high yields going forward.
Here are some key points for AGNC:
Current share price: $22.05
The 52 week range is $20.20 to $36.77
Earnings estimates for 2012: $4.02
Earnings estimates for 2013: $5.47
Annual dividend: $4.20 per share
Disclosure: I am long HYI. I wrote this article myself, and it expresses my own opinions. I am not receiving compensation for it (other than from Seeking Alpha). I have no business relationship with any company whose stock is mentioned in this article.
Data is sourced from Yahoo Finance. No guarantees or representations are made. Hawkinvest is not a registered investment advisor and does not provide specific investment advice. The information is for informational purposes only. You should always consult a financial advisor.