By Brendan Gilmartin, VP Research and Content
Caterpillar (NYSE:CAT) is scheduled to report Q2 2013 earnings before the opening bell on Wednesday, July 24. The results are typically released at 7:30 a.m. ET with a conference call slated for 11:00 a.m. Caterpillar shares have been selling off in recent months amid concerns about the outlook for the global economy, particularly in China. Keep an eye on the index futures at the time of the release given the potential magnitude of these results.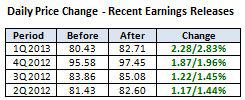 Outliers and Strategy
Caterpillar typically reports a figure for earnings per share (EPS) that compares with consensus estimates. The Street is looking for Caterpillar to deliver EPS of $1.70 (range is $1.52 to $2.01) on revenue of $14.97 billion, down 13.8% from the year-ago period (source: Yahoo Finance).
Look for Caterpillar to possibly provide an updated forecast for 2013:
EPS Guidance (FY 2013) -- The current consensus is $6.84. In April, Caterpillar lowered its profit per share estimate to about $7.00, vs. a prior outlook of $7.00 to $9.00.
Revenues Guidance (FY 2013) -- Caterpillar also said last quarter that it has revised its outlook for 2013 sales and revenues to a range of $57 to $61 billion, down from the previous outlook of $60 to $68 billion. The estimate is $58.67 billion.

Sympathy Plays

The options market is pricing in a 3% move off earnings, while the average change in reaction to earnings is 4%.
Recent News
June 17: Renowned short-seller Jim Chanos of Kynikos Associates told attendees at CNBC's "Delivering Alpha" conference that he was short shares of Caterpillar. Among the reasons he mentioned are a slowdown in global mining activity, weaker demand from China, softer commodity prices, and potential accounting issues stemming from recent acquisitions.
June 20: Caterpillar worldwide machinery sales were down 7% in May, with a bulk of the weakness in Asia and North America.
June 12: Caterpillar voted to raise the quarterly cash dividend 15% to $0.60 per share, bringing the yield to 2.80%.
June 5: Goldman Sachs issued a cautious note on Caterpillar, reducing the price target from $100 to $97 and slashing earnings estimates for 2013-15, according to a post on StreetInsider.com. The firm cited weakness in the mining sector.
April 15: Caterpillar entered into an agreement with Citibank, N.A. to purchase $1 billion shares of its common stock under an accelerated repurchase program.
Technical Review
Caterpillar shares have rebounded in conjunction with the broader market gains ahead of its closely watched Q2 earnings release. The shares are now at somewhat of an inflection point, with the 200-day SMA immediately overhead in the $86.50 area, and the 50-day SMA sitting right below near $84.50. Should earnings surprise to the upside, look for a push above the 200-day to the $88.00 area, followed by $90.00 (May high). Conversely, support is at the 50-day SMA, with downside risk to $82.00 if earnings come in meaningfully below estimates.
Click to enlarge image.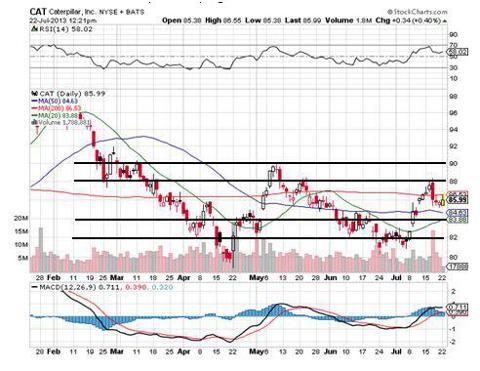 Summary
Caterpillar shares are somewhat weak ahead of the Q2 earnings release, due to a softening economic backdrop in China and declining metals prices, crimping demand for mining equipment. But with weak sell-side sentiment and shares easing into a holding pattern, Caterpillar could reverse course so long as it reiterates its outlook for the balance of the year and meets reduced analyst estimates for the Q2 period. Even in the event of a miss the shares are trading at just 11.5x trailing earnings, well below the five-year average (18.6x) and a mere 0.9x sales, implying that downside for Caterpillar is limited.
Disclosure: I have no positions in any stocks mentioned, and no plans to initiate any positions within the next 72 hours. I wrote this article myself, and it expresses my own opinions. I am not receiving compensation for it (other than from Seeking Alpha). I have no business relationship with any company whose stock is mentioned in this article.
Disclaimer: By using this report, you acknowledge that Selerity, Inc. is in no way liable for losses or gains arising out of commentary, analysis, and or data in this report. Your investment decisions and recommendations are made entirely at your discretion. Selerity does not own securities in companies that they write about, is not an investment adviser, and the content contained herein is not an endorsement to buy or sell any securities. No content published as part of this report constitutes a recommendation that any particular investment, security, portfolio of securities, transaction or investment strategy is suitable for any specific person.