It was not that long ago that Value Line (NASDAQ:VALU) had one of the premier financial research services in the industry. For about $600/per year, you could have a constant flow of fancy book binders, compelling research information of the fundamentals from thousands of publicly traded stocks, and sound analysis from an in house staff of roughly 70 top notch research analysts.
Not only that, but the balance sheet of the company has always been virtually pristine, even to this day.
Over $13 million in cash.
ZERO Debt.
An enterprise value of roughly $74 million, with a market cap of less than $90 million.
A consistent record of dividend payments for 66 consecutive quarters, dating back to 1997.
A price to book value of a relatively conservative 2.71.
Profit margins approaching 18%.
At first blush, an income seeking investor might view these facts and look at this stock as a prudent way of boosting a dividend portfolio's yield. But looks can be deceiving, even with a juicy 6.9% current yield, in an industry that has been blossoming for over a decade now.
Even with the recent press release announcing another quarterly dividend payment of $.15/share, this stock should be completely avoided, or better yet; shorted.
A Great Brand In A Growth Industry That Has Missed The Boat
VALU at one time was the premium research tool, used by many investors who sought more than the basic fundamentals of a company that they were considering investing in. Along came the internet, with new companies that utilized the vast research sites available on the internet for free, and packaged the information with input from contributors, both professional analysts and individual investors, who were able to reach even the most unsophisticated investors who were beginning to look for help with everyday, meaningful investing knowledge.
VALU never really kept up with the changing landscape, and continued with their bulky manuals and pages upon pages of research that now could be found virtually for free elsewhere, just by a click of a mouse. Oh, yes, they did make some basic information available at some point, but it was already too late.
The Motley Fool as well as our very own Seeking Alpha had already entrenched themselves into the wide, wide world of financial information. Not with just a staff of 70 analysts, but with thousands upon thousands of folks willing to share their knowledge, for virtually no charges what-so-ever.
Not only that, but Seeking Alpha and Motley Fool have been able to offer proprietary investment ideas for modest fees, that make VALU look like an amateur. While Value Line sells plenty of bells and whistles (now for only $300/per year), the majority of its products can easily be found for free, with even more detail, just about anywhere on the internet.
You might even be able to view VALU proprietary information if your local larger library subscribes to Value Lines' service, and even that would be free of charge.
One look at the "guts" of the company and you can see why I suggest avoiding this stock, or even shorting it: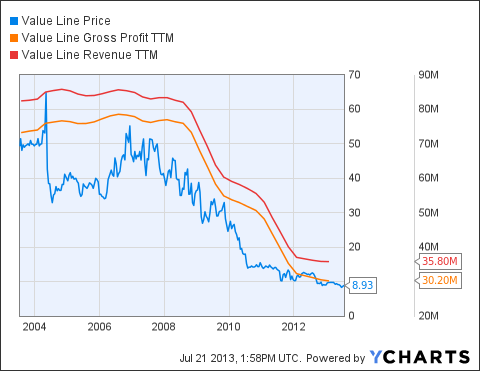 Declining revenues, declining profits and a share price that has tanked in the largest bull market this generation has ever witnessed.
Digging a bit deeper, and there are other reasons to steer clear from this stock:
Nearly 88% insider ownership. Who does the stock trade with, themselves?
Average daily volume of about 10,000 shares means very little liquidity, yet the share price keeps dropping.
A nearly 15% short position of all outstanding shares. Are insiders also shorting the stock?
In 2009 the company AND its officers were investigated by the SEC for misleading many board members and mutual fund investors that the brokerage fee being charged to these shareholders was $0.0488 per share when in fact the fees were ranging from $0.0288-$0.0388 per share. It seemed that the difference was going directly back into Value Line itself, and the company was ordered to pay over $34 million in fines, and senior management had to fork over another $1.2 million in direct personal fines, and were barred from the securities industry.
Is it any wonder that nearly 90% of all shares are held by "insiders"? Another 7% is held by "institutions". That leaves about very few shares available (maybe 1 million) on the open market right now.
I believe, that as the company continues to fail, and the share price continues to drop, not only will the shorts make money, but the insiders could take the entire company private, at a very cheap price, and THEN perhaps reorganize its business model, only to bring the company public once again.
Obviously, this is my speculation, (based on the known facts of course) and if I was going to bet on this stock, it would be for it to continue to drop, in other words, join the shorts.
My Opinion
This is a company in rapid decline, with serious issues from the recent past, and an outdated business model. The industry on the other hand is growing, and I believe will continue to grow. Maybe a new VALU will be born, but that "conception" seems to be far off for now.
Don't let the 6.9% dividend yield fool you, that money is going to insiders who own 88% of all shares, and the payout ratio now stands at 95%.
No debt? Plenty of cash available? Sounds like my speculation could be spot on.
I suggest SHORTING this stock.
Disclaimer: The opinions of this author is not a recommendation to either buy or sell any security. Please remember to do your own research prior to making any investment decision.
Disclosure: I have no positions in any stocks mentioned, and no plans to initiate any positions within the next 72 hours. I wrote this article myself, and it expresses my own opinions. I am not receiving compensation for it (other than from Seeking Alpha). I have no business relationship with any company whose stock is mentioned in this article.