By Jeff Bailey
In recent years, Pitney Bowes (NYSE:PBI) has largely been known among investors as a fat dividend paid by a hopeless company. The dominant maker of postage meters has watched sales fall as postal volume in the U.S. plummets.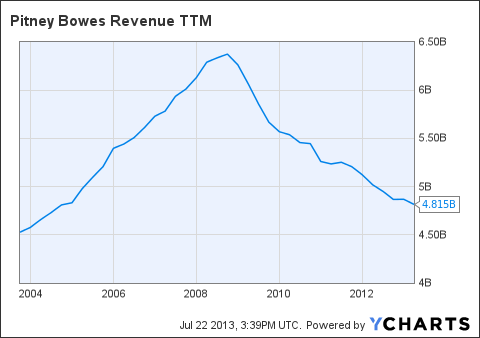 PBI Revenue TTM data by YCharts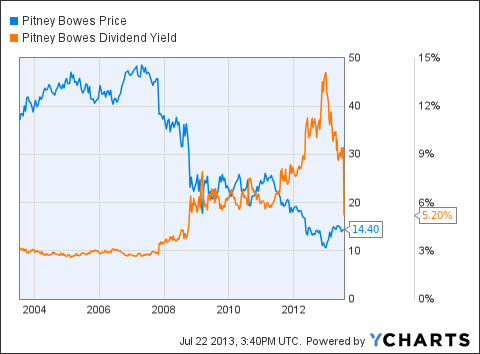 That trend isn't likely to be reversed, but a glimmer of good news arrived in a recent Wall Street Journal article, as Joann Lublin, one of the paper's smarter and most-experienced writers, teased out from Pitney Bowes' new CEO the fact that, at the very least, he understands how bad things are.
Lublin asked Marc Lautenbach, a former International Business Machines (NYSE:IBM) executive why Pitney Bowes has gotten so little out of more than 80 acquisitions made in recent years to diversify out of postal meters. In answering, Lautenbach revealed, on the part of his employer, a deep failure to integrate the acquired businesses:
"We have not leveraged the technology that we acquired across our entire company. Companies are driving to become globally integrated enterprises. Put all the stuff in the back office together, and you can drive incredible efficiencies. Among other things, we must no longer have 37 different systems for taking orders and producing bills for customers. It will take several months to work down to hopefully one system."
You heard him -- 37 different systems. As bad as that sounds, it might be good news that the new CEO can do some fairly basic managing to improve results. They teach that stuff at IBM.
As for the vaunted payout, which produces a dividend yield above 5% even after being cut in half recently, Lautenbach tells Lublin, who asks about restoring the payout, "I don't think that is in the cards." The money's better invested in new business.
The company's still got big problems. But a CEO who is candid about those problems, and sees some ways to improve, is welcome if you're a Pitney Bowes holder.
Jeff Bailey, The Editor of YCharts, is a former reporter, editor and columnist at the Wall Street Journal and New York Times. He can be reached at editor@ycharts.com. You can also request a demonstration of YCharts Platinum.
Disclosure: I have no positions in any stocks mentioned, and no plans to initiate any positions within the next 72 hours. I wrote this article myself, and it expresses my own opinions. I am not receiving compensation for it. I have no business relationship with any company whose stock is mentioned in this article.