The recent decline in gold prices has translated into significant losses for many of the equities within the basic materials market. This decline however has also created quite a few undervalued investment opportunities to be discovered of which I believe that Iamgold Corp. (NYSE:IAG) is the most intriguing today.
"Iamgold (IAG) is a leading mid-tier gold producer with six operating gold mines (including current joint ventures) on three continents. In the Canadian province of Québec, the Company also operates Niobec Inc., one of the world's top three producers of niobium, and owns a rare earth element resource close to its niobium mine. Iamgold is well positioned for growth with a strong financial position and extensive management and operational expertise. To grow from this strong base, Iamgold has a pipeline of development and exploration projects and continues to assess accretive acquisition opportunities. Iamgold's growth plans are strategically focused on certain regions in Canada and select countries in South America and Africa."
I chose Iamgold because in my opinion the best long term, value-play investments all share 5 common factors. These dynamics are a low P/B ratio, a strong dividend, a respectable cash position, a low P/E, and a robust management team. IAG has all 5 working in their favor.
At the end of 2012, IAG's yearly revenue was $1.67B netting it a gross profit of $722M. At this point in time the share price was trading at $11.78 which yielded a market cap of $4.45B. Today, its share price is $4.67 resulting in a market cap of $1.77B. This is only a fraction of the tangible shareholder equity equal to $3.471B, which in turn yields a tangible P/B ratio of approximately 0.5 today making it a significant value play.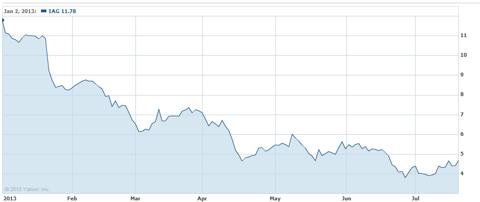 Now let's take a closer look at the dividend for IAG. The company pays a semi-annual dividend of $0.125 every year in January and July. If you divide this payout by the current share price of $4.69 you end up with a dividend yield of 5.8%. This type of yield is tough to find in the markets today.

Next we take a closer look at the cash flow. "Last quarter IAG's revenues for the first quarter 2013 were $305.3 million, down $48.8 million or 14% from the same prior year period. The decrease in revenues is mainly related to lower gold sales volume ($39.1 million) and a lower realized gold price ($11.5 million), partially offset by increased by-product credits and royalty income ($0.5 million) and higher niobium sales ($1.3 million). The reduction in sales volumes was primarily related to lower production, as expected, from processing lower grades at Essakane and timing differences between production and sales. Operating cash flow for the first quarter 2013 was $99.5 million, down $49.7 million or 33% from the same prior year period. The decrease in operating cash flow was mainly due to lower revenues noted above ($48.8 million)." Since gold's decline earlier in the year there has been an adverse effect on the global mining community. This has included but is not limited to some of the larger companies such as Cliffs Natural Resources Inc. (NYSE:CLF), Freeport-McMoRan Copper & Gold Inc. (NYSE:FCX) and Sterlite Industries (India) Ltd. (SLT). As the markets continue to regain their momentum, gold correlated stocks have continued to take somewhat of a hit on their year quarterly revenues. In this downturn however, I would argue that investors can now pick up the majority of these stable companies for a fraction of their book value.
Currently the industry average for the basic materials sector yields a P/E ratio of 23.44. IAG currently only has a P/E ratio of 7.82. This is far below that of their competitors making it much more of an attractive investment against many of its peers.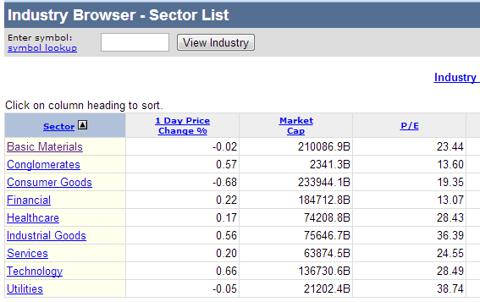 Finally, we examine the management team. IAG's executive board is both experienced and accountable. Their mission statement is full of strong ethical principles and they have a strong history of working hard to bring more value their shareholders. Recently they introduced a plan aimed at reducing their cost of revenue. Their recent press release states that, "In March 2013, before the drop in the gold price, the Company announced a $100 million cost-reduction program to counter the cost pressure from inflation and the higher demand for power associated with increasing rock hardness at Essakane and Rosebel. The Company has completed comprehensive cost reviews at all operating and exploration sites and corporate offices to identify specific areas to reduce costs. The Company plans to reduce costs at its operations by $43 million, exploration expenditures by $40 million, general and administrative costs at mine sites by $11 million and corporate general and administration costs by $6 million. Through a combination of greater control over discretionary spending, the prioritization of activities and measures to improve productivity, the Company is achieving good traction with this program in 2013."
Therefore after a full analysis of these 5 critical dynamics I expect a strong bull back in IAG within the coming years. Furthermore, since gold prices have only declined approximately 30% year to date and IAG has seen a decline of over 55%; I expect at least a 25% recovery by the year's end to compensate. As a result, I expect a price target of $7.50 a share by year's end and I continue to expect their strong dividend along the way.
Disclosure: I am long IAG. I wrote this article myself, and it expresses my own opinions. I am not receiving compensation for it (other than from Seeking Alpha). I have no business relationship with any company whose stock is mentioned in this article.