By Carla Fried
Google (NASDAQ:GOOG), Facebook (NASDAQ:FB) and LinkedIn (NYSE:LNKD) have all earned a vaunted "wide economic moat" rating from Morningstar (Full Disclosure: Morningstar is an investor in YCharts). While all three companies enjoy fundamental competitive advantages that separate them from the crowd, right now they are a case study in how a great business does not necessarily make for a great investment.
With more than 200 million users who have gone through the sticky process of creating an online career profile, LinkedIn isn't just dominant online, it is actively disrupting the executive search industry.
Revenue from corporate hiring/recruitment (deemed Talent Solutions in LinkedIn-ese) accounts for nearly 60% of company-wide revenue (ads and premium subscriptions bring in the rest.) In the first quarter of this year, revenue from this segment grew 80% compared to a year earlier. If the economy continues to ever-so-slowly keep growing, that should provide a soft breeze tailwind for LinkedIn as more companies look to hire.
Great company, great business model. But not so great valuation, as a little investment analysis shows. LinkedIn currently trades at a 50% premium to Morningstar's estimate of the company's fair value price. That makes it the worst value among the 150 or so companies that Morningstar says have compelling wide moats. As Morningstar bluntly puts it: "Despite our optimism for the company, we don't believe investors would be adequately compensated for their risk if they were to overpay."
Or overstay. If you're sitting on a nice profit, this chart should encourage you to maybe take some of that off the table. What sort of rationalization can you come up with to explain a forward PE ratio running more than 1700x?.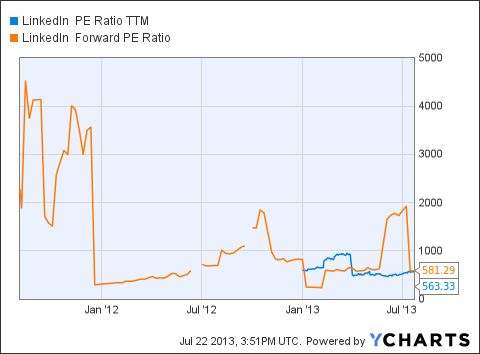 LNKD PE Ratio TTM data by YCharts
Sure, wide moat companies can demand a premium; but owning a stock -- no matter how great the company -- that is deemed to be trading at a 50%+ premium to its fair value is bordering on gambling, not investing.
At a 14% premium to Morningstar's fair value estimate, Google rates as not cheap, but not screamingly expensive either. Sure a 14% discount would be nice -- the average for all wide moat stocks is a 4% discount to fair value -- but it's not as if Google has hit a speed bump of late. It's actually one of the few megacap global leaders that has been able to deliver strong revenue growth. Here's how Google's quarterly revenue growth stacks up to the five largest companies in the S&P 500: Apple (NASDAQ:AAPL), Exxon Mobil (NYSE:XOM), General Electric (NYSE:GE), Chevron (NYSE:CVX) and Johnson & Johnson (NYSE:JNJ). Google's market cap ranks as the eighth highest in the S&P 500.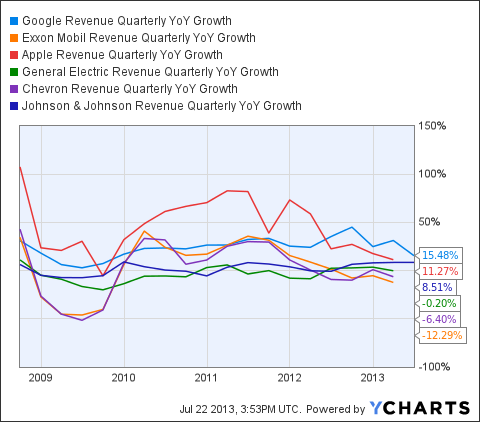 GOOG Revenue Quarterly YoY Growth data by YCharts
While Google is a better value relative to LinkedIn, investors decided to play catch up when Google delivered surprisingly strong first-quarter results in mid April: the stock is up 15%, compared to a 4% gain for the S&P 500. That run-up has pushed the stock's PE ratio above 25, the highest level coming out of the global recession and nearly 50% above where it was a year ago. Second quarter earnings will be released on July 18th.
Of the three Internet wide-moaters, Facebook is the only full-on value according to Morningstar, which estimates the stock currently trades at a 30% discount to its fair value. That's the second biggest discount among the 20 stocks in the Market Vectors Wide Moat Focus ETF (NYSEARCA:MOAT) that tracks Morningstar's Wide Moat index. Western Union (NYSE:WU) currently trades at a 32% discount.
Granted, Morningstar's $34 fair value estimate would put the stock where it hasn't been since its May 2011 IPO.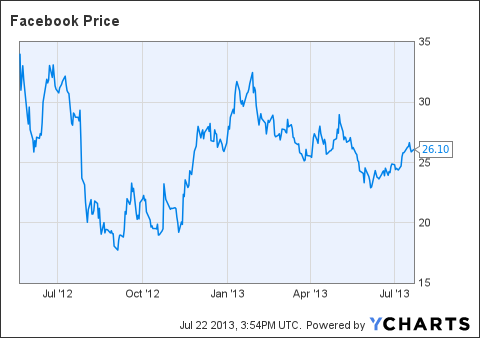 Morningstar is long-term bullish on Facebook's ability to increase ad revenue from an expanding user base. An average of 660 million daily users in the first quarter of this year was 26% higher than a year earlier; monthly active users hit 1.1 billion, a 23% increase from a year earlier. Mobile usage grew by 54%. The $1.25 billion in first-quarter ad revenue was 43% higher than a year earlier; total revenue grew 38%.
Morningstar analyst Rick Summer notes that Facebook will need to expand its ad revenue -- which accounts for 85% of Facebook's total revenue -- across the internet, rather than just relying on revenue from ads it can jam into its own users' news feed. But Summer doesn't see a Google/Facebook zero-sum death match for ad dollars. "Although they compete for display advertising dollars, we do not expect one firm to disrupt the other," Summer recently wrote.
Though all three companies have generated a wide moat rating, it's important to note that Morningstar also assigns a high level of uncertainty to its fair value estimates for each company. (That's the mid point of its uncertainty ratings, which run from low to extreme.) It's hard to have a high level of confidence in financial modeling, going out 10 years or more, when a company has only been publicly traded for little more than year (Facebook and LinkedIn), in addition to the ever-evolving nature of what is still a very young Internet business world. As Warren Buffett wrote in Berkshire Hathaway's (NYSE:BRK.B) 2007 shareholder letter, "A truly great business must have an enduring "moat" that protects excellent returns on invested capital. Business history is filled with "Roman Candles," companies whose moats proved illusory and were soon crossed."
It's going to take years before Facebook and LinkedIn can be judged on endurance. Google, public since 2004, is barely out of its infancy. Its current 15% return on invested capital (ROIC) is about half that of Apple, which only rates a "narrow" moat from Morningstar given the shifting nature of consumer technology tastes.
Carla Fried, a senior contributing editor at ycharts.com, has covered investing for more than 25 years. Her work appears in The New York Times, Bloomberg.com and Money Magazine. She can be reached at editor@ycharts.com. You can also request a demonstration of YCharts Platinum.
Disclosure: I have no positions in any stocks mentioned, and no plans to initiate any positions within the next 72 hours. I wrote this article myself, and it expresses my own opinions. I am not receiving compensation for it. I have no business relationship with any company whose stock is mentioned in this article.