(Editors' Note: This article discusses micro-cap stocks. Please be aware of the risks associated with these stocks.)
My patience has paid off. The price of Spherix (NASDAQ:SPEX) has retraced all the way back to levels before its 125% rally in March, making it time to revisit an investment idea presented in one of my most popular articles, How They Found The Next Vringo. To the best of my knowledge, the following article is the deepest analysis of Spherix's overhauled business plan and incoming CEO, so readers here have a unique advantage. However, I do not own shares yet, for reasons I explain later.
On May 20, Spherix filed its Q1 report for the period ending March 31, 2013. As expected, there is not much happening at the company except for its pending acquisition of North South Holdings. (This acquisition announcement was the event that sparked the 125% rally this spring.)
Recounting this story, on February 13, Hudson Bay disclosed a 7.47% stake in Spherix. The next day, Iroquois Capital disclosed a 6.8% stake. Both of these institutions were original investors in the Vringo (VRNG) deal prior to its triple-digit rally. On February 22, Spherix announced the North South Holdings agreement, and shares promptly rallied from $7 to a high of $16.20 per share.

I tell this story to underscore the importance of the pending North South Holdings transaction for this company. Indeed, Spherix generated revenues of just $5,761 in the first quarter of 2013, recently reduced its administrative staff by 1/3, has an interim CEO and drastically slashed use of outside vendors. In its past life, Spherix had two business divisions: Spherix Consulting and Biospherics. In December, ChromaDex acquired the consulting division. Regarding the latter, the company stated, "No substantial revenue is expected from the Biospherics segment until the Company is successful in selling or licensing its technology." Although Biospherics issued a courtesy press release saying that it continues to research dietary supplements, I do not expect much from Biospherics and ignore it for the remainder of this article.
So again, the future of Spherix is all about North South Holdings, although I should mention that the company did announce on Wednesday that it will purchase patents from Rockstar Consortium of billion-dollar Nortel fame. It did not provide many details on this agreement aside from its plans to sue new defendants for infringement within 30-60 days. (It also did not mention North South Holdings, so I assume that Spherix's wholly-owned subsidiary, Nuta Technology Corp., will hold these patents.)
I was able to determine that North South Holdings is a private Delaware corporation, allegedly has $2 million in cash, owns at least 222 patents "principally covering wireless communications" developed at Harris Corporation (NYSE:HRS) plus a small portfolio from CompuFill, and does business in New York City (and perhaps additional locations) through its CEO Anthony Hayes. North South Holdings' patent portfolio from Harris Corporation "has applicability in law enforcement communications, military and homeland security, satellite communications, portable electronics, Wi-Fi, microwave and cellular transmission, and solar concentrator technologies." Its patents from CompuFill relate to "automated pharmacy ordering practices."
If North South Holdings finalizes the merger with Spherix by the expected deadline of August 31, 2013, the capital structure of Spherix will change drastically, as already noted by Seeking Alpha contributors. Because this capital structure change will increase the valuation of the company, and because the vesting schedule for all series of stock is not yet public, I have decided to not buy shares until I have time to perform my typical, detailed analysis. Regardless, North South Holdings will then merge into Spherix's wholly-owned subsidiary, Nuta Technology Corp., and Nuta Technology Corp. will be the surviving entity.
Whatever North South Holdings' portfolios are, they must be very valuable. Spherix is acquiring North South Holdings for roughly $82.4 million based on the $6.87 closing price of Spherix the day prior to the transaction letter. Hayes will become the CEO of Spherix once the merger finalizes, bringing significant patent monetization skill to the company. Because the future of Spherix rests on the shoulders of this incoming CEO and his patents (plus incoming Rockstar Consortium patents), I wanted to learn about him.
Spherix's Incoming CEO: Anthony Hayes
Anthony Hayes will replace interim CEO Harvey Kesner by August 31, 2013. Hayes is an accomplished lawyer with bar memberships in New York, Florida, South Carolina and Washington, D.C. He earned his juris doctorate in 1995, and after a few years of legal practice in Florida, he joined Nelson Mullins Riley & Scarborough in South Carolina. He became a partner at this law firm, focusing on litigation and patent commercialization during his tenure, including several buy-and-flip patent deals that generated triple-digit returns on investment ("ROI").
In 2002, the President commended Hayes for providing pro bono legal services to firefighters and police officers. This link shows a photo of the President shaking Hayes' hand in front of Air Force One.
When it comes to patent monetization, Hayes' confidence is unabashed. An interviewer asked him to reveal guidance for a $30 million patent investment fund he managed, and without reservation, he guided 30% as a "realistic" return for his accredited investors. He explained matter-of-factly, "the gross ROI for my past three deals has ranged from 200% to almost 400%." His deal history substantiates that claim, remarkably.
I found an interesting story that illustrates Hayes' skill in monetizing patents. The story comes from his work at JaNSOME IP Management, a company he co-founded.
JaNSOME's management team was retained by a financially distressed publicly traded company to monetize that company's IP in the "cloud computing" space. JaNSOME's team restructured the company's management, drastically reduced capital expenditures and prevented bankruptcy. JaNSOME further pulled together a team of experts in "cloud computing" to restructure, package and market the company's IP. JaNSOME's connections resulted in both interest and offers from the largest names in the high-tech field. After six (6) month, JaNSOME effectuated a sale of the company's IP for $3,900,000.00.

Prior to JaNSOME's involvement, the company's stock was trading at $0.07 per share. After JaNSOME's involvement, the company declared a $0.34 per share dividend and the stock traded as high as $0.50.
This story rang a bell. I recalled a message board following that had been raving about a dividend worth multiples of a company's market capitalization, how it could happen again, and so forth. Like most message boards rumors, I had entirely disregarded it. After reading this story, however, a bit of sleuthing led me to Mango Capital. On June 26, 2012, Mango Capital gifted a staggering $0.34 dividend to shareholders despite a depressed and illiquid share price (note the tiny volume below the price graph). Shareholders stuck with near-worthless shares unexpectedly received a cash dividend.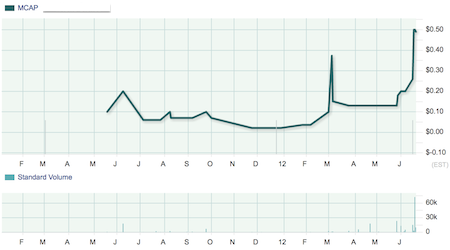 To emphasize this point, it is that Anthony Hayes who is going to be the CEO of Spherix once the merger finalizes. The MCAP $0.07 to $0.50 guy... not to mention a fund manager and Partner at an AmLaw100 law firm.
Speaking of his plans for Spherix, Hayes explains that the company will differentiate itself from Vringo and VirnetX (NYSEMKT:VHC) by being "a full-service monetization and commericalization operation." Hayes claims that Vringo and VirnetX are relatively simple businesses. "They take undervalued patents and monetize them." Both companies have gained popularity due to their success, yet there are dozens of companies that have failed while attempting the same approach. "Litigation often has a very binary result," Hayes explains.
Instead of pursuing litigation alone, Hayes lists a variety of patent monetization strategies, all of which he will likely be pursuing at Spherix as its new CEO.
patent litigation
consulting
brokering patent sales between buyers and sellers
patent price arbitrage
mass licensing
targeted, negotiated licensing
financing patent litigation
investing in other companies that own patents
If Hayes maintains his core values as explained in January, Spherix will "very definitely not to morph into yet another NPE." Non-Practicing Entities ("NPEs") sue for patent infringement even if they do not use the patent for their own businesses. NPEs are simply "patent trolls" that sue offensively, rather than defensively protecting their own operations.
To ensure that Spherix is not classified as a NPE, Spherix's interim CEO has already announced plans to acquire telecommunications technology by the third quarter of 2013. It already signed a letter of intent for this technology with "a major private patent ownership collaboration," so this is more than just a forward-looking business plan. My opinion is that Spherix wants to commence operations based on North South Holdings' patents before it goes to court. I noticed that Spherix recently changed its corporate description to read, "Through its recently announced acquisition of several hundred patents issued to Harris Corporation Spherix intends to expand its activities in wireless communications and telecommunication sectors including antenna technology, Wi-Fi, base station functionality, and cellular." Once Spherix is using its North South patents for actual business operations, its chances of monetizing those patents in the courtroom become more favorable.
Conclusion
The elephant in the room, of course, is that Spherix is one of the lowest float stocks in existence. It is one of the top five low float stocks on the NASDAQ at a scant 650,000 shares. It has also received investment from institutional investors of Vringo fame, Hudson Bay and Iroquois Capital, as well as "exceptionally well-known, well-respected, high-net-worth individuals in this space who have a history of backing winners in patent commercialization," according to Hayes. By August 31, it will have a new and very impressive CEO with over 222 Harris Corporation patents and a Rockstar Consortium portfolio. Although the capital structure of Spherix is complicated, history has proven that Spherix stock is "jumpy" with frequent spikes and a large trading range.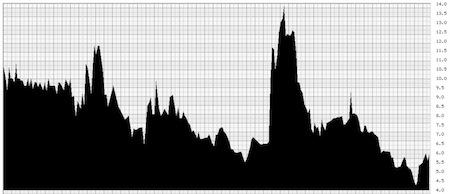 Personally, I do not own shares due to the upcoming capital structure changes and my (perhaps obsessive) need to performing a full analysis of all securities, yet I think this situation is incredibly unique and, dare I say, fun. I rarely come across a low float NASDAQ stock with less than a million shares in the float, much less the fifth smallest on the NASDAQ. I will be watching Spherix closely, especially for specifics about Spherix's post-North South Holdings capital structure and Hayes' initial plans for monetizing the patent portfolio. I find the rumor plausible that North South Holdings shares will to remain locked for one year -- rarely do large transaction shares become immediately freely trading -- but the company has not disclosed this vesting schedule. Once it releases all of these details, and once Hayes is allowed to speak as CEO regarding the patents and upcoming litigation, I will have enough to decide whether or not I want to buy shares. I expect all of this information to be released by August 31 and will update readers afterwards.
At the moment, there are no substantial business operations at Spherix aside from pending transactions with Rockstar Consortium and North South Holdings, but once Hayes comes on board, his track record speaks for itself. I like Hayes' commitment to pursue a multitude of patent monetization strategies (rather than just litigation, which is popular yet my least favorite strategy).
Every $1 per share of upside in the temporary low float (pre-North South Holdings) only equals $650,000 of buying, so I have not been surprised when watching Spherix jumping in price recently. With Spherix's pending North South Holdings transaction just weeks away and a float this small, any whiff of speculation is moving shares very quickly. I am not a shareholder until Hayes explains his plans for the company, but during his quiet period during regulatory approvals? Many are taking a summer trade just for fun, and asking why not.
Disclosure: I have no positions in any stocks mentioned, and no plans to initiate any positions within the next 72 hours. I wrote this article myself, and it expresses my own opinions. I am not receiving compensation for it. I have no business relationship with any company whose stock is mentioned in this article.