On Sunday, I introduced Seeking Alpha readers to the S&P Buyback Index, which has tripled the cumulative performance of the S&P 500 Index (NYSEARCA:SPY) over the trailing twenty years as graphed below:
Source: Bloomberg
The S&P Buyback Index has also strongly outperformed the broad market gauge this year, besting the S&P 500 by over ten percent in 2013 with only two of the one-hundred constituents posting negative year-to-date total returns.
Source: Bloomberg
This series of articles seeks to glean the themes that make these stocks strong outperformers over long-time intervals. In the opening version of this series, I discussed academic reasons why share repurchases should not boost the value of a firm and demonstrated that share repurchases have historically been pro-cyclical, rising when stocks are at relative highs and falling when stocks are less inexpensive, reasons that should not lead to long-run outperformance. Given the strong performance of the S&P Buyback Index historically, this series will examine the underlying constituents in an attempt to determine what has made these stocks produce long-run alpha. In each article, I will be discussing ten of the one-hundred S&P Buyback constituents as I attempt to parse value creating themes and determine if there are specific constituents which could provide outsized forward returns.
*Returns and valuations as of close of trading July 19th
Applied Materials (AMAT)
Headquartered in Santa Clara, CA, Applied Materials is the world's largest equipment supplier for the semiconductor and solar photovoltaic industries. As tabled below, given the company's healthy and stable free cash flow generation, the company has been very aggressive in repurchasing shares over the trailing decade. The problem is that even after a 45% gain in the stock price year-to-date, the company is trading today at just 3% higher than the average price at which shares have been repurchased over the trailing decade.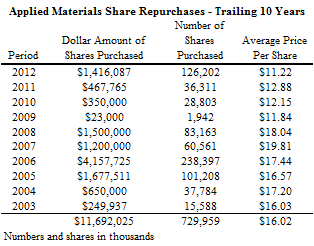 With a $3bn, 3-yr share repurchase plan authorized by the company's Board of Directors on March 5th 2012 only half completed, the company is likely to return another $1.5bn to shareholders over the next eighteen months. Absent a change in the company's strong business profile, Seeking Alpha readers should be looking to add the company on dips in pricing with the knowledge that aggressive share buybacks will provide downside protection; however, buying the stock near its peak price will produce the same meager returns that company management has generated buying back shares over the past ten years.
Assurant (AIZ)
Assurant provides specialized insurance products throughout North America and in select international markets through its four primary divisions: solutions (includes pre-funded funeral insurance), specialty property (includes lender-placed homeowner's insurance, renter's insurance, manufactured housing homeowners insurance, and a consumer protection and warranty business), health (individual and small group health insurance), and employee benefits (small group non-medical products such as dental, disability, and group life). The company was formed from a February 2004 spin-off from former parent Fortis N.V.
The company has been a strong purchaser of its own shares in recent years, buying back roughly a quarter of the company in 2011 and 2012. In 2011, the company bought back 14mm shares at an average price of $37.83, and in 2012 Assurant bought back nearly 11mm shares at an average price of $36.95. With the stock currently trading north of $53/share, the company has gotten good value from its recent share repurchases, and has resultantly slowed its share buybacks. Buybacks in the first quarter of 2013 were only a quarter of the number of shares repurchased in the first quarter of 2012 as share repurchase activity was affected by settlement discussions with the New York Department of Financial Services. Management indicated on the first quarter conference call that the company "continues to regard our stocks as attractively priced and believe repurchases are prudent use of capital" and that "returning cash to shareholders is an integral part of our disciplined approach to capital management" and that the company's "segments generate free cash flow that will allow us to both return capital to shareholders and make ongoing investments to build our business."
AT&T (T)
My favorite recent quote about the rumored takeovers by U.S. telecom firms of their beleaguered European counterparts was provided in a Bloomberg article and stated by Tero Kuittinen, New York-based head of sales and marketing for Alekstra Oy, a mobile-diagnostics company, who said: "AT&T has very little experience with true price competition. It is living in luxury in America, lolling on a satin pillow and lapping up fat profit margins."
Source: Bloomberg
The graph above demonstrates why AT&T may still venture over the Atlantic, depicting how strongly AT&T's stock has outperformed the Euro Stoxx 600 Telecommunication index price in dollars over the last five years. The performance of the Eurotels has been flat, giving AT&T a rising currency to seek acquisitions on the continent that can boost long-term value.
While this is a massive growth opportunity for the firm, Kuittinen's quote identifies the risk. In the United States, AT&T operates in a near duopoly with Verizon (NYSE:VZ), with the two companies hosting two-thirds of the nation's contract subscribers. This strong business profile has allowed AT&T admission to an exclusive grouping of stocks as one of only five members of the trio of the S&P Buyback Index, the S&P Dividend Aristocrats, and the S&P Low Volatility Index. In previous articles, I have demonstrated how the latter two indices that feature AT&T as a constituent have also produced long-run alpha. AT&T can continue running its dominant U.S. business, and amply reward its shareholders with rising dividends and continued share repurchase from excess free cash flow, but have its growth constrained by anti-trust concerns and declining regulatory headroom. Alternatively, the company can embark on an international spending spree given the strong performance of both AT&T and the U.S. equity markets at large, and seek to grow the business in higher margin emerging markets or through the purchase of lower multiple European businesses. How management chooses to answer this questions will drive the extent of future share repurchases, but more importantly the value of the firm over the next decade.
Autodesk (ADSK)
Headquartered in San Rafael, California, Autodesk has been providing design software for architects, engineers, and manufacturers since 1982. The firm's AutoCAD has been the dominant computer aided design product, and has helped the company expand to serve over ten million users globally.
With the company's principal design software becoming the global standard, the company has generated positive annual free cash flow for at least the last twenty-five years. Historically, the company has operated with little or no long-term debt, but did take advantage of historically low interest rates to issue $400mm of 1.95% five-year notes and $350mm of 3.6% ten-year notes in December of 2012. The company mentioned share repurchases as a potential use of the debt proceeds at the time of issue.
Autodesk's results have been pressured in recent periods by macro headwinds in its architectural and engineering end markets, resulting in the sixth worst year-to-date performance amongst the S&P Buyback Index constituents. At current valuation, the company appears fairly valued, but given its subscription-like free cash flow generation, the company remains one to watch for potential price dips or a pickup in top-line growth from rebounding end markets.
AutoNation (AN)
AutoNation is the largest auto retailer in the United States, owning and operating 266 new vehicle franchises in 15 states with a focus on major metropolitan markets. The retailer offers used vehicles, vehicle maintenance, replacement parts, aftermarket products, and vehicle insurance and service contracts.
During the company's recent second quarter earnings call, management indicated that the company had repurchased 65,000 shares for $2.7 million at an average price of $42.10. The company had $314 million outstanding under its current board approved share repurchase authorization as of July 17th, or roughly six percent of current market capitalization.
In spite of the company's healthy free cash flow generation from its improved cost structure, I expect the company to continue to spend incremental capital on bolt-on acquisitions as it seeks to unify its franchise through coast-to-coast branding operations. The company has a very good track record of allocating capital, and will make forward decisions based on price and expected returns, which has currently de-emphasized share repurchases.
The stock has come under a little pressure recently as billionaire fund manager and top AutoNation shareholder, Edward Lampert, has met redemptions from his main hedge fund, which has seen flagging results due its large bet on underperforming retailer Sears (NASDAQ:SHLD), through distributing AutoNation shares to clients. If selling pressure on AutoNation shares causes the share price to underperform, this could potentially change the calculus on the company's decision between repurchasing shares and investing in the business. With improved earnings from a rebounding auto market, any dip in the share price that leads the firm to trade at a material discount to the market should be viewed as an opportunity.
AutoZone (AZO)
Like the aforementioned AutoNation, AutoZone is a leading automotive retailer. The company is the largest automotive parts specialty retailer, with roughly 5,000 stores in the United States and Mexico centered around the do-it-yourself consumer.
Unlike AutoNation, AutoZone will continue to be a strong purchaser of its own shares. Chief Executive Officer Bill Rhodes stated on the company's third quarter 2013 conference call that the company's "ability to manage in good sales environments and not so good, has allowed us to deliver 27 consecutive quarters of double-digit EPS growth" and "that consistency allows us to be shareholder-friendly through our stock buybacks and bondholder-friendly through a targeted investment grade rating."
At the end of the quarter, the company had $278 million under its share buyback authorization, and continues to view its share repurchase program as an attractive capital deployment strategy when balanced against the desire to maintain investment grade debt ratings. The company bought $325 million of shares back in the most recent quarter, or roughly 2% of the outstanding market capitalization, which means that we should expect to see the board increase the authorization in the near-term given the expectation for the generation of nearly a billion dollars of free cash flow for the fiscal year.
While in slightly different positions in the automobile industry, I expect AutoZone to outperform AutoNation over the next year given similar earnings multiples, a lower EV/EBITDA multiple at AutoZone, and the higher free cash flow yield at AZO, which should lead to more aggressive share repurchases.
Avery-Dennison (AVY)
Avery-Dennison is a specialty packager with three main operating businesses: 1) pressure-sensitive materials (55% of sales), 2) retail branding and information solutions, and 3) other specialty converting businesses after the sale of its Office Products Division earlier this year. Avery-Dennison is the largest domestic producer of pressure adhesives and materials to industrial and consumer customers, making the company a leading low-cost producer of pressure-sensitive rolls and sheets for consumer products labels and bar codes.
In the first quarter, the company returned roughly $90 million to shareholders through its dividend and the repurchase of 1.5 million shares. With management intending to use a portion of the proceeds of recent divestitures for share repurchases and amidst the continued restructuring efforts, expect share repurchases in the back half of the year to accelerate.
While the company trades at a healthy EV/EBITDA multiple of 8.8x, and the stock is outperforming year-to-date, I think that there is some downside protection for the shares. Internal asset optimization with a focus on cash flow generation coupled with the potential for external re-leveraging through a leveraged buyout provides support. With a healthy free cash flow yield in the low double digits, the company could support additional debt and many specialty packaging companies choose to operate with below investment grade credit metrics given that steady cash flow generation suitably services debt levels. Absent a leveraging event, further shareholder gains will be driven by the continued asset optimization undertaken by management and a continued and enhanced focus on returning cash to shareholders.
Ball Corp. (BLL)
Ball Corporation is a manufacturer of metal packaging, primarily for the beverage industry, and supplies aerospace and other technologies to government and commercial customers. When researching Ball for this article, I came across a headline that read: "Ball's Short Positions Rise 162%," which was certainly a surprise for this staid, defensive business, but after reading the article, the increase in short interest was to a mere 0.2%. Not many investors are willing to take a short position in Ball, which despite its speculative grade debt ratings, has an equity beta of only 0.92.
The desire to be on the long side of the Ball story is reasonable given that the company has generated positive free cash flow in every calendar year since 1996, and has generated a compounded annual earnings growth rate of fourteen percent per annum over the last decade. However, the company has lagged in 2013, producing a sub 1% total return that puts it amongst the bottom of the S&P Buyback Index constituents as a decline in market share in the North American business can weigh on results.
At the J.P. Morgan Diversified Industrials Conference in early June, CFO Scott Morrison responded to a query on the valuation of the company that he believed "it's on sale" and that the company had "been buying more in the second quarter" and that the management planned "to orient most of that free cash flow to buying back our stock this year." At roughly 9x EV/EBITDA, Ball is not necessarily cheap even with the year-to-date underperformance, but a management team committed to returning cash to shareholders should make for a defensive play for a company that has shown the ability to grow earnings over long time periods.
Becton Dickinson (BDX)
Becton, Dickinson & Company is a one-hundred and sixteen year old global medical technology company, and a dominant player in needle-based medical devices and in vitro diagnostics. Over the last five years, the company took out roughly $3 billion of long-term debt and returned that cash to shareholders through a steadily increasing dividend and share repurchases.
While this strong level of recent capital distribution is certainly anomalous for this company, the strong business profile of this medical products company has allowed Becton Dickinson to join the aforementioned AT&T as one of an exclusive grouping of five stocks that are all members of the S&P Buyback Index, the S&P Dividend Aristocrats, and the S&P Low Volatility Index.
At the Goldman Sachs Healthcare Conference in mid-June, then acting Chief Financial Officer, Suketu Upadhyay, mentioned that before the debt fueled share repurchases of the past several years, the company returned seventy to eighty percent of cash flow to shareholders and "that's the sort of profile we think about going forward." That level of share repurchases would translate to roughly $850 million of share repurchases or roughly four percent of market capitalization per year. After a forty percent run over the past twelve months, it is difficult imagining the company outperforming over the near-term, but Becton Dickinson is favorably positioned for aging demographics in the developed world and healthcare growth that continues to outpace the broader economy.
Bed Bath & Beyond (BBBY)
Bed Bath & Beyond operates nearly 1,500 stores in the United States and Canada offering home furnishings, giftware, and health and beauty care items at its large retail footprint and through its burgeoning e-commerce platforms. Whenever I think about the Bed Bath and Beyond equity story, it is difficult not to recall the bankruptcy of primary competitor, Linens 'N Things, which collapsed during the recession due to an ill-timed leveraged buyout by Apollo.
With the company's primary competitor shuttered, the prospective challenge for Bed Bath & Beyond will be the same headwind facing all big box retailers; lowered margins from competition from internet retailers. With a strong balance sheet, Bed Bath and Beyond is well positioned to fend off competitors as it further develops its own online strategy. Over the last two years, the company has returned roughly 95% of cash flows from operations to shareholders, and intends to complete its current $2.5 billion share repurchase authorization by the end of fiscal year 2015. With the company likely generating $1.3 - $1.4bn of operating cash flow for the current fiscal year, the company will be well positioned to return cash to shareholders.
Summary
As I featured in the first version of this article published yesterday, and will further detail over eight additional articles introducing the remainder of the S&P Buyback Index constituents, collectively this is a group that trades at a slight earnings discount to the broader market while generating much higher cash flow per share (5.4x more cash flow per share than the average S&P 500 member.) The Buyback Index is both underweight utility and consumer staples companies that have come under pressure recently due to higher interest rates while also underweight underperforming materials stocks hampered by falling commodity prices.
Readers who stick through the remainder of these articles will see a listing of companies with a bent towards healthcare, financial, and consumer discretionary stocks with stable business profiles. These companies also are collectively smaller than the broader index constituents with an average market capitalization roughly three quarters of the size of the average S&P 500 constituent. While there is currently not an exchange traded fund that replicates this particular index, readers of the first version of this article pointed me to the PowerShares Buyback Achievers Portfolio ETF (NASDAQ:PKW), which tracks U.S. companies that have repurchased at least five percent or more of their shares over the trailing twelve months. As seen below, the Buyback Achievers have strongly tracked the returns of the S&P Buyback Index over the last five years with both buyback indices strongly outperforming the S&P 500 over that time period.
At the end of this series, I will be offering my ten picks from the list of the one hundred constituents that I believe will collectively outperform the domestic equity market over the next one year. As always, reader picks and pans of the discussed stocks are welcome.
Disclosure: I am long SPY. I wrote this article myself, and it expresses my own opinions. I am not receiving compensation for it (other than from Seeking Alpha). I have no business relationship with any company whose stock is mentioned in this article.