I was doing research on another stock and looked up Exide Technologies (XIDE) as a "comp". What I found was so interesting and compelling that I changed plans and decided to write about Exide instead.
Exide Technologies is a global manufacturer of lead acid batteries for transportation and industrial applications. Operating in over 80 countries worldwide, Exide Technologies provides a comprehensive range of stored electrical energy products. Here is the link to their website.
As you can see from the chart below, it has been on a very wild ride of late and that is what caught my attention.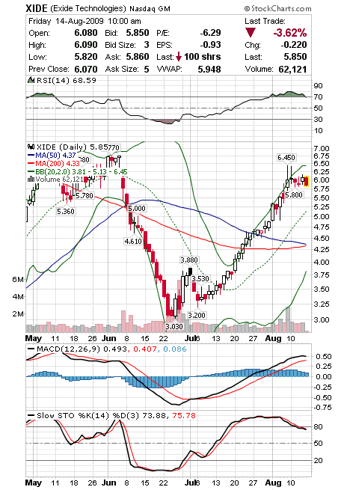 Look at that "hockey stick"! Exide Technologies had dropped precipitously in the month of June bottoming out at $3.03 in late June. A small rally in early July was wiped out in a few days and the stock dropped again, this time to $3.20. Since then the stock has had very few down days on its march to topping out at $6.46 on August 7th. The momentum has stalled and Exide Technologies stock has traded sideways in the past few days.
The chart indicates that the stock is "overheated" with both the RSI and Stochastics at or above key levels. While the MACD is still bullish, the MACD histogram shows that the bullish trend is losing strength and momentum. The volume has remained consistent over the past few days which is a good sign that the stock could rise from here.
The question that is begging to be asked is "what will happen to the stock....will it rise or fall?"
From a financial perspective, several conflicting storylines emerge. The company has not posted an operating profit for the last two quarters. Exide Technologies would have posted a small operating profit but for the approximately $70 million in restructuring charges,
However, the balance sheet is relatively strong (a/o 6-30-09). The company, which emerged from bankruptcy in 2004, seems to have avoided the debt trap that sunk Exide the first time around, but is still highly leveraged. They had, until this past quarter, been aggressively paying down debt, but they still have over $650 million in L-T debt. Cash and Equivalents are $121 million and the quick ratio is about 1:1. A disturbing fact is that the company is subject to a great deal of interest rate risk. Over half of their current debt structure is floating rather than fixed.
The best news (and the brightest hope for their future) comes out its alliance with Axion Power (NASDAQ:AXPW), a development stage company that has patented the next generation of lead acid batteries called "lead-acid-carbon". These batteries replace the toxic lead components of batteries and replace them with a carbon composite. The new chemistry allows for less toxicity, lighter weight, greater power delivery rates and faster recharge rates. It is Exide's intention to compete with Lithium-Ion and other storage technologies within its traditional markets and in the burgeoning "green" markets - industrial power, Military Power, Hybrid and Electric-powered vehicles.
As a further seal of approval, the joint venture between the two firms recently received stimulus money in the amount of $34.3 million to begin manufacture of this next generation battery.
I am taking a "wait-and-see" attitude with Exide Technologies. The chart pattern has not declared itself yet. It appears that all of the good news of late has been priced in to the stock. If one is to trade this stock, it might be best to keep a very tight stop on it. The stock appears to be at a "tipping point" and, if its past volatility is any indicator, it could go either way.
Disclosure: No Positions