After the bell on Monday, streaming giant Netflix (NASDAQ:NFLX) reported its fiscal second quarter results. Overall, the report was okay. Revenues were a tad under estimates, but the company beat handily on the bottom line. Q3 guidance seemed to have been a little soft. Altogether, it was a good report. However, this stock had rallied way too much, so a good report was not enough. Shares traded down about 4% in the after-hours session on the news. Today, I'll analyze the results.
Q2 overall results:
The following table shows how Netflix's second quarter results stack up against the company's guidance for the quarter.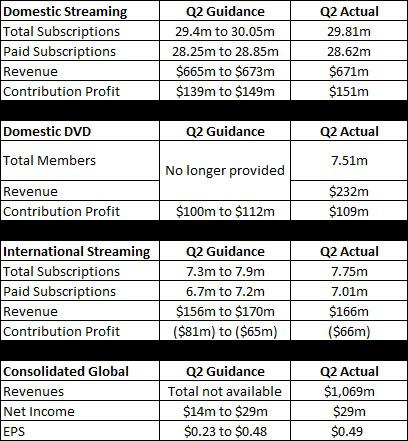 Netflix came in at the upper end of most ranges, but they weren't at the top of the range. Given how much this stock had rallied into the quarter, implied expectations were a bit higher. Total revenues also seemed a tad light, as the $1.069 billion (20.3% growth) was a little under the $1.072 billion (20.6% growth) that analysts were looking for.
The first thing I want to highlight is the DVD segment. The DVD business lost 0.47 subscribers, which is the largest decline in three quarters. However, DVD revenues were down $11 million sequentially, the same sequential decline as the prior quarter, when only 0.24 million subs left. Either Netflix had a large amount of DVD subs leave at the end of the quarter, which will impact them more in Q3, or they lost a lot of lower priced DVD subs. We'll have to wait till Q3 to see what happens. With the DVD business in decline, one must wonder if they exit this line.
Now let's move on to Domestic Streaming. Net subscriber additions were more than last year's period, which seems like a good sign and something the company reiterated on the "earnings call". Even though this seems positive, you would have liked to have seen the number a little higher given the number of original series that were launched in the quarter. Netflix was able to get contribution margins up to 22.5% in the quarter, which is better than many expected.
The international segment showed solid growth, and contribution losses were at the lower end of the range. Netflix expects to lose more in this segment during Q3 as they expand into the Netherlands. However, this will not provide a ton of subscribers, because as they pointed out in the investor letter, the Netherlands is only half the size of Canada.
On the bottom line, Netflix produced earnings per share of $0.49, up dramatically from the $0.11 reported in last year's period. Analyst estimates call for a $0.40 profit, so they beat by nine cents.
Q2 margin analysis:
The following table shows Netflix's overall margins over the past two and a half years, which I will use to break down the results further.

Gross margins improved by 190 basis points over the prior year period thanks to a lower amount of streaming expenses from the international segment, as well as the improvement in domestic streaming margins. Operating margins improved by 352 basis points over the prior year period. Netflix has been able to leverage some of its operating expenses better, so they are not rising as fast as revenues. That's a good thing. However, interest and other expenses rose from a combined $5.5 million to $10.47 million, so despite a 533 basis point lower tax rate, net profit margins did not rise as fast as operating margins. Netflix took on more debt a few months back, but the "other income" items (expense) rose by nearly 500%.
Balance sheet update:
The following table shows Netflix's balance sheet over the past two and a half years, with dollar values in thousands.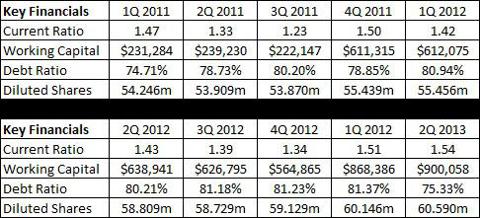 Click to enlarge
(Click to enlarge)
You will notice that the current ratio and working capital improved nicely. Netflix has just over $1 billion in cash and equivalents. The one ratio that looks much better is the debt (liabilities to assets) ratio. This is due to the company's conversion of the $200 million in TCV convertible notes. This debt was converted into 2.3 million shares of equity, which is why the debt ratio improved. The only long-term debt Netflix now has is the $500 million in notes due in 2021. The number of diluted shares continues to expand, meaning investors are further diluted each quarter, hurting earnings per share.
One important item to note is that non-GAAP free cash flow turned positive in Q2. After three straight quarters of negative free cash flow, Netflix reported nearly $13 million in positive free cash flow. Netflix bears have attacked the company for its poor cash flow, which at times has trailed net income, and sometimes quite substantially.
Q3 Guidance:
The following table shows Netflix's Q3 guidance, as compared to its results from Q2.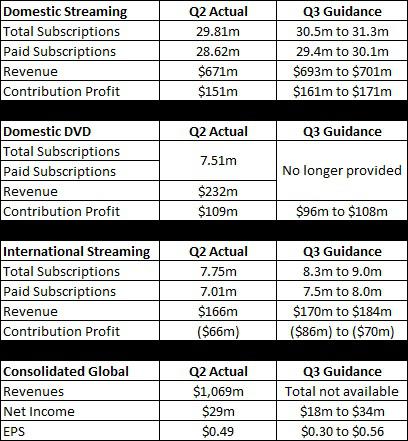 Because Netflix stopped providing DVD guidance, there isn't a true comparison to analyst estimates. I would estimate Q3 DVD revenues at about $220 million, meaning that Netflix's total revenue guidance midpoint would be $1.094 billion. Analysts were looking for approximately $1.1 billion, so this forecast is a tad bit light. On an earnings per share front, Netflix's $0.43 midpoint was two cents shy of the analyst average for $0.45. This guidance was fair overall, but again, it needed to be much better given the stock's large rise.
Other Investor Letter highlights:
One interesting item to note is that Netflix gave us another update on the "Top 200", their top 100 shows and 100 movies watched during the quarter. In the fourth quarter of 2012, Amazon's (NASDAQ:AMZN) Prime unit had 73 of Netflix's "Top 200" in its catalog, and Hulu Plus had 27 titles. In the first quarter of 2013, Netflix said that Amazon's Prime was up to 74 titles, but they did not give an update on Hulu. At the end of Q2, Amazon Prime was down to 68 titles, but Hulu was up to 36. It might seem odd that Prime has gone down, given Amazon's huge push to acquire content. Well, it might have to do with the fact that Amazon is picking up content that Netflix is dropping. Also, due to Netflix's launch of original series, those shows cannot be on Prime or Hulu right now. So assuming something like "Arrested Development" made the "Top 200", that would essentially count against Amazon. Netflix did acknowledge that content prices could rise now that Hulu has more money to spend, but Netflix stated that they have plenty of long-term deals in place to mitigate this issue.
Netflix also provided the following statement in terms of originals:
Beyond series, we will be expanding our Originals initiative to include broadly appealing feature documentaries and stand-up comedy specials. Netflix has become a big destination for fans of these much loved and often under-distributed genres.
So Netflix will be looking into other areas, and on their "earnings call" they did mention that producing their own movies could be possible. This will be an interesting dynamic to watch going forward.
A few points on the "earnings call":
As many know by now, Netflix did not do a standard conference call this quarter. Instead, they had a live video chat that featured CEO Reed Hastings, CFO David Wells, and Chief Content Officer Ted Sarandos. The live chat was moderated by Rich Greenfield, an analyst at BTIG, and CNBC's Julia Boorstin. This was an interesting dynamic, considering that Greenfield has a "Buy" rating on the stock.
I listened to almost all of the chat, and was a bit disappointed by it. First, having two moderators ask questions with three people responding can lead to some bumps with people trying to talk over each other. Second, Netflix had one of their Emmy awards in the background where Sarandos was. Netflix has appeared arrogant at times, and this appeared to be the case again.
Netflix also showed little very little transparency, a criticism many have had for some time now. They would not provide numbers on churn, which they stopped providing a number of quarters back, as well as how many subscribers left during the quarter. Remember, Netflix lost some key content during the quarter, so investors want to know how that impacted subscriber numbers. They also wouldn't provide viewership numbers for any of their originals, but said that they were "5 for 5" because all five originals were reviewed for another season.
So instead of the usual format where anyone can submit questions to Netflix IR, you had to submit them to the moderators. I used to submit questions, but decided not to due to the format change. Also, you had the two moderators who picked out their own questions, many of which had to do with original content. In a typical conference call, you would have had a variety of analysts asking questions, which I think would have covered a more broad base question set. Hopefully, Netflix goes back to a traditional call next quarter, but I doubt they will. They like to be different.
Final Thoughts:
Netflix shares lost four percent in the after-hours trade, but they were down more than 10% initially on the quarterly report. The decline makes sense in my opinion given that the stock was up about 186% year to date going into the report. While Netflix had a decent Q2, results were not at the top end of the company's guidance. Given the stock's large rally, Netflix needed to deliver a substantial report, and they didn't. Q3 guidance also seemed a tad light, which also contributed to the after-hours selling.
Netflix was able to produce a solid profit in Q2, and their profitability has been better in recent quarters. The international business is not losing as much money as it could be, and domestic streaming margins have greatly improved. As I've repeated numerous times in the past, Netflix will not be a profit monster for quite a while. The DVD segment continues to decline, and their push into new international markets will drag down earnings each time a new market is entered. For now, Netflix's stock will move based on subscriber and revenue growth. In Q2, those numbers were decent, but it wasn't enough given the 2013 rally in Netflix shares.
Disclosure: I have no positions in any stocks mentioned, and no plans to initiate any positions within the next 72 hours. I wrote this article myself, and it expresses my own opinions. I am not receiving compensation for it (other than from Seeking Alpha). I have no business relationship with any company whose stock is mentioned in this article. Investors are always reminded that before making any investment, you should do your own proper due diligence on any name directly or indirectly mentioned in this article. Investors should also consider seeking advice from a broker or financial adviser before making any investment decisions. Any material in this article should be considered general information, and not relied on as a formal investment recommendation.