By: Brendan Gilmartin, VP Research & Content
Facebook (NASDAQ:FB) is scheduled to report 2Q 2013 earnings after the close of trading on Wednesday, July 24. The actual results are expected to come through at approximately 4:05 p.m. EST with a conference call to follow at 5:00 p.m. This is Facebook's fifth earnings release since its IPO back in May, 2012 and could have a direct impact on Linked-In (NYSE:LNKD) and online game-maker Zynga (NASDAQ:ZNGA).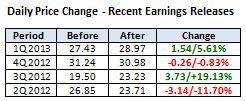 Outliers & Strategy
Facebook is expected to report Non-GAAP Earnings Per Share of $0.14 per share for the 2Q 2013 period. Estimates range from $0.10 to $0.18. (Source: Yahoo! Finance)
Revenues for the 2Q 2013 period are forecast to come in at $1.62 billion, the mid-point of analyst estimates of between $1.55 billion and $1.75 billion.
The options market is pricing in a 7.6% move off earnings when Facebook reports its results.
Facebook shares slipped 1.14% on Friday, July 19, a day after Google (NASDAQ:GOOG) reported that 2Q 2013 Paid Clicks (clicks related to ads served on Google sites) increased a mere 4% over the preceding quarter. At the same time, Google's Average cost-per-click decreased approximately 2% over the same timeframe.
Recent News
Technical Review
Facebook shares recently climbed back above the 200-Day SMA near $26.00 before stalling out near $27.00 resistance - a level going back to late February. Should earnings surprise to the upside, look for Facebook to make a run through $27.00, followed by $29.00. In the event of a downside surprise, Facebook is vulnerable to the 50-Day SMA near $25.00, followed by the June nadir near $23.00. (Chart courtesy of StockCharts.com)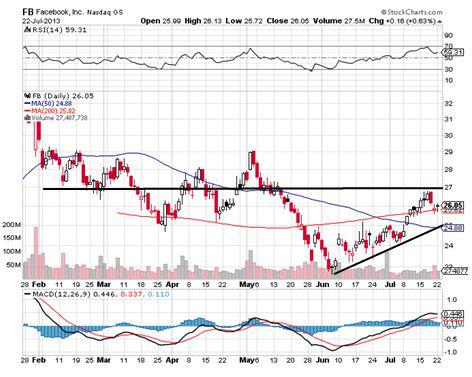 Summary
Facebook shares have been inching higher over the past several weeks amid renewed optimism over ad spending, development of new products, modest valuation, and an expanding mobile presence. The knock against Facebook is its ability to scale in mobile, along with questions over its monetization plans, and concerns over decreasing subscriber growth. Against this backdrop, Facebook needs to deliver earnings and revenues toward the upper end of consensus views in order to assuage investor concerns over slower growth prospects.
DISCLAIMER: By using this report, you acknowledge that Selerity, Inc. is in no way liable for losses or gains arising out of commentary, analysis, and or data in this report. Your investment decisions and recommendations are made entirely at your discretion. Selerity does not own securities in companies that they write about, is not an investment adviser, and the content contained herein is not an endorsement to buy or sell any securities. No content published as part of this report constitutes a recommendation that any particular investment, security, portfolio of securities, transaction or investment strategy is suitable for any specific person.
Disclosure: I have no positions in any stocks mentioned, and no plans to initiate any positions within the next 72 hours. I wrote this article myself, and it expresses my own opinions. I am not receiving compensation for it (other than from Seeking Alpha). I have no business relationship with any company whose stock is mentioned in this article.