Among the many retirement portfolios we have come across, there is one portfolio called "Team Alpha Retirement Portfolio" that we feel merits a full analysis ("What to Do When You Don't Know What to Do").
The retirement stocks in the portfolio were weighted for average capitalizations per stock and the current distribution yields per stock were reported (current composite distribution yield for the portfolio is 4.1%).
Team Alpha: Since I don't know the inception date of this portfolio, we will look at its performance from the general stock market "troughs" (March 2009 and October 2011) instead of its overall performance. In doing so, we can get a better look at how the portfolio is performing in relation to the greater markets. Of course, these dates are picked for my own analysis purposes and don't reflect the actual performance of the Team Alpha Retirement Portfolio.
For these comparisons, we used the end-of-month prices for March 2009 and October 2011.
Washout, March 2009: The portfolio did very well for the period from March 2009 to July 17, 2013. This stellar performance was led by superior gains from KKR Financial Holdings (KFN), Ford Motor (NYSE:F) and Apple (NASDAQ:AAPL).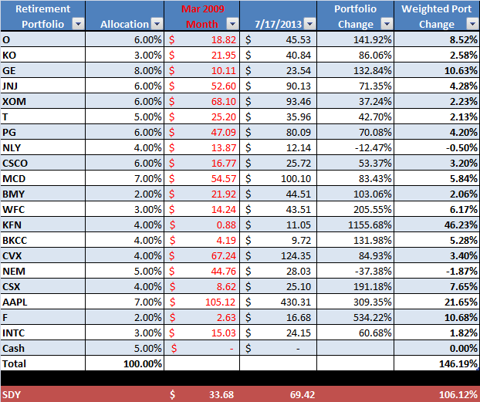 The portfolio from the end of March 2009 to July 17, 2013 was ahead by 146% on a cumulative weighted basis. KKR Financial Holdings led the charge with a 1,156% and a portfolio weighted gain of 46% during this period. There were also some negative performances by Annaly Capital Management (NYSE:NLY) and Newmont Mining Corporation (NYSE:NEM). However, these losses were negligible when looking at the entire portfolio.
KKR Financial Holdings: Excluding the outlier KFN from the portfolio, the weighted portfolio change from March 2009 would have been around 100.0% (146.0% average gains less the 46.0% weighted gains of KFN). In addition, the average percentage change of the remaining stocks allocations (20 stock prices) was about 5.0%. If we add this into the Team Alpha portfolio, the weight gains would have resulted in a gain of 105.0% (100.0% of gains less KFN plus the average percentage change of the remaining allocations (146.0% - 46.0% + 5.0% = 105.0%).
As a comparison, SPDR &P Dividend ETF (NYSEARCA:SDY) gained 106.1% during this same period. SDY seeks to track the performance of the S&P High Yield Dividend Aristocrats Index, which has been consistently increasing its dividends every year for at least 20 consecutive years.
Washout, October 2011: "Team Alpha's" weighted performance from the end of October 2011 to July 17, 2013, was only a gain of 18.6%. In comparison, SDY was up 30.7% for that time period in terms of gain.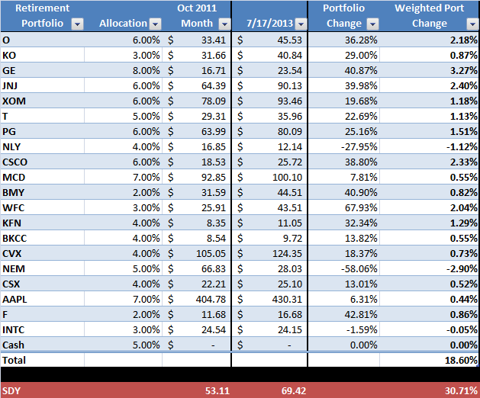 For March 2, 2009, the distribution yield for the year in SDY is 7.5%; October 10, 2011, it was 3.5%.
Portfolio versus SDY: The average distribution yield for the "Team Alpha" portfolio is reported at 5.0% based on the original purchase prices. (Again, we don't know when these stocks were originally purchased.) SDY had a distribution yield of 3.5% for the end of October 2011.
Yield Comparisons: The yield difference between the "Team Alpha" portfolio (5.0%) and SDY (3.5%) comes out to a 1.5% annual difference (or, 3.0% over the two-year period from October 2011 to July 17, 2013) in "Team Alpha's" favor. As a result, simply holding SDY during this two-year period would have provided you with a better performance than "Team Alpha's" portfolio by 9.1% (30.7% - 3.0% = 27.7% - 18.6% = 9.1%).
Conclusion: You may want to put together a 20-stock portfolio similar to that of "Team Alpha." However, this requires collecting 20 stocks yourself and paying commissions on your trades. Otherwise, you may have to resort to using an investment advisor and paying 1.0% of your assets in fees.
In contrast, you may consider buying S&P Dividend SDY as a simple "one click" portfolio. If you want to be a bit more diversified, you could add iShares Dow Jones Selected Dividend Index (NYSEARCA:DVY). The yield on SDY and DVY are currently 2.8% and 3.4% respectively.
Disclosure: I have no positions in any stocks mentioned, and no plans to initiate any positions within the next 72 hours. I wrote this article myself, and it expresses my own opinions. I am not receiving compensation for it. I have no business relationship with any company whose stock is mentioned in this article.