By: Todd McDonald, Analyst
Overview
Qualcomm (NASDAQ:QCOM) is slated to report 3Q 2013 earnings after the close on Wednesday, July 24. The results are expected to come through at 4:00 p.m. EST, with a conference call slated to follow at 4:30 p.m.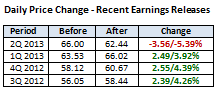 Outliers & Strategy
Non-GAAP Earnings Per Share (EPS): For the 3Q 2013 period, Qualcomm previously indicated it expects Non-GAAP EPS of $0.97 to $1.05. Guidance tends to be conservative and actual results tend to come in at the high end of forecasts. The current consensus is toward the high end of this range at $1.03.
Revenues: Qualcomm said in April it expects 3Q revenue of $5.8 bln to $6.3 bln. The current estimate is $6.05 bln.
Adjusted EPS Guidance & Revenue Guidance (4Q 2013): Guidance for the next quarter will be watched closely, given results for the 3Q 2013 are largely priced into the shares. The estimates are for Adjusted EPS of $1.08 on revenue of $6.31 bln. (Source: Yahoo! Finance)
At just 12.54 forward earnings, Qualcomm is trading at a discount to historical multiples.
Over the past several quarters, Qualcomm has benefited from its relationship with Apple (NASDAQ:AAPL), supplying chips for the popular iPhone device. In addition, the majority of Android devices run on Qualcomm chipsets.
Implied Volatility: Over the past 8 quarters, Qualcomm shares have averaged an absolute move of approximately 4.34% after earnings are released. The options market is pricing in a less volatile move, at about 3.8%.
Recent News
7/17: Qualcomm declared a quarterly dividend of $0.35 per share, increasing the yield to 2.3%.
7/17: Barclays performed a check on Samsung's Galaxy S4 mini, according to StreetInsider.com, which showed a Qualcomm chip instead of the usual Broadcom WLAN combo chip. The firm believes that this could potentially be a trend moving forward.
7/17: According to a post on Benzinga.com, at the Delivering Alpha Conference, Leon Cooperman of Omega Advisors mentioned Qualcomm as one of his favorite picks for 2013. His firm owns approximately $220 million worth of Qualcomm's stock.
7/10: According to a post on StreetInsider.com, Canaccord Genuity lowered its price target on Qualcomm from $85 to $84, while maintaining a Buy rating. The firm cites a slightly lower global smartphone sales estimate.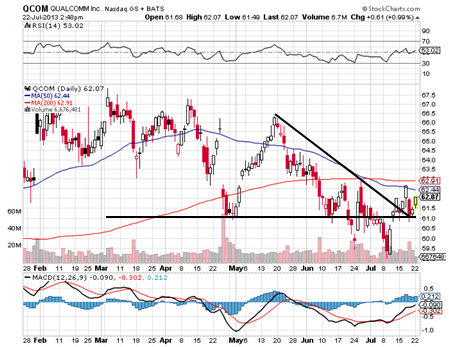 Technical Review
Qualcomm shares are essentially flat on the year. When compared to the broader market, which is up over 18%, it seems Qualcomm has some catching up to do. The 50-day SMA crossed below the 200-day earlier this month - a bearish signal. However, the shares bounced off longer-term support near $59. If earning results surprise to the upside, look for initial resistance at the aforementioned moving averages near $62.50, followed by $64.50. (Chart courtesy of StockCharts.com)
Summary
Qualcomm shares are stabilizing ahead of 3Q 2013 earnings, though there are valid concerns over the outlook for smartphones and intense competition. But with solid fundamentals, a strong market position, exposure to emerging economies, and a favorable valuation backdrop, any weakness may be priced in. Watch for earnings on Tuesday from Apple and Broadcom for clues.
DISCLAIMER: By using this report, you acknowledge that Selerity, Inc. is in no way liable for losses or gains arising out of commentary, analysis, and or data in this report. Your investment decisions and recommendations are made entirely at your discretion. Selerity does not own securities in companies that they write about, is not an investment adviser, and the content contained herein is not an endorsement to buy or sell any securities. No content published as part of this report constitutes a recommendation that any particular investment, security, portfolio of securities, transaction or investment strategy is suitable for any specific person.
Disclosure: I have no positions in any stocks mentioned, and no plans to initiate any positions within the next 72 hours. I wrote this article myself, and it expresses my own opinions. I am not receiving compensation for it (other than from Seeking Alpha). I have no business relationship with any company whose stock is mentioned in this article.