Robert Half International (RHI) is a pioneer in providing staffing and risk consulting around the globe. The company provides these services through its six business segments including Accountemps, OfficeTeam, Technology, Management Resources and Finance & Accounting. It also offers solutions for internal audit through its subsidiary, Protiviti, which it acquired in 2002. In fiscal year 2012, Robert Half posted revenue of $4.11 billion compared to $3.77 billion in 2011. This is evidence of year-over-year progression and provides shareholders with prominent return on their investment. For instance, a $1,000 investment in Robert Half on January 2, 2012 would be worth approximately $1,260 today. I have calculated this 26% return based on the stock price movement as of January 2, 2012 and July 20, 2013. The company's dominance in the staffing industry and global presence is allowing it to post solid results and provide returns to its shareholders.
Looking at the company's impressive stock performance in the last one and a half year, I analyzed the company's future opportunities, that will support it to keep generating returns for its shareholders.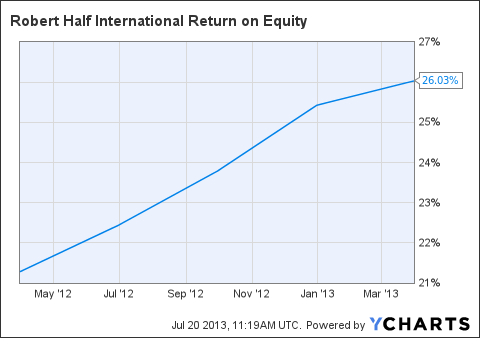 RHI Return on Equity data by YCharts
Company financing activities
This is the eighth consecutive year that Robert Half increased its dividend since introducing a small dividend amount in 2005. The dividend has grown at an approximately 13% compounded annual rate during this period. It had about $289 million of net cash at the end of 2012 and generated about $240 million of free cash flow during 2012. Healthy U.S. demand for temporary staffing, permanent placement services, and Protiviti's offerings drove the company to generate the cash flow required to pay dividends.
| | | |
| --- | --- | --- |
| Year | Annualized Dividend | Percentage Increase |
| 2005 | $0.24 | N/A |
| 2006 | $0.32 | 33% |
| 2007 | $0.40 | 25% |
| 2008 | $0.44 | 10% |
| 2009 | $0.48 | 9% |
| 2010 | $0.52 | 8% |
| 2011 | $0.56 | 8% |
| 2012 | $0.60 | 7% |
| 2013E | $0.64 | 7% |
Robert Half has already paid a dividend of $0.16 per share twice in this year. Going forward, the company will require about $44 million of free cash flow for remaining dividend distribution in fiscal year 2013. I assume the company will be able to generate the free cash flow of $267 million in this year, which will easily support the distribution of the expected dividend amount. I base my assumption on the rising demand from the IT sector in the U.S. for experienced professionals, where it has a considerable long-term opportunity. Also, we cannot ignore the historical dividend payments shown in the table above, which signify the consistency Robert Half has shown in paying dividends to its shareholders. Therefore, I am confident that the company has the potential to continue paying dividends in the coming quarters.
Additionally, the company has another strong factor worth considering, its share purchasing plans, which proved to be a driving factor for the existing shareholders to hold this stock. The company has been repurchasing stocks since 2004; it repurchased 4.7 million shares worth $133 million during last year. Robert Half repurchased 0.8 million stocks during the first quarter of 2013 for $30 million. More than 10.6 million shares remain available for repurchase under the stock repurchase plan the board approved in August 2012.
Considering the historical track record, I assume it will repurchase 2.4 million shares in the remaining quarters of this year. This will directly affect the EPS of the company; I estimate that the EPS will reach $1.88 during this year, compared to $1.55 in the previous year.
Opportunities it will come across to secure revenue growth
Robert half conducts surveys by interviewing other companies' management to find out the number of required professionals in various sectors. Recently, it conducted a few surveys in sectors including IT, marketing, legal, and finance and accounting. The results were favorable for the company as it will bring revenue generating opportunities in the future.
· Legal
Robert Half provides staffing services for attorneys, paralegals, and legal support professionals required in law firms. It offers temporary, project, and full-time staffing of these professionals. In June this year, the company conducted a survey by interviewing 200 lawyers in the U.S. that have hiring authority in their respective organizations. Out of these 200, around 31% of the lawyers plan to expand or add new positions during the second half of this year. Additionally, 50% of them will sustain the current staff level by filling vacated posts. The reason for the expansion is increased activities in litigation-related work and business and commercial law matters.
· Creative Group
In addition to the survey in the legal sector the company's business segment, the creative group, that offers staffing services in the field of marketing and advertising, conducted a survey interviewing 400 marketing and advertising executives in the U.S. The creative group is another arm of the company that specializes in staffing high skilled design, marketing, and advertising professionals. From the 400 interviewed executives, 59% of them will hire to fill vacated rolls during this year and 9% will expand their teams. The employers are hiring professionals to meet new business demands. The employers in web designing and production firms are expanding their operations to improve online presence.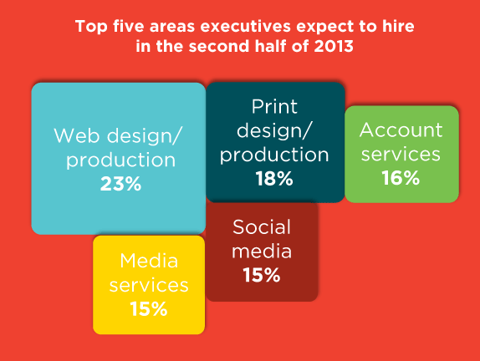 · Information technology
During the same period, Robert Half conducted one more survey to observe the hiring trends in the IT sector. The sample for this survey consisted of 2,300 interviews with Chief Information Officers, or CIOs, of companies with more than 100 employees. Of the interviewed CIOs, 12% will expand their IT teams by hiring more staff in the third quarter of 2013 and 56% will hire only for open IT roles. This hiring trend in IT staffing is because 85% of them are expecting that their respective companies will observe revenue growth in the third quarter of 2013. The future growth in revenue will drive them to invest in IT projects.
Overall, Robert Half has an excellent opportunity that will allow it to experience growth in revenue for this year. All the above stated events will increase revenue in this fiscal year compared to $4.11 billion it reported in fiscal year 2012. The total staffing revenue in the U.S. is expected to grow by 6% to $139.4 billion in this year. According to the Staffing Industry Analysts, Robert Half is placed 6th amongst the top 100 staffing firms in the U.S., with a market share of 2.2%. I believe this gives it an edge over its peers to grab a significant share of this growing pie.
New strategic alliance will bring in additional revenue
In February this year, Robert Half and BlackLine Systems, a leader in providing financial close software, signed a strategic alliance to provide certified professionals to implement the BlackLine Financial Close Software Suite. BlackLine's Financial Close Suite helps in automating the manual and spreadsheet-driven accounting processes. Protiviti has been in business with BlackLine since 2010; this alliance will strengthen the existing business relation. Protiviti offers solutions to companies in finance, technology, operations, governance, risk and internal audit. This strategic alliance will deliver additional benefits to the clients of all three companies as Robert Half will provide BlackLine with certified professionals and Protiviti will make its finance transformation expertise available. The clients will now have the advantage of closing the books faster and more effectively, which will help them to secure future revenue growth. The management is experiencing a rise in demand from the clients for the same.
I believe this rise in demand for BlackLine certified professionals will boost revenue for both Protiviti and Robert Half. Protiviti contributed $452 million to the total revenue for Robert Half in fiscal year 2012. The strategic alliance will further aid Protiviti in contributing incremental revenue in fiscal year 2013.
Future stock price outlook
Robert Half's past one-year stock price performance is shown in the figure below. During this period the stock traded between the range of $25.10 - $37.53 and reached its one-year high of $37.53 on March 28, 2013.
The reason for the major uptick of the stock price was the announcement of first-quarter results. The company posted strong results with more than 13% year-over-year growth in net income to $55.8 million. Solid demand for its professional services in the U.S. drove growth, primarily for staffing in the IT sector. Protiviti also contributed heavily to the growth in net income.
Regardless of the softness in international markets such as Europe, it was 12th consecutive quarter in which net income and earnings per share grew by more than 13% on a year-over-year basis. Robert Half observed a slight drop after the announcement due to the investors overreacting to the softness in the European market.
Robert Half's past one-year stock price performance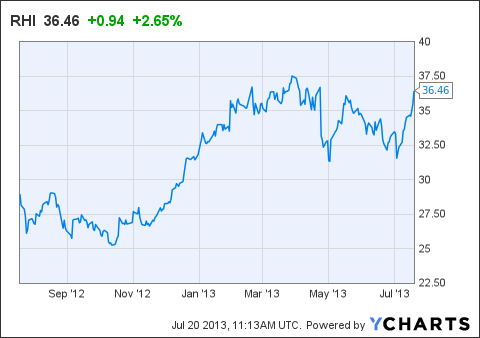 RHI data by YCharts
Going forward, I assume that the stock price will see an uptrend in the movement based on the various future revenue generating opportunities. The marketing, IT, and legal sectors will drive revenue growth for the company during the year. The new strategic alliance will also have a decent contribution in the rise in the number of professionals hired and bring in a revenue increment. It has the potential to attract more shareholders and maintain the interest level of the existing ones by distributing dividends and repurchasing shares.
Disclosure: I have no positions in any stocks mentioned, and no plans to initiate any positions within the next 72 hours. I wrote this article myself, and it expresses my own opinions. I am not receiving compensation for it (other than from Seeking Alpha). I have no business relationship with any company whose stock is mentioned in this article.