Genworth Financial (NYSE:GNW) is a life and mortgage insurance company in the midst of a turnaround, including selling non-core businesses and preparing for a 40% minority IPO in its Australian mortgage business. Currently valued at some $6.5 billion, Genworth still trades at a compelling valuation, but less attractive than a year ago.
After being spun out by General Electric (NYSE:GE) in 2004, Genworth suffered prodigious losses on mortgage insurance that was written on low quality mortgage loans and borrowers.
However, as Genworth burned through the bad loans and settled its obligations, it also tightened its standards on new vintages of mortgage insurance written during and after the global financial crisis. As a result, Genworth reported its first quarterly profit ($21 million) in its U.S. mortgage insurance business last quarter since Q1 2007.
Prior to the break down of the U.S. housing market, Genworth Financial was delivering around $200 million a year in annual operating profits in its U.S. mortgage insurance business. There still remains room to improve to get back to that run rate, and the market appears to have taken notice, as illustrated in the share price.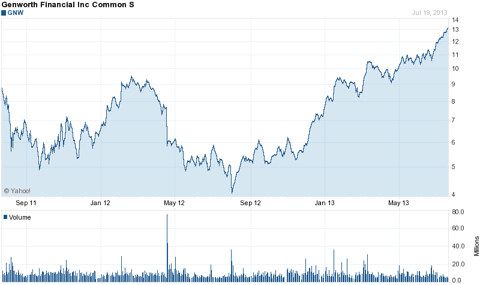 Other Matters:
In January 2013, management restructured the mortgage insurance business to protect the holding company from any adverse shock to the operating environment. The details of the capital plan can be found in the 2012 Annual Report, and excerpted here:
On January 16, 2013, we announced a comprehensive U.S. mortgage insurance capital plan (the "Capital Plan") consisting of several actions, including: (1) transferring ownership of the European mortgage insurance subsidiaries to Genworth Mortgage Insurance Corporation ("GEMICO"), our principal U.S. mortgage insurance subsidiary, which was completed on January 31, 2013; (2) enabling the future option, under certain adverse conditions, should they occur, to implement a "NewCo" type structure, for the continued writing of new business in all 50 states; and (3) implementing an internal legal entity reorganization which creates a new holding company structure that will remove the U.S. mortgage insurance subsidiaries from the companies covered by the indenture governing our senior notes.
In effect, the restructuring has in it some protections for shareholders in the Genworth holding company, which also houses its stable and profitable life insurance business that generated operating income of $290, $388 and $309 million in 2012, 2011 and 2010 respectively.
The next big catalyst for Genworth Financial includes a planned 40% IPO of its Australian mortgage insurance business. That business did $142, $196 and $203 million in operating income in 2012, 2011 and 2010, a clear downward trajectory. The IPO was previously halted in early 2012 causing a drastic decline in the share price, citing issues with operational performance in the Australian unit. Many believe that the housing market is overvalued in Australia, and considering the national economy is levered to natural resources (mining) and China, a hard landing in China could have a ripple effect in Australia.
Having said that, management recently indicated it is still pursuing an IPO, while some believe the 40% stake could raise $800 million for the holding company. That would value Genworth's Australian mortgage insurance business at $2 billion, or about 14 times 2012's operating profits.
Given the tough operating environment, it may be difficult to extract that much value unless operating results improve. For comparison purposes, Genworth listed a minority stake of its Canadian mortgage insurance business a couple years ago, and it is valued by the market at $2.4 billion, but is bigger both in terms of revenue and operating profits relative to its Australian sibling. Therefore, a $2 billion valuation on the Australian unit may be a bit rosy, in my opinion.
Conclusion:
I continue to believe that Genworth is undervalued and worth up to $18/share based on a sum-of-the-parts valuation. However, with shares rallying almost ~225% off their lows since last year, it might be advisable to take some chips off the table as execution risk of this turnaround strategy remains.
Genworth was certainly a better investment at ~$4 than at its current ~$13 quote. Therefore, the risk/reward strategy is not as levered to owners of Genworth as it was last summer.
Genworth reports Q2 earnings on July 31. I will be listening for additional details on the Australian mortgage insurance business IPO and improvement in the U.S. mortgage insurance business.
Disclosure: I have no positions in any stocks mentioned, and no plans to initiate any positions within the next 72 hours. I wrote this article myself, and it expresses my own opinions. I am not receiving compensation for it (other than from Seeking Alpha). I have no business relationship with any company whose stock is mentioned in this article.