The 13 closed end fund (CEF) types on average were up 0.3% for the week ending 8/14/09. The S&P 500, as measured by the SPDR S&P 500 ETF (NYSEARCA:SPY), registered a decline of 0.4%. On an aggregate, unweighted basis, the weekly price increase for 634 CEFs was also up 0.3%.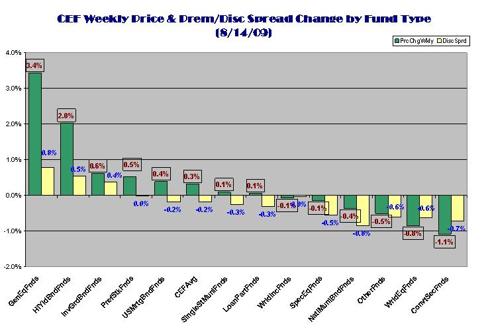 The weighted 51 CEFs comprising the Claymore CEF Index registered an average declined 0.5% for the week. The 634 CEFs' aggregate, unweighted current distribution yield is 7.5% and is trading at a 4.2% discount. Year-to-date, CEFs on average have extended their price appreciation to 34.5%%. (Click here for YTD CEF performance.)
The Eqcome CEF Fear Index rose modestly for the week. The unweighted average price declined 0.2% greater than NAV (0.3% versus 0.5%, respectively). The CBOE Volatility Index (VIX), which moves inversely with the stock market, eased 2.0% for the week as the S&P 500 essentially "rolled over".
CEF Weekly Fund Type Performance: There was no discernable trend in the fund type performance this week reflecting investor uncertainty. GenEqFnds posted the best results, up 3.4%. ConvSecFnds posted a loss of 1.1%. However, its discount expanded as price declines exceeded NAV declines. Real estate funds were down on average 3.9% this week following their explosive performance the previous week.
Premium/Discounts: As the discounts get closer to par, the percentage changes can become large and misleading. To avoid any confusion, the spread between the current and the previous week's discount will be employed as opposed to the percentage change previously used (see chart above).
The most valuable information is the relative direction and magnitude of the comparative change. When the premium/discount spread is negative it would indicate an expansion of the discount (the price increasing less or falling faster than the NAV). This could indicate a greater change in fund type's intrinsic value relative to its market value.
The only fund types to experience an increase in the prices while experiencing an expansion in their premium/discounts were fix-income related funds: USMrtgBndFunds, SingleStMuniFnds and LoanPartFnds. This could be a function of a low CPI index bolstering fix-income investment values, or not.
Price/NAV Weekly Spreads: The biggest spread between the weekly price and NAV change was for Eaton Vance Insured Pennsylvania Municipal Bond Fund (NYSEMKT:EIP) at 5.0% (5.8% versus 0.7%). EIP boosted it monthly dividend 8.2% to $.074667 per share, for a currently annualized yield of 7.5%
ING Clarion Global Real Estate Income Fund (NYSE:IGR) posted the greatest negative spread at 14.4% (-14.6 versus -0.3%). IGR declared its regular monthly distribution of .045 per share for August. The stock gapped down on significant volume on Tuesday the 11th. IGR is up over 50% year-to-date and maybe the subject of profit taking.
(A positive spread between the change in price and NAV could be viewed unfavorably subject to other metrics. This is because the stock has advanced greater that it underlying NAV. All things equal, they should move in tandem. The opposite would be true.)
Economic News: The economic news this week was consistent with a bottoming of the current recession. The economy experienced increases in industrial productions, capacity utilization, average weekly earnings and a decline in inventory-to-sales ratios and the CPI.
However, this favorable economic news was overshadowed by concerns regarding domestic consumption which makes up 70% of the GDP. This took the form of Reuters/University of Michigan index of consumer sentiment falling below expectation and unimpressive retail sales.
Investors decided to take some of their winnings off the table as the economic recovery is likely to be sluggish.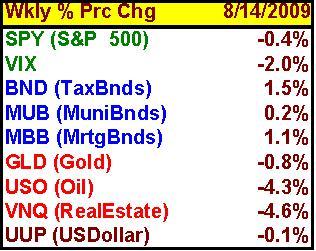 ETFs: Fixed income (blue) generated positive performance. This was complements of an uncertain equity environment and a low CPI index. Commodities (red) suffered as some concerns surfaced regarding the endurance of Asia's economic recovery. The US dollar was a beneficiary of this economic risk aversion which took its toll on dollar based commodities such as oil and gold. Commercial real estate lost some of its underpinning as regional banks continue to fail. (Click here for ETF YTD sector performance. )
CEF Insider Trading: There was little new activity in August. James C. Zeller, CEO, of Apollo Investment Corporation (NASDAQ:AINV), purchased 20,000 shares at an average price of $8.83 per share on August the 13th. This was in the wake of AINV's 18 million share follow-on offering at 8.75 per share earlier in the week. The offering was increased from the announced 15 million shares initial. The stock closed at $9.09 on Friday.
The Participants of a proxy solicitation in MBIA Capital/Claymore Managed Duration Investment Grade Muni Fund (NYSE:MZF) continued to add to their position. The Participants added another $245,761 in August at an average cost of 12.05 per share. The Participants have accumulated ownership of over 15%.
Dan Neidich, a director of Great American Investors (NYSE:GAM), added $30,015 to his recently established late July position. He has accumulated 13,000 shares. Robert B. Macintosh, president of Eaton Vance Insured Muni Bond Fund (NYSEMKT:EIM) continued to add to his position by an amount of $35,015 in value. There was a smattering of round lots in some other CEFs, none of which telegraphed an impending event. (Click here for CEF insider summary.)
CEF Focus for the Week: An article in the Wall Street Journal entitled "Bargains to Be Had in Municipals" may put some wind into the sails of CEF muni funds. The article articulates the attractiveness of tax free yields of 5% or greater in the face of a higher potential taxes to finance government's largess.
The Eqcome data base was scanned for single and national muni funds that had: 1) a "4" or "5" Morningstar Rating—for whatever that's worth; 2) greater than $300 million in total assets; 3) less than 30% leverage; 4) selling at a discount; 5) yielding more than 5%.
Of that group, two names came up favorably. Morgan Stanley Insured Muni Income Trust (NYSE:IIM). IIM has a 6.1% yield and is selling at a 5.7% discount. Approximately 75% is rated "A" or better. Its average coupon is 5.4% with an average weighted maturity of 18 years.
The other alternative is its sister fund, Morgan Stanley Insured Muni Trust (NYSE:IMT). IMT's yield is 6.4% and it is selling at a discount of 6.8%. Both funds are national in their scope and have generated positive market and NAV returns over their long operating histories.

Disclosures: Long SPY and GLD