By: Brendan Gilmartin, VP Research & Content
Baidu, Inc. (NASDAQ:BIDU) is scheduled to report 2Q 2013 earnings after the bell on Wednesday, July 24. The actual results are expected to come through between 4:00 and 4:30 p.m. EST with a conference call slated to follow at 8:00 p.m. Baidu is China's largest search engine and offers an array of additional services, making it among the most trafficked local sites.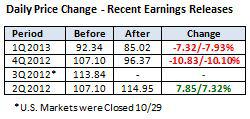 Outliers & Strategy
Key measures:
Non-GAAP Earnings Per Share (2Q 2013): The range of analyst forecasts is $1.13 to $1.27, bracketing the consensus of $1.21. (Source: Yahoo! Finance)
Revenues (2Q 2013): Baidu previously said it sees 2Q 2013 revenue in the range of $1.187 bln to $1.216 bln. The consensus is at $1.20 bln.
Revenues Guidance (3Q 2013): The current consensus is for revenue to grow 35.6% to $1.35 bln.

Baidu shares are currently trading at around 17.5x forward earnings, resulting in a FWD PEG ratio of just 1.17.
Keep an eye on the following as potential sympathy plays: Sohu.com (NASDAQ:SOHU), Sina (NASDAQ:SINA), and Qihoo 360 Technology (NYSE:QIHU).
The options market is currently pricing in a 7.83% move off earnings when the company reports on Wednesday.
Recent News
07/22: T.H. Capital maintained a Hold on Baidu and contended the shares are fully valued at current levels, according to a report on Barron's Online. The firm pointed out that despite the acquisition of 91 Wireless and the resulting exposure in mobile, Baidu is losing share in search to Qihoo 360 and losing its edge on online video to the likes of Youku (NYSE:YOKU), Sohu and Tencent (0700.HK).
07/15: Baidu agreed to acquire 91 Wireless Websoft Ltd ("91 Wireless") from NetDragon (0777.HK) for US$1.9 billion.
07/02: According to a publication in Barron's Online, Baidu shares appear cheap at current levels. The article suggested revenues are forecast to rise 35% this year thanks to growth in Chinese Internet usage and increased ad spending online. While costs have increased, the publication notes that earnings are projected to increase 90% over the next three years. Supporting the bullish thesis, Morningstar reportedly believes Baidu is a "Top Pick" and that the shares have 35% upside.
06/24: ABR Investment Strategy reportedly believes the recent weakness in Baidu shares is priced in at these levels (near $90 at the time of the release), according to Barron's Online. The firm carries a $115 price target and believes new products and higher advertising spending support a positive thesis.
Technical Review
Baidu shares have been breaking out to the plus side in recent weeks, getting a major lift on July 15 with the announcement it was acquiring 91 Wireless, thus signifying a major push into the mobile market. With the shares up more than 20% since July 3, en route to the highest level since late January, shares may be overbought near-term, with the Relative Strength Index now above the closely-watched 70-threshold, while the MACD is also a bit over-extended. Should earnings disappoint, initial support is at $102.50, followed by a convergence of three major moving averages (20-Day, 50-Day, and 200-Day) in the $97.00/$98.00 area. There is limited near-term resistance up to $115.00. (Chart courtesy of StockCharts.com)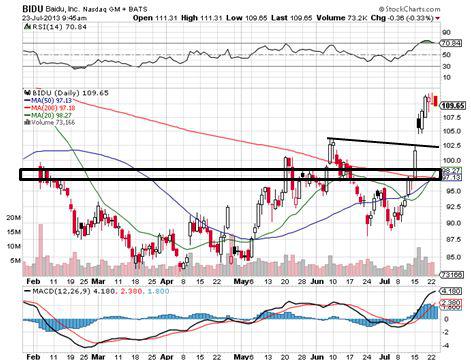 Summary
Baidu shares are breaking out ahead of the 2Q earnings release, thanks in large part to the acquisition of 91 Wireless and ensuing push into the mobile market. The move comes in the wake of a steady downturn, stemming from concerns over slower growth in China, increased competition from the likes of Qihoo, an uncertain mobile strategy, and valuation. Technically, however, the shares appear over-extended near-term and leave the shares vulnerable to a retreat of more than 8% if earnings disappoint.
DISCLAIMER: By using this report, you acknowledge that Selerity, Inc. is in no way liable for losses or gains arising out of commentary, analysis, and or data in this report. Your investment decisions and recommendations are made entirely at your discretion. Selerity does not own securities in companies that they write about, is not an investment adviser, and the content contained herein is not an endorsement to buy or sell any securities. No content published as part of this report constitutes a recommendation that any particular investment, security, portfolio of securities, transaction or investment strategy is suitable for any specific person.
Disclosure: I have no positions in any stocks mentioned, and no plans to initiate any positions within the next 72 hours. I wrote this article myself, and it expresses my own opinions. I am not receiving compensation for it (other than from Seeking Alpha). I have no business relationship with any company whose stock is mentioned in this article.