International banking power Citigroup (NYSE:C) reported solid second quarter results. Revenue increased 7% year-over-year to $20 billion, exceeding consensus expectations. Earnings were even better, growing 25% year-over-year on a non-GAAP basis to $1.25 per share, handily exceeding consensus estimates. Still, return on equity (ROE) was well below that of Wells Fargo (NYSE:WFC) and JPMorgan (NYSE:JPM), both of which reported late last week, coming in at 8.8%. Wells Fargo's ROE was 14% while JPMorgan's ROE was 17% in their most recent quarters. On a capital adequacy basis, Citi looks relatively strong, with its Basel I Tier 1 common ratio currently sitting at 12.2% (above the marks of Wells Fargo and JPMorgan).
Unlike its American brethren, Citi possesses a strong presence in markets outside of the US. Citi's results were strong across all geographies, with revenue growing at least 7% in every region. Bottom-line performance was particularly strong in North America and Asia, with EBT (excluding loan loss reserves) growing 66% and 28%, respectively. Citi's results reflect generally healthier consumers and increased capital markets activity across the globe.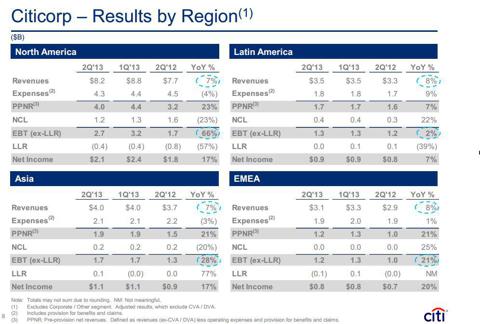 Image Source: C Q2 FY2013 Earnings Slides
Capital markets drove the lion's share of growth at Citi, with spectacular year-over-year expansion in equity market performance as the bank capitalized on market volatility. Investment banking revenue increased 21% year-over-year to just over $1 billion, suggesting the firm is gaining market share in the global deal space. Citi's Securities & Banking business can drive tremendous profitability expansion (as it did this quarter), but it is also more volatile than other segments.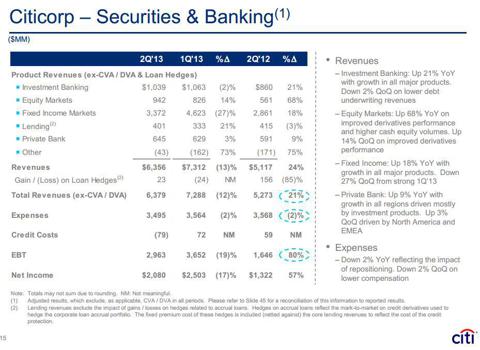 Image Source: C Q2 FY2013 Earnings Slides
Tangible book value at Citi ticked up approximately 1% sequentially to $53.10 per share, suggesting the Street continues to place a discount on the bank's net assets (based on where shares are trading). We attribute this mostly to the firm's inability to earn strong returns on equity. The firm's ROE of 8.8% during the period is still below our estimate of its cost of equity, implying value-destruction. On the positive side, employee headcount fell 2% sequentially, but reduced labor costs won't be enough to compensate for heightened legal expenses. CFO John Gerspach hinted at such, saying:
"Certainly private label litigation is one of the legacy issues that we're dealing with. And you're quite right, we had $2.8 billion of legal and related expenses last year. We had $700 million or so in the first quarter of this year. So I would expect legal and related costs to, as we said, remain high and somewhat volatile."
Valuentum's Take
Citi continues to leverage its international exposure into strong revenue growth, but the firm still has a lot of poor legacy assets, and increased legal costs will weigh on profitability going forward. Regardless, we prefer diversified exposure to the banking sector via the SPDR Bank ETF (NYSEARCA:KBE) and the Financial Select SPDR ETF (NYSEARCA:XLF), both of which are held in the portfolio of our Best Ideas Newsletter.
Disclosure: I have no positions in any stocks mentioned, and no plans to initiate any positions within the next 72 hours. I wrote this article myself, and it expresses my own opinions. I am not receiving compensation for it (other than from Seeking Alpha). I have no business relationship with any company whose stock is mentioned in this article.