Yahoo (NASDAQ:YHOO) reported lackluster second-quarter results that showed its turnaround is not progressing as planned. The firm's revenue (excluding traffic acquisition costs-TAC) dropped modestly from the same period a year ago, while non-GAAP income from operations fell 13% (adjusted EBITDA decreased 7%). Earnings in equity interests, which include its 24% stake in China-based Alibaba Group and 35% ownership in Yahoo Japan, advanced nearly 25% (representing one of the few bright spots in the quarter). Non-GAAP net earnings per share jumped 19%, to $0.35, better than the consensus estimate, but the performance was bolstered primarily by a reduced share count. The quarter was a low-quality beat, in our view, and we're particularly discouraged by Yahoo's core top-line performance.
We continue to give CEO Marissa Mayer the benefit of the doubt as she tries to steer the Internet giant back to growth. The firm launched the new Yahoo! News, redesigned Yahoo! search, rolled out a variety of apps (Yahoo! Sports, Yahoo! Weather), and made nine acquisitions during the period (including Tumblr, one of the fastest-growing media networks). Share buybacks and the Tumblr deal drained the firm of $1.65 billion in cash, though the outflows were generally offset by proceeds from its partial Alibaba sale. In terms of freshening up the product suite, we're seeing some tangible progress.
Still, we cannot overlook the decline in Yahoo's core business. Display revenue (ex TAC) fell 11% during the period, while price-per-ad dropped an uncomfortable 12% as a result of stiffer competition. Search revenue (ex TAC) increased 5%, but price-per-click fell 8%. We just can't get comfortable with Yahoo's core business when the firm is experiencing such pricing pressure. Google (NASDAQ:GOOG) and Facebook (NASDAQ:FB) are much better positioned to capture marketers' budgets, and we're seeing this fierce competition in Yahoo's numbers (despite Mayer's efforts at a turnaround). The trend in global display pricing is particularly concerning (bottom right in image below, green bar), given the strength we witnessed through much of 2012.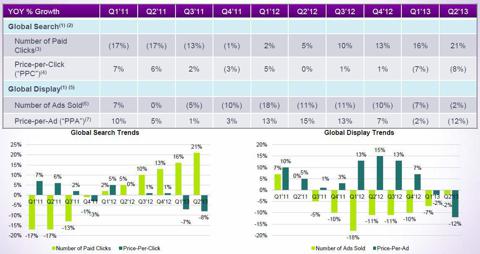 Click to enlarge
Image Source: Yahoo
Looking ahead, the firm updated its business outlook for 2013. Revenue (ex TAC) is expected in the range of $4.45-$4.55 billion (was $4.5-$4.6 billion), while non-GAAP operating income is anticipated to come in between $900 million and $1 billion for the year (was $1.05-$1.1 billion). Adjusted EBITDA is targeted in the range of $1.55-$1.65 billion (was $1.6-$1.7 billion). Cutting full-year guidance certainly suggests the turnaround is not going as planned at Yahoo.
Valuentum's Take
CEO Marissa Mayer has made some big changes at Yahoo, but the firm's core business continues to decline (while pricing pressures intensify). Though the guidance cut suggests Yahoo's turnaround is not progressing as planned, we're not ready to throw in the towel just yet on Mayer. The firm retains some valuable assets in Alibaba and Yahoo Japan (shown in image below), both of which we'll look for Yahoo to monetize in a cash-rich, tax-efficient way in coming periods. Still, we're not compelled to own shares at current levels.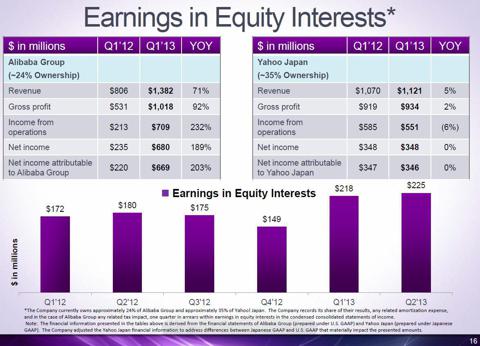 Click to enlarge
Image Source: Yahoo
Disclosure: I have no positions in any stocks mentioned, and no plans to initiate any positions within the next 72 hours. I wrote this article myself, and it expresses my own opinions. I am not receiving compensation for it (other than from Seeking Alpha). I have no business relationship with any company whose stock is mentioned in this article.
Additional disclosure: GOOG is included in our Best Ideas portfolio.