Advanced Micro Devices (NYSE:AMD) announced during its Q2 CC they are renaming their Graphics segment to Graphical and Visual Solutions. From Q2 to Q3, revenue in this segment fell sequentially $17M giving a revenue of $320M for the quarter.
In my previous article, I shared my thoughts about some of the headwinds AMD is facing, but drew attention to what I felt was a huge win for Computing Solutions segment sales being up sequentially, largely due to sales of its recently shipping Kabini and Temash processors. I also made the argument that I feel that AMD's low power offerings will be more than capable of competing with Intel's (NASDAQ:INTC) Bay Trail when it hits the streets in the second half. The reason I consider this a nice win is because revenue from SoCs that were destined for computer sales rose in a flat PC environment.
In this article, I would like to look specifically at the Graphics and Visual solutions segment.
Graphics and Visual Solutions
Anyone following AMD should not be overly surprised by the reasons for declining revenues for this quarter: "Graphics and Visual Solutions segment revenue was down 5% sequentially due to lower game console royalties." During the earnings call, Mr. Kumar addressed this issue:
In addition as we transition the shipping silicon products, game console royalty revenue included in the semi-custom business is expected to decrease moving forward although the decline will be more than offset by our growing semi-custom development and product revenues.
I read this as meaning Microsoft's (NASDAQ:MSFT)Xbox 360 revenues will start to decline as the Xbox One ramps, and this makes sense as gamers start diverting funds to pre-orders of next-gen consoles. Also, AMD is replacing nVidia (NASDAQ:NVDA) in Sony's (NYSE:SNE) PS4, meaning this is a new revenue stream for AMD.
Another negative was lowering of AMD's ASP of its graphics products, but again this should not be a complete surprise. AMD is competing with an aging line of consumer GPUs against nVidia's recently launched GTX 700 series.
Neither of these were overly disconcerting for me. The first issue, lower royalties on consoles, was explained by Mr. Kumar. AMD's current generation of GPUs have more than enough power to run any modern title at settings and resolutions the majority of gamers are comfortable using. However, as they are aging it makes sense to lower prices in order to compete with nVidia's newer offerings.
As for the next half of the year, potential positive catalysts include the updated Mac Pro line, continued game optimizations from the Gaming Evolved program, potentially influencing purchase decisions by the inclusion of newer game titles with GPUs through its Never Settle campaign, and possibly a GPU refresh.
The New Mac Pro and Workstation Cards
The Mac Pro win I feel is overlooked. According to the press release on AMD's IR website, it seems as if the Mac Pros are customizable, but the top of the line model uses two W9000 workstation cards. These retail for $3400 each. Prior iterations of the Mac Pro have featured Radeon HD 5770s, which are much cheaper ($~200). Based on limited data available for Mac Pro sales I will not speculate as to how much revenue this will attribute to AMD; I will just make the point that this is a major refresh of the Mac Pro line, and ~$200 retail cards are being replaced by much more expensive ones, at least on some models.
AMD had another record quarter with workstation cards.
Gaming Evolved and Free T-Shirts
Here I'll discuss Gaming Evolved and Never Settle together. In a recent article, SA contributor Ashraf Eassa voiced his concerns for AMD bundling expensive, newer titles with the GPUs in an attempt to gain back market share. His article is also a good read if you're looking for potential negatives regarding AMD.
AMD has fallen out of favor with some gamers due to driver issues such as microstutter. AMD has largely fixed the problem, as is shown by a benchmark from THG: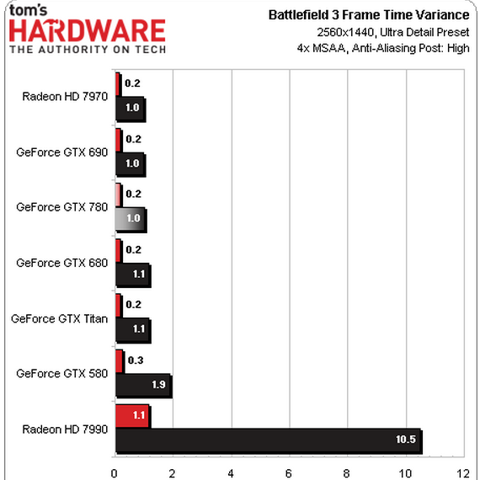 You can see that AMD actually performs better than rival nVidia in this example, except for in the dual GPU case of the 7990. This is an issue that should be resolved very soon. I chose BF3 because it typically has a higher framerate on nVidia cards.

So bundling games users would like to play with their new cards seems like a good way, at least to me, to lure lost market share back.
Gaming Evolved potentially helps AMD out in another major way. To illustrate, look at one of nVidia's "The Way it's Meant to Be Played" titles.
Nvidia worked with game developers to help bring "Batman: Arkham Asylum" to PC, to give gamers a great experience. But while it was at it, it gave itself a leg up by ensuring the game ran better on Nvidia hardware (for further reading, look at comments from Mr. Ian McNaughton). Through AMD's Gaming Evolved program, AMD is working with developers to deliver a better overall gaming experience. And many gamers will look at benchmarks for various cards to see which delivers the better performance, so if games are optimized to run better on AMD hardware, *and* users are looking at benchmarks in order to choose a card, this could work to AMD's benefit. Another example is AMD working with the Tomb Raider team to make hair movement seem more life like.
By giving away games that users may buy anyway, it presents a better value to the consumer. And by making sure games run the best on AMD hardware, when gamers look at benchmarks if they're picking a card, they may be swayed to go for AMD. Note, AMD does have competition as Nvidia has similar programs.
GPU Refresh?
This section is highly speculative.
Earlier this year, AMD revealed its GPU product roadmap via a tweet (thanks to SA commenter DigiHound for pointing me here).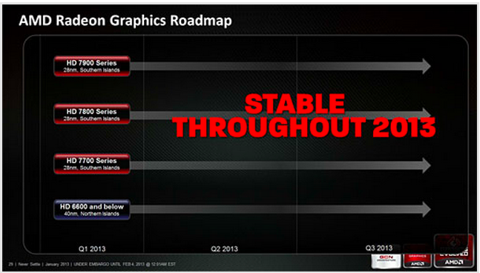 The graphic states "Stable Throughout 2013," but it actually only extends to Q3 2013. The roadmap on AMD's website show 8000 series Radeons released this year. However, the product specs on AMD's website show that the Radeon 8000 series is an OEM-only version of what looks to be a refresh of the 7000 series.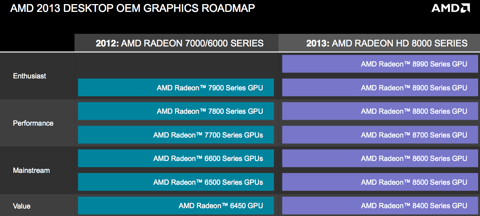 But in May, leaks started to surface stating that the 9000 series GPU would be launched in October, based on a 20nm process at TSMC. Now the rumors are starting to surface again. The picture below depicts a registration screen for training courses for working with AMD's new Volcanic Islands GPUs (notice it also discusses Beema/Mullins). The thought in the rumor mill is that if training courses are being offered in September, an October launch could make sense.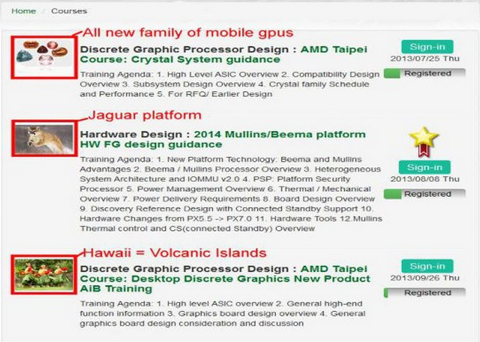 My hopes are not very high for the Radeon 9000/20 nm series launch. During Taiwan Semiconductor Manufacturing's (NYSE:TSM) earnings report CC, Dr. Chang stated "volume production will start in early 2014" in regards to 20nm. Although documents on the Xilinx website point to 20nm products being taped out, and during the call Dr. Chang stated 20nm risk production started during Q1, and that, "20-nanometer is still fully loaded in the third quarter." The Q&A transcript was hard to follow, but my take is that it *is* possible to launch the 9000 series in October, but very unlikely. If the 9000 series does launch, I think the quantities will be in short supply. It seems odd to me that the 8970M was recently launched, yet we have not seen any desktop 8000 series cards.
This leads me to the more likely scenario of AMD launching consumer Radeon 8000 series cards.
The 8000 series launch makes sense from a marketing standpoint. Radeon's current consumer flagship card is the 7970 GHz Edition. Prices have been dropping recently, as they can now be purchased for less than $400 after MIR. This could either be in response to added pressure from nVidia's 700 series, or OEMs trying to reduce inventory prior to a new product launch.
I mentioned AMD's Gaming Evolved and Never Settle programs earlier. Battlefield 4 is being optimized for AMD, and it is great news. Note, I do not believe BF4 is a confirmed Gaming Evolved title, and the link I have provided discusses the specifics of the partnership. Thief is a title that has been confirmed as a Gaming Evolved title.
According to VGChartz.com, BF 3 sold ~2.5M units on PC. If AMD does create a Never Settle Bundle, which includes Thief and BF4, that would make an enticing bundle for gamers looking for an upgrade.
Again, this section is highly speculative. The following quote from the article linked to previously on IGN is my rationale:
"DICE has a partnership with AMD specifically for Battlefield 4 on PC to showcase and optimize the game for AMD hardware," an EA spokesperson said.
AMD may not refresh the GPUs, and BF4 is not confirmed as a gaming evolved title, and may not be. But a BF4 bundled with a refreshed Radeon GPU lineup could spark enough interest for AMD to gain market share. The launch date for BF4 is October, and Thief is TBA 2014 respectively.
Conclusion
Game consoles were indeed a huge win for AMD. AMD filled a spot in Sony's PS4 that it did not have in the PS3. This is new revenue. Many feel that the consoles being based on AMD hardware will help AMD win back market share in consumer GPUs. Mr. Rory Read echoes these sentiments in the conference call:
Yes, and there is no doubt is the PC gaming segment is one of the best performing segments in the overall PC market. And with this move of the game consoles, you see the key game developers writing to the technology first and we should expect better performance and better time to market based on that. This is clearly a franchise business that will spread across and create a network effect.
Game consoles are on the forefront of everyone's mind. By the end of the year, 20% of AMD's revenue will be derived from embedded/semi-custom. Do not get caught looking at only consoles regarding AMD's future as they are the minority of AMD's revenue -- Computing Solutions and GPU sales will still be the majority.
Disclosure: I am long AMD. I wrote this article myself, and it expresses my own opinions. I am not receiving compensation for it (other than from Seeking Alpha). I have no business relationship with any company whose stock is mentioned in this article.
Additional disclosure: I actively trade my AMD position. I may add to or reduce my position at anytime.