Hardinge Inc. (NASDAQ:HDNG) is the leader in providing high-precision computer controlled machine tools for turning, milling, and grinding. The company strives to produce the highest quality solutions at affordable prices. Hardinge has over 100 years of experience in satisfying its customers' varying needs. As an investment, Hardinge has an attractive valuation with above average expected growth for the future.
The company's products include: CNC lathes, manual knee mills, CNC machining centers, and various grinding machines. Interestingly, 24% of Hardinge's sales are derived from non-machine sales, which include collets, accessories, repair parts and service revenue. Hardinge is the world's largest manufacturer of precision collets, chucks, and workholding systems. Its products are known for accuracy, reliability, durability, and value.
Hardinge sells its products in three geographical segments: North America, Europe, and Asia. North America comprised 37% of total first quarter 2013 sales, while Europe and Asia comprised 31% and 32%, respectively. Overall sales decreased by 10% from $74,650 in Q1 2012 to $67,219 in Q1 2013 due to a decrease in global activity. Although sales in North America increased by 33% year-over-year, sales in Europe and Asia decreased 15% and 32%, respectively. North America's gains were attributed to strong demand for Hardinge's grinding products. Europe experienced lower demand for machine tools as a result of continued economic uncertainties, while Asia's decrease was driven by a slower economy in China when comparing the two quarters.
To maintain its competitive edge, Hardinge intelligently manages its inventory so that it can meet its customers' delivery expectations. Customers typically expect to receive machine tool products within an 8 week period. Hardinge delivers most of its products within one or two months after orders are placed. This gives the company a positive reputation with customers as they know they'll receive their orders in a timely fashion.
Undervalued
Hardinge currently trades at a discount to the market in terms of the S&P 500. The company has a trailing P/E ratio of 12.5, and forward P/E of 9.4. This is a much better valuation than the overall S&P 500's trailing P/E of 17 and forward P/E of 15. Hardinge is valued 26% - 37% less than the market. Hardinge also has a low PEG of 0.38. This shows that the company has expected earnings growth that is higher than its P/E, giving the stock an attractive undervaluation.
Hardinge's primary competitor, machine tool manufacturer Mori Seiki (OTCPK:MRSKY), has a higher trailing P/E ratio of 21.5. Mori Seiki is also valued higher with an enterprise value/EBITDA of 14.7 as compared to Hardinge's figure of 7.2. This shows that Hardinge is better valued in terms of earnings. Hardinge is also better valued in terms of revenue. Hardinge's price to sales ratio is only 0.60 as compared to Mori Seiki's 0.75. This is also reinforced by Hardinge's lower enterprise value/revenue of 0.60 as compared to Mori Seiki's 1.1.
Hardinge is undervalued because the market has not fully priced in its earnings gains for the past few years. The company has grown earnings at 44% annually for the past five years. Although the stock made nice gains over this time, the price has not fully reflected the annual earnings growth rate. This is likely due to the economic problems in Europe, which accounts for 31% of Hardinge's revenue. The slower pace of China's economic growth rate is also a likely factor.
Positive Catalysts
This past May, Hardinge acquired Forkardt for $34 million. This acquisition strengthens and expands Hardinge's leadership position in specialty workholding solutions on a global basis. By diversifying into more workholding products, accessories, and spare parts, Hardinge will reduce the impact of its highly cyclical machine tool products. Forkardt's products have the benefit of being less cyclical in nature and have higher margins. While accessories and repair parts have historically represented about 22% - 25% of total sales, the company now expects these products to comprise more than 30%. The higher margins associated with these products should lead to earnings increases.
The outlook for machine tool consumption is another positive for Hardinge. Global machine tool consumption is expected to increase by about 35% over the next four years. This should be driven by China's developing economy.
The company will continue to keep its eyes open for other small acquisitions. Companies that can add tangible value to Hardinge's business in the form of increased revenue and earnings will be sought after. Acquisitions are an important tool for strategically expanding the business and gaining market share.
Product development is another strategy that Hardinge focuses on to improve its business. By making improvements in its machining solutions, Hardinge can offer customers the solutions that they need for increasingly complex applications. The company featured seven of its improved machines at the China International Machine Tool Show earlier this year. The focus on innovation and continuous product improvement will keep the company on the cutting edge of the industry. This should lead to increased sales as Hardinge provides for its customers' complex needs.
The Risks
The largest risk for Hardinge is its highly cyclical nature which puts the company at risk for economic downturns. The company's machines represent a significant capital expense for its customers. These customers need to have confidence in their cash flows and future business to make a long-term investment in these products. The stock fell from the high teens to the low single digits during the 2008 financial crisis, so investors need to be aware that Hardinge is highly economically sensitive.
Another risk is the threat of competition in the industry. Hardinge competes with other companies in the U.S., Europe, and Asia. Some of these companies are subsidized by governments or financial institutions. Increased competition could force Hardinge to lower prices or offer additional features on the products, which could eat into its earnings.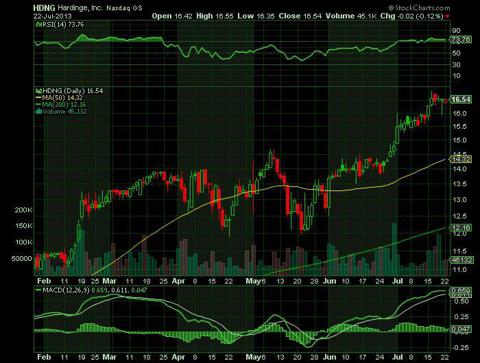 Expected Future Growth
Granted, China has slowed its pace of growth and Europe is still plagued with economic issues. However, China should still experience significantly higher growth going forward as compared to mature nations. Europe is a mess, but it should heal over time. The United States is growing slowly, but making steady increases. Ultimately, I think that the global economy will improve and provide Hardinge with the revenue and earnings growth that it needs to meet or exceed its estimates.
The company is expected to grow earnings annually at an aggressive 30% pace for the next five years. This pace is three times higher than the expected growth of the S&P 500. Hardinge achieved 44% annual growth over the past five years. If the stock kept pace with its 30% future expected earnings growth rate, the stock could rise to over $60 in five years. However, it is likely that the stock will not climb at that pace with the European economic woes on investors' minds. With these conditions, it is possible that the stock could grow at a 20% pace and remain undervalued. Whatever becomes of the actual stock grow rate, Hardinge should continue to outpace the performance of the S&P 500 over the next five years.
Disclosure: I have no positions in any stocks mentioned, and no plans to initiate any positions within the next 72 hours. I wrote this article myself, and it expresses my own opinions. I am not receiving compensation for it (other than from Seeking Alpha). I have no business relationship with any company whose stock is mentioned in this article.