Reducing the pace of QE by the Federal Reserve won't raise short term interest rates in the foreseeable future. According to John Hussman, from Hussman Funds, based on the historical relationship between the monetary base (per dollar of nominal GDP) and short-term interest rates, the Fed would have to reduce its balance sheet by over $400 billion to take interest rates up only by 0.25%. Reductions in the size of the Fed's balance sheet are unlikely, and economic weakness will even push off the time to raise rates further.
Raising interest rates or even reducing its balance sheet are highly unlikely, but "tapering" is a different move. "Tapering" has nothing to do with a smaller Fed or higher rates. The Federal Reserve has a higher degree of responsibility for banking regulation and fiscal policy. The Fed knows this, and also knows it was at least partially responsible for creating and blowing up the bubble that burst in 2008. Last February, Jeremy Stein, a member of the Board of Governors of the Fed, stated the fact that the Fed now has a duel mandate based on macro stability and financial sector stability. Consequently, the Fed cannot allow, or even be perceived to allow the creation of excessive speculative leverage asset bubbles to threaten US financial stability.
In this scenario, I believe the Fed is going to "taper". To avoid a big shock to the overall economy, especially the housing market, the Fed will "taper" in a gentle and well telegraphed manner. But the key here is, according to Nomura's Bob Janjuah, the Fed is not going to "taper" because we have sustained core inflation, or because the economy is too strong, or because we have full employment - none of these conditions will be seen for some years to come (see below). Janjuah believes the Fed is going to "taper" because it is getting very fearful that is creating a number of significant and dangerous leverage driven speculative bubbles that could threaten the financial stability of the US. It seems like Bernanke feels that we are getting closer to the point where the costs outweigh the benefits of more policy.
As we have been noticing in the past month, some Fed members are watering down Bernanke's "tapering" message, encouraging the continuation of a "buy the dip" action mentality on investors for risky assets. The Fed hopes that the market will gradually navigate through volatility, and towards a more normalized yield scenario; adjusting valuations to more realistic economic fundamentals. The reality is usually markets react too late, and rather than a more gradual correction we will likely experience an initial selloff in the magnitude of 25% to 50% on risk assets (equities).
Economic fundamentals
Corporate profits have been elevated by unique circumstances which seems transient. Wages and salaries as a percentage of GDP have dropped to the lowest levels in history. High government transfer payments have broadly supported consumption, and corporations have benefited from government tax credits. Currently, government and household sectors are running a large deficit. These deficits are expected to drive corporate profit margins to 70% above their historical norms. How long will such government and household deficit support consumption?
Earnings momentum won't sustain equity prices going forward. The ratio of negative to positive earnings pre-announcements by S&P 500 companies has been trailing at 6.8-to-1, which is the worst ratio since 2001 (chart below). Second quarter profit growth is projected at 3%, which is down from the 8.5% growth originally projected back in January.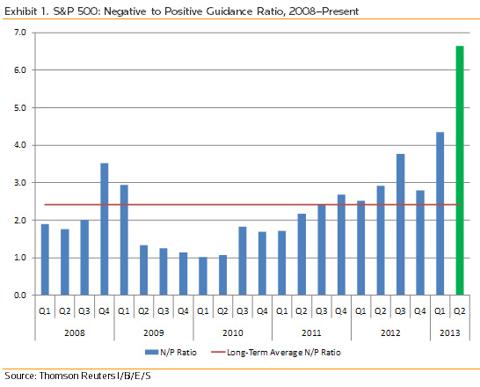 Click to enlarge
The stock market has been trending higher as a result of massive monetary stimulus and distortions. As a result, suppressed interest rates have driven investors to search for yield. This combination has elevated PE multiples on already elevated (unsustainable) earnings. Household and governments negative savings can't stay as depressed as they currently are for much longer, and corporations have a limit to the amount they can cut in costs to drive margins higher. I believe those two main drivers of profit margins and earnings growth are approaching a limit, and (global) economic growth hasn't recovered enough to pick up the gap. The reality is investors have been valuing stocks and risk assets on the basis of those distortions, and would only realize it after the fact.
The latest data from ISM and regional manufacturing and non-manufacturing surveys have shown weak and deteriorating US economic activity. Employment data, from the June non-farm payroll came as a positive surprise among expectations, and slightly better revisions from previous months. However, employment data is one of the most lagging economic indicators, making it almost impossible to get much forward view from it. The survey is subjected to enormous revisions, months after the initial released number, which is also very limited in nature. Economic momentum peaked about 2½ years ago, and since then, activity has repeatedly bounced around the silver line between recession and expansions (chart below).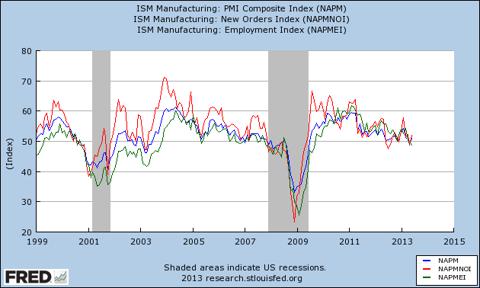 Click to enlarge
(note the lagging characteristic of the employment index of about 3-6 months)
The Fed's unprecedented stimulus plans (QE) have created short-lived spikes of demand enough to bump up activity for the following 3-6 months. This has been followed by further deterioration, and a new announcement of stimulus. But, as noted on the chart above, each deterioration in activity has had a decline to lower levels, and a weaker bounce. The bottom line is, don't expect much earnings and valuation improvement (stock appreciation) when the biggest monetary easing in history has been accompanied by sluggish (and deteriorating) economic growth. The benefit of massive government stimulus appears limited and diminishing. The view among investors is that the Fed will keep quantitative easing until they notice economic improvement (higher inflation, lower unemployment, higher activity) which is perceived as the Fed "put" and a constant green light to buy stocks. The reality is, the expectation for an improving and sustainable economy is less and less affected each round of stimulus program, and the Fed will likely start to recognize it in the next meetings.
A few technical observations
In order to wrap it up, there are some interesting observations by Louis and Charles Gave. Fewer global equity markets are rising. They track the top twenty equity markets in the world and create a "diffusion" index showing how many rose in the previous six months, against how many fell. A negative number simply means more markets have fallen then risen in the previous six months. At this moment, the diffusion index is at -15, while the S&P 500 has recorded a double digit rise, which is a major divergence, and resulted in losses of at least -10% on the S&P 500, at similar divergence levels.
The second interesting point is precious metals don't often drop -30% or more; it has happened only 11 times in the last 100 years. Each one of these major declines marked a significant change in the world financial markets. Gold is about 30% down from last October.
Third, besides US equities, every other investment, globally, have fallen in the past few months. At this juncture, it appears that big institutions will increase their fixed income exposure and avoid volatility, taking advantage of higher yields rather than average down on other investments like equities, precious metals, or alternative types of investments.
Fourth, falling inflation expectations and rising real yields have created a great discrepancy between equities and bonds. Fixed income, as mentioned above, offers a much better investment perspective and lower volatility in an environment where nominal yields are much higher than the 3 months prior, and inflation expectations kept falling. At the current level of inflation expectations, measured by US 5-year TIPS, implies a S&P 500 level around 1,150. So, Louis and Charles Gave conclude with a question, that is if the recent market sell-off was caused by a 100bp move higher in US bond yields, how another 50bp in real rates will be digested?
Investment's Implications
Equities
At this point, investors are fully committed to invest based on the Federal Reserve's words. I believe, the S&P 500 is unsustainable above the 1,597 level, exclusively based on a "tapering" Fed. As mentioned above, earnings are unlikely to keep stock prices going up in the next few quarters, and the only fundamental behind higher stock prices is the positive correlation between stocks and the growth of the Fed's balance sheet. I suggest to be long value domestic stocks, like the "iShares Russell 2000 Value" ETF (NYSEARCA:IWN) against a long position on "ProShares UltraShort S&P500" ETF (NYSEARCA:SDS), which benefits in case the S&P 500 sells off. I would avoid growth oriented and dividend stocks as growth seems likely to be tepid and interest rates to trend higher.
Bonds
The initial selloff in the credit markets might attract investors short term looking for value. As interest rates have fallen from recent highs, investor strategy should be as follows: shorten bonds portfolios' duration, reduce leverage, sell the most illiquid papers. Longer term, I would purchase some "ProShares UltraShort Lehman 20 plus Year Treasury" ETF (NYSEARCA:TBT) on a correction to around the 70.0 level.
Gold
The main global Central Banks in the world are continuing to print money. Gold will be utilized as protection against the decline of the fiat paper currencies. Gold shouldn't be used as a hedge to equity markets. In the first half of 2013, gold lost more value than equities have gained in United States. Global debt has risen to levels impossible to be repaid, and it will likely result in increasing inflation (most likely in the back end of the current decade), or through currency devaluation. Investors should be adding Gold to their long-term portfolios, especially at levels 30% lower than recent highs. I suggest a long position on "SPDR Gold Trust" ETF (NYSEARCA:GLD).
Currencies
Japanese leaders are committed to devaluing their currency. They are inclined to stimulate their economy through massive money printing & domestic bond purchases, and exports. Also, there is still a possibility that the Bank of Japan can lose control over their bond market. In this scenario, I believe the Japanese Yen will resume its downtrend to reach, at least, ¥120/$. I am currently unaware of an ETF to short the Japanese Yen.
Disclosure: I have no positions in any stocks mentioned, but may initiate a long position in SDS, TBT, GLD, IWN over the next 72 hours. I wrote this article myself, and it expresses my own opinions. I am not receiving compensation for it (other than from Seeking Alpha). I have no business relationship with any company whose stock is mentioned in this article.