Is Your 401-k in All the Right Places?
Asset Allocation is almost gospel to the investment advisory profession. Classic asset allocation generally calls for a balance between stocks and bonds, depending upon your age and risk tolerance. For instance if you are 60 years old, you should have 60% of your assets in bonds and 40% of your assets in stocks. As you get older, you continue to put more in the so-called "safer" bucket of bonds, and less in the so-called "riskier" bucket of stocks.
What happens when a freight train is headed right for an asset class, however?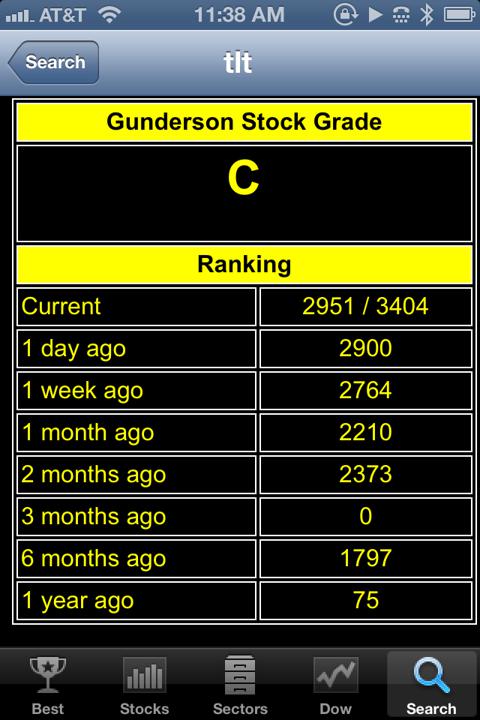 Click to enlarge
Data from Best Stocks Now App
One year ago, treasuries (bonds) were ranked #75 out of some 3,400 different investment choices that I track on a daily basis. Interest rates were hitting new one-hundred year lows, and the FED was firing its bazooka at the bond market, artificially holding down interest rates. Treasuries hit a new all-time high almost exactly one year ago today.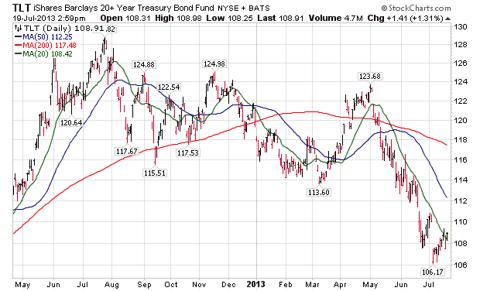 Click to enlarge
That was then, this is now. TLT (NYSEARCA:TLT) is an exchange traded fund that tracks U.S. Treasuries. It peaked at $129 in late July of last year. The descent to its recent low of $106.17 did not occur overnight; it took twelve months. From $129 to $106 is a percentage loss of 17.8%.
"But I am 73 years old," you say. Academia's asset allocation model dictates that I am supposed to have 73% of my assets in the bond market. I have found over time that there is the world of academia and there is the real world. Almost anyone that was in touch with the real world at all knew that higher interest rates were inevitable.
The Fed would eventually start to taper back their bond purchases and real market forces would once again dictate the true value of treasuries once again. To not see this coming was like standing in the middle of the railroad tracks and ignoring the warning of an approaching train.
For this reason, I am not an active practitioner of the gospel of asset allocation. Asset classes like stocks, bonds, real estate, and precious metals are cyclical. I believe in strategically moving in and out of asset classes as the economic times and seasons dictate.
I am very much a contrarian in my belief and practice, but I think that these latest episodes in the bond and precious metals markets once again point to a gaping hole in the classic allocation model, however. Maybe it is so popular because it is the easy way out?
So what are the best asset classes to be invested in now?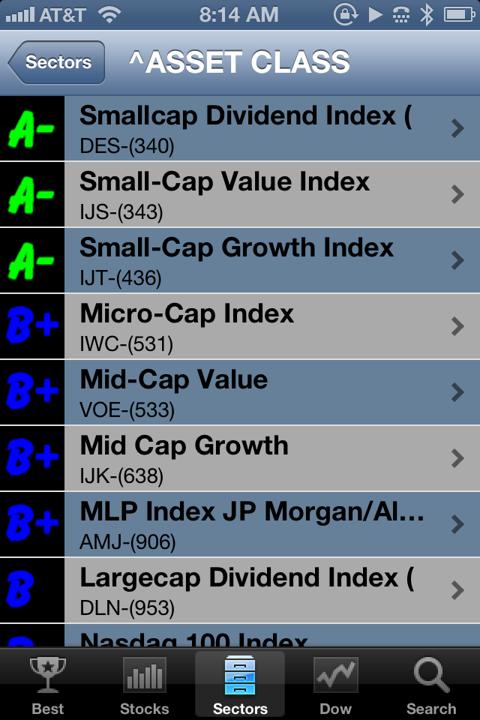 Click to enlarge
Data from Best Stocks Now App
This current trend has been in place for over one year now. It is still in place. As you can see from the above screenshots of the Best Stocks Now app., the top 8 of the 45 asset classes that I track are all stock-related. In addition to this, it is the small and mid-cap domestic stocks that continue to rule the roost.
Let's first look at the big equity picture. Here is a current chart of the Dow Jones Industrial Average: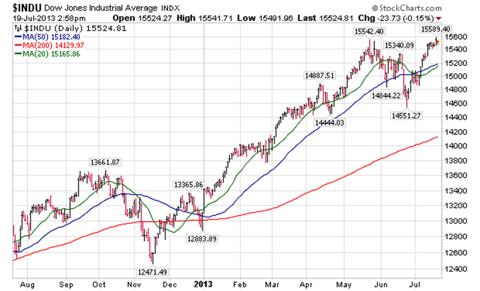 Click to enlarge
The Dow hit an all-time high of 15,589 this past week. It is now up almost 9,000 points since its March, 2009 low. The S&P 500 also hit a new all-time high this past week. The four year and four month bull market remains intact for now. It ain't over 'til it's over.
Now let's drill down a little further in the market. Here is a chart of the number one ranked asset class from amongst the forty-five that I track: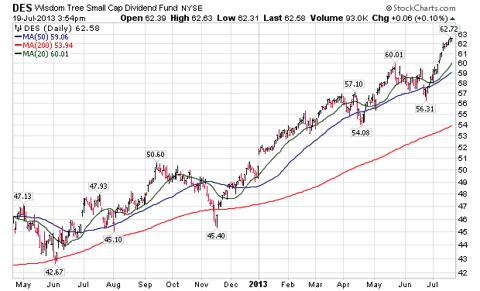 Click to enlarge
Small-cap dividend, small-cap value, and small-cap growth continue to outdistance the other asset classes by a wide margin. This trend has now been in place for over one year. How important is this to know? How important will it be to also know when this area of the market begins to fall out of favor?
As you saw previously, the bond market gave plenty of warning before it's almost 18% drop. There is no defense against a sudden, overnight event however. This would be a case to be made for asset allocation, but I don't think that it is a strong enough case to sacrifice so much performance over time, however. That is a decision that each individual has to make.
With the S&P 500 up 25.6% over the last twelve months, it is hard to accept big negative returns in the bond market, especially when it was obvious that a freight train was headed straight for it.
Asset Allocation anyone?
Disclosure: I have no positions in any stocks mentioned, and no plans to initiate any positions within the next 72 hours. I wrote this article myself, and it expresses my own opinions. I am not receiving compensation for it. I have no business relationship with any company whose stock is mentioned in this article.