Swedish 3-D Printing company Arcam AB (OTCPK:AMAVF) has operations in Europe, the US, and China and operates exclusively in precision 3-D printing of high grade metals used in the aerospace and orthopedic/medical industries.
Arcam AB released their first half 2013 financial report on Friday and the results were impressive.
For the first half of 2013, Arcam AB reported an 80% increase in sales, and earnings of $0.30/share vs. $0.05/share for the first half of 2012 (after converting from the Swedish Krona to the USD).
Net profit margins were also higher at 8.3% vs. 2.3%. More significantly, there are clear indications and projections of strong growth for the remainder of the year. This article will provide an overview of Arcam AB, their technology and patents, products and services, plans for US expansion, and a look forward at growth projections and sales pipeline of the company.
Arcam AB Overview
Arcam AB trades under the NASDAQ OMX ticker ARCM.ST and in the US as an ADR (American Depository Receipt) under the ticker AMAVF.
Following an institutional placement completed in June, the company has just 4.1 M shares. With insiders and institutions holding about half of shares outstanding, the trading float is approximately 2M shares.
Arcam AB was founded in 1997 and began trading on the NASDAQ OMX in June of last year. The company has 50 patents in 3-D printing/additive manufacturing technology, with an additional 25 patents pending globally.
In the United States, the company has won nine patents to date with another 11 patents applied for.
Arcam AB is tiny in comparison to the major 3D printing companies that are now publicly traded. The Arcam AB market cap in comparison to 3D Systems (NYSE:DDD), Stratasys (NASDAQ:SSYS), ExOne (NASDAQ:XONE), and Organovo (NYSEMKT:ONVO) is below.
| | | | | | |
| --- | --- | --- | --- | --- | --- |
| Company | 3D Systems | Stratasys | ExOne | Organovo | Arcam AB |
| Market Cap | $4.4B | $3.5B | $841M | $435M | $247M |
Source: Yahoo Finance
Despite Arcam AB's small size, their organic revenue growth is big at 80% for the first half of 2013, and their PE ratio for the trailing twelve month (NYSE:TTM) period is the lowest in 3-D printing stocks.
| | | | | | |
| --- | --- | --- | --- | --- | --- |
| Company | 3D Systems | Stratasys | ExOne | Organovo | Arcam AB |
| Trailing Twelve Month PE Ratio | 106 | Not profitable | Not profitable | Not profitable | 76 |
Source: Yahoo Finance
Arcam AB Rumored as Acquisition Target
Arcam AB had been rumored to be an acquisition target on 3D Systems' list by William Blair analyst Brian Drab in May, but with the acquisition of metals 3-D printing company Phenix Systems completed last week by 3D Systems, that now seems unlikely.
Personally I don't believe Arcam AB is interested in being acquired but if it is, my money goes with Stratasys as the buyer. Scott Crump, Founder and Chairman of Stratasys stated in a recent interview with Bloomberg that the company is looking to expand more into the metals segment of 3-D printing through possible acquisitions ( Stratasys Plans Purchases for 3-D Printing Using Metals). The technology Arcam AB utilizes (see below) would be a strategic compliment to the FDM and PolyJet 3-D printing used by Stratasys, and would extend the Stratasys reach into the three largest markets in 3-D Printing: The US, Europe, and China.
Arcam AB's Advanced EBM® (Electron Beam Melting) Technology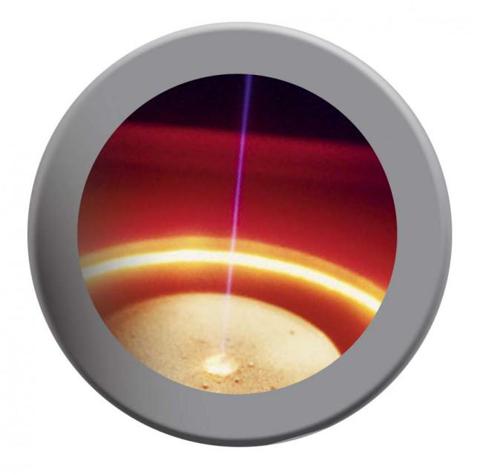 During the patented EBM process used by Arcam AB, metal components are built up layer by layer from metal powders that are melted by a powerful electron beam to the exact specifications of a CAD model. The electron beam is managed by electromagnetic coils providing extremely fast and accurate beam control that allows several melt pools to be maintained simultaneously. The process takes place in a vacuum at high temperatures which results in stress-relieved parts with material properties that are superior to cast. For each layer in the build, the beam heats the entire powder bed to an optimal ambient temperature that is specific for the material used. Parts produced utilizing this advanced process are free from residual stresses and have a microstructure free of martensitic structures. The source of heat is absolutely clean, as well as the vacuum environment, so the purest materials can be produced using EBM technology.
Arcam AB Materials
EBM technology lends itself to high grade metals additive manufacturing with materials supplied by Arcam AB such as Titanium Ti6Al4V, Titanium Ti6Al4V ELI, Titanium Grade 2 and Cobalt-Chrome, ASTM F75 . These materials are used in both the aerospace and orthopedic implant industries and Arcam AB has a validated supply chain with full traceability of every powder batch delivered. Materials are extensively tested before release to customers which includes making sure the EBM parameter settings are optimized perfectly with the materials.
Aerospace Industry Products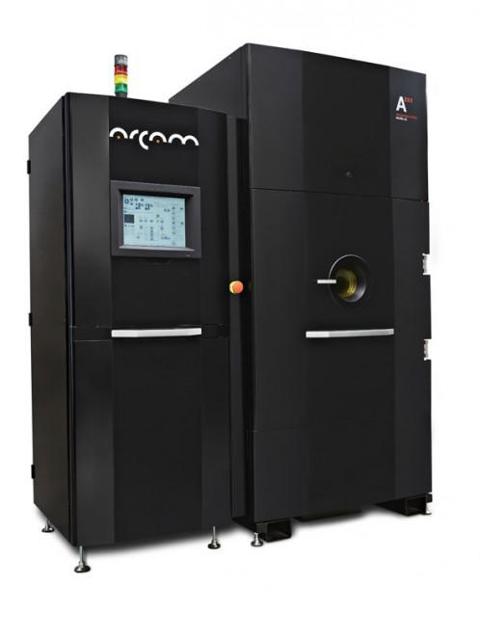 Arcam AB's customers include Boeing, Airbus, and NASA.
The Arcam A2 platform these customers and others in aerospace have purchased includes three alternative configurations. Each configuration provides prototyping and production of lightweight but extremely strong components used in commercial and military aircraft, space applications, missiles, as well as engine components and accessories for the aerospace industry.
A common need in aerospace is obviously weight reduction, and a term often referred to within the industry is the "Buy to-Fly ratio". The Buy-to-Fly ratio is the weight ratio between the raw material used for a component and the weight of the component itself. Due to the importance of weight optimization it is not uncommon to see a Buy-to-Fly ratio as high as 15-20 for some components. This adds a great deal of cost to the component for material and machining, but Arcam AB and their EBM process can produce light-weight components with a Buy-to-Fly ratio very close to 1.
Medical/Orthopedic Industry Products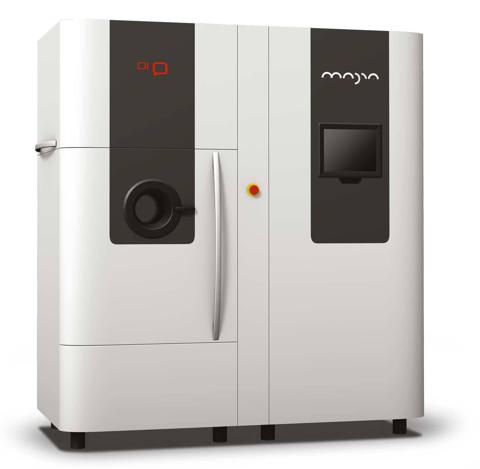 There is a steadily increasing active, yet aging demographic globally (and particularly in the US as baby boomers mature) that is creating tremendous demand for orthopedic implants. At the same time, the orthopedic implant market is very competitive and margins are thinning. Arcam AB is perfectly positioned to take advantage of this market opportunity with both standard and custom fit implants that are produced at a lower cost and are stronger than other manufacturing methods. Their products have received FDA approval for use in the United States, a market Arcam is aggressively pursuing.
Launched in March of this year, the Arcam Q10 is the latest generation in orthopedic implant manufacturing technology. This new printer features industrial-sized volume production, higher resolution, and a new camera-based monitoring system for continuous quality assurance during the entire manufacturing process. Technical data on the Arcam Q10 is in PDF format here.
The Arcam Q10 is a key product launch for Arcam and should stimulate increased revenue growth for the remainder of 2013.
US Market Expansion Ahead via Strategic Alliance
Arcam AB has several installations in the United States already such as California based Renovis Surgical Technologies, and American investors can expect to see more growth ahead here. In February of this year, Arcam entered into a strategic alliance with Connecticut based DiSanto Technology Inc, a full-service medical device contract manufacturer. The two companies will offer customers, including industry-leading orthopedic and spinal implant companies, comprehensive product application development and manufacturing of EBM-based implants and other components. Arcam also has an option to acquire DiSanto Technology in its entirety any time during the first two years of their strategic alliance.
Arcam AB will be showcasing their technology in New Orleans this fall at the 2013 North American Spine Society Annual Meeting. This meeting is billed as "Where the global community of spine care professionals convene to share the latest information, innovative techniques and procedures, state-of-the-art training, best practices, and new and innovative technologies for spine care."
Fresh off their strategic alliance with Disanto Technologies, their recent launch of the Arcam Q10 for the orthopedic implants, and past experience supplying the Walter Reed Army Medical Center with EBM technology, I believe Arcam will be successful in their expansion and growth efforts aimed at the US market.
Continued Big Growth Projected for Second Half of 2013
For the first half of 2013, Arcam AB reported an 80% increase in sales, and earnings of $0.30/share vs. $0.05/share for the first half of 2012. Net profit margins were also higher at 8.3% vs. 2.3%. The company begins the second half of 2013 with $26M in cash and no debt.
Arcam AB delivered 11 systems in the first half of the year. With the second half of 2013 just begun, the company already has orders for 12 more to be delivered during the period.
With the launch of the state-of-the-art Arcam Q10 and the strategic alliance with DiSanto Technology, investors can reasonably expect Arcam AB to build on the 12 systems that are currently ordered, and deliver even stronger results in the second half of the year.
Disclosure: I am long DDD, XONE, SSYS, OTCPK:AMAVF. I wrote this article myself, and it expresses my own opinions. I am not receiving compensation for it. I have no business relationship with any company whose stock is mentioned in this article.