One of the better earnings reports this quarter was from one of our old holdings - Fuel Systems Solutions (FSYS). This was a sort of secondary play on the commodity mania we enjoyed in latter 2007 through summer 2008; they make natural gas fuel systems. We dropped the last portion of our position in September 2008 at $46 with a nearly $23K gain (in our old portfolio in Marketocracy.com). Sometimes we forget what sort of times we lived through in September and October 2008 (20% drop in 1 week on the indexes) and again in mid Jan - early March 2009, but the stock fell as low as $10.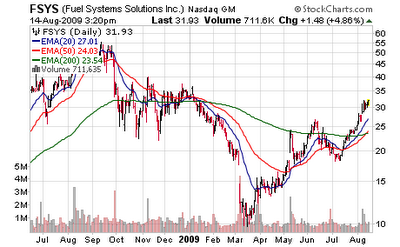 It had since rallied back to upper $20s before the earnings report earlier in the month:
Fuel Systems Solutions Inc. on Thursday reported second-quarter results that beat analysts' expectations. For the quarter that ended June 30, Fuel Systems earned $7.4 million, or 46 cents per share, compared with a profit of $4.6 million, or 29 cents per share, in the year-ago quarter. Analysts polled by Thomson Reuters expected a profit of 32 cents per share.
Revenue fell 6 percent to $92.3 million, topping analysts' average estimate of $87.7 million. The company cited the negative impact of a stronger dollar on overseas sales for the decline.
The company raised its full-year revenue outlook to a range of $370 million to $380 million from its previous forecast of $330 million to $360 million; and well above Wall Street's forecast of $353.5 million.
Ironically another name we had back then as part of an alternative energy basket - American Semiconductor (AMSC) has also since exploded higher: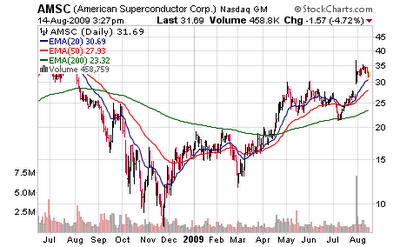 This was one of the few names in the green on Friday, so I was curious what was driving it - aha! Cramer Nation got in after the tout on Thursday. Actually it's a pretty solid piece, and if the natural gas industry finally has its act together understanding how to get "policy done," then you just have to believe legislation will pass. After all it's Lobbyist D.C.
I didn't buy it last year on any hope for U.S. converting to natural gas outside of some local municipality trucks - however, many other countries have been converting to natural gas fuel for years, and that was my original thesis (especially with crude oil jumping on a weekly basis). The U.S. just seems to exist in some parallel universe versus some of these industrialized countries - solar, natural gas fuel... ah yes, the oil lobby. Lobby on lobby crime - 2 go in, 1 comes out. We'll see who. The following is an excerpt from CNBC's recap of Thursday's Mad Money:
A natural-gas subsidy bill is working its way through Congress, Cramer told viewers Thursday, that could jump-start the commodity's use here in the US. Fuel Systems Solutions would be a big beneficiary if the legislation were passed. Of course, Cramer made a similar call a year ago when Fuel Systems Solutions, which makes the components that allow vehicles to run on natural gas, was trading at $36.50. He expected Congress to take up the cause, but lawmakers balked instead. Then FSYS plummeted to under $10 a share. So what's different this time?

For one thing, the natural-gas lobby seems to have finally poured money into lobbying Washington. The related companies are making their presence known, and that makes it harder for Congress to ignore them. Cramer said he thinks this is one reason the stocks have been soaring even though the commodity's price has been trending lower.

If passed, the NAT GAS Act, as it's called, would extend the tax incentives for those who installed nat-gas refueling pumps by 18 years, double the tax credit for liquefied nat-gas trucks, create a tax credit for companies that produce nat-gas vehicles and require half the vehicles that the federal government produces to run on the fuel. All of this would translate into an increase in business for FSYS, especially considering just 0.5% of American vehicles run on natural gas.

[Aug 7, 2008: Fuel Systems Solutions - Monster Quarter but Impairment Charge will Confuse], [Aug 4, 2008: Fuel Systems Solutions Garnering Attention], [Jul 2, 2008: Bookkeeping: Buying Fuel Systems Solutions for the 3rd Piece of my Alternative Energy Basket],