With Caterpillar (NYSE:CAT) expected to report their June '13 financial results tomorrow before the opening bell, per Thomson Reuters, the analyst consensus is expecting $1.70 on $14.9 billion in revenues for year-over-year declines of 33% and 15% respectively.
There are no doubt a lot of short-sellers leaning on CAT today after last week's Delivering Alpha conference in New York, where Jim Chanos, the famous hedge-fund manager and noted short seller, came out publicly and said he was short CAT.
To be upfront, Chanos is a heavyweight in the hedge-fund world, and no doubt there are many following his lead on the stock.
That being said, when we prepped our spreadsheet and looked at the numbers on CAT, a couple of items stood out:
1.) The revisions for CAT's EPS and revenues for 2013 and 2014 have been substantial already:
CAT's EPS and revenue history
EST's
2013 EPS
2014 EPS

Exp y/y

growth

2013 rev's
2014 rev's

Exp y/y

growth

7.23.13
$6.83
$7.90
16%
$58.6
$62.6
7%
6/13
$6.88
$7.96
16%
$58.9
$62.7
6.5%
3/13
$8.01
$9.38
17%
$63.6
$68.9
8%
12/12
$8.70
$9.89
14%
$65.4
$71.0
9%
9/12
$10.18
$11.69
15%
$71.6
$78.9
10%
6/12
$11.27
$12.92
15%
$77.1
$82.1
6.5%
3/12
$11.32
$13.34
18%
$78.5
$86.0
10%
12/11
$10.59
$14.29
35%
$74.9
$88.3
18%
* EPS estimates are "earnings per share"
*Source: Thomson Reuters
2.) CAT's valuation is much more attractive today than it was at any time in 2011 and 2012 when the stock was trading at over $100 per share:
Price/Sales

1-yr Fwd

EPS estimate

y/y

growth

Price

Cash-flow

3/13
0.69(x)
$7.11
-30%
9(x)
12/12
0.79(x)
$8.01
-11%
13(x)
9/12
0.69(x)
$7.98
-6%
12(x)
6/12
0.71(x)
$9.73
24%
10(x)
3/12
0.92(x)
$10.10
41%
11(x)
12/11
1.00(x)
$9.03
49%
10(x)
9/11
0.90(x)
$8.48
53%
8(x)
6/11
1.19(x)
$7.82
72%
11(x)
3/11
1.34(x)
$7.16
14(x)
12/10
1.25(x)
$6.08
13(x)
9/10
1.16(x)
$5.55
12(x)
3.) CAT's chart is very oversold and still above key support: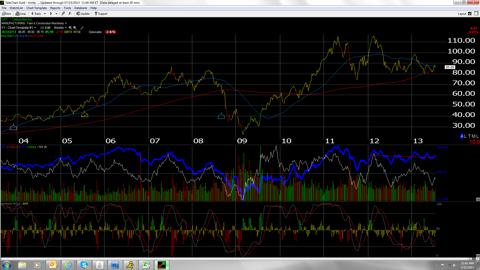 Click to enlarge
Technically, if CAT trades below the 200-week moving average of $83, and then through the $79 low after the April '13 earnings report, the next major support level on the charts is near $50.
To support the bearish case, this morning's dealer numbers released by CAT showed that the sales declines are getting worse, and although you would expect some of this to be in analyst consensus already, given the sell-side analysts are constantly monitoring the sector, the surprise tomorrow could be additional pressure on margins and further pressure on earnings.
Morningstar currently places an intrinsic value on CAT at $98 per share, down from $111 just 5 quarters ago, while our internal model places an intrinsic value on CAT closer to $85 per share.
This is a very tough call. There are a lot of smart people betting against CAT at its current levels. We added to the stock in the $82 area off the poor April '13 earnings report, which we have sold, but a lot of bad news is in the stock already.
If CAT gets hammered on Wednesday morning but holds the April '13 $79 low, we'd look to re-purchase. If the $79 level gets taken out on volume, CAT could be in for a rough period.
Color me chicken, but we'll stand aside for now. Ultimately this is a company and business we want to own again.
(The title of today's column is from the mid 1970's Jim Croce song, "Don't Mess Around with Jim").
Don't tug on Superman's Cape
Don't Spit into the Wind
Don't Pull the Mask off the Ol' Lone Ranger
And Don't Mess Around with Jim (as in Chanos)...
Disclosure: I have no positions in any stocks mentioned, but may initiate a long position in CAT over the next 72 hours. I wrote this article myself, and it expresses my own opinions. I am not receiving compensation for it (other than from Seeking Alpha). I have no business relationship with any company whose stock is mentioned in this article.