Tandy Leather Factory (NASDAQ:TLF) is a Fort Worth, Texas-based company that engages in the retail and wholesale distribution of leather products. The company has three business segments: Wholesale Leathercraft, Retail Leathercraft, and International Leathercraft. Tandy Leather Factory has a broad customer base that includes individuals, institutions (schools, prisons, and hospitals), western stores, and craft stores. The stock is already up an incredible 48% in 2013, and it has the potential to move much higher.
Click to enlarge images.

Source: Y Charts.
Fundamentals
The stock has strong fundamentals and the stock is cheaper than its competitors. Tandy has a TTM P/E ratio of 14.84, which is much lower than the industry average P/E ratio of 20. Many other apparel retailers have much higher P/E ratios. For instance, Cherokee (NASDAQ:CHKE) has a P/E ratio of 17.47 and Michael Kors Holdings (NYSE:KORS) has a P/E ratio of 32. The forward P/E ratio of 10.47 is below the TTM P/E ratio. The PEG ratio is at 0.58, which could indicate that the company is undervalued. The price-to-book ratio is at 2.12, which is well below the industry average P/B ratio of 5.2.
As shown in the graph below, revenues have increased substantially since the recession and they are now at five-year highs. Revenues grew by 9.17% from Q1 2012 to Q1 2013. Also, year-over-year EPS growth is 30.11%. Gross profit margins look strong at 63.93%, and the gross profit margins have held in the low 60s since last year. The debt-to-equity ratio is at .075 and debt has fallen steadily over the past five years. Levered free cash flow also appears strong at $1.7 million. The company does not currently pay a dividend.

Source: Y Charts.
Management and Insider Ownership
Management is crucial to a company's success and Tandy Leather Factory certainly has a strong management team. Most of the management has been with the company for years. Jon W. Thompson is the president, CEO, and COO of the company. Thompson has been CEO since July 1, 2009, and he has overseen much of the company's recent growth. He served as the company's senior vice president from 1993 to 2008. In addition, he is the son of Wray Thompson, chairman of the board. Shannon L. Greene has been the CFO of the company since 2000 and she is on the board of directors for the U.S. Chamber of Commerce. Mark Angus is the senior VP and he has been with the company since 1993. On July 6, 2013, Bandera Partners purchased 11,132 shares and they are now a 27% owner of the company. There were 21 insider buys and 12 insider sells over the past 12 months. Insiders own 5.6% of the outstanding shares.
Q1 2013 Results
CEO Thompson announced during the company's first-quarter earnings conference call that he was "generally pleased with our first [quarter] as sales were strong." Sales were strong in Q1, but earnings remained flat over last year's first quarter. Operating expenses grew by $500,000 compared to last year's expenses. However, the growth in expenses isn't as bad as it seems. $300,000 of the $500,000 in expenses was from an increase in advertising and marketing, which should help to drive sales in the future. Total cash remained at $7 million in the first quarter. First-quarter sales increased by 6% from Q1 2012 to Q1 2013. Only two Tandy Leather Factory stores have reported operating losses so far in 2013, but those operating loses only totaled $2,000.
Potential Risks
With a market capitalization of just $83 million, Tandy Leather Factory is a micro-cap stock and investors should be aware of the risks that come with these stocks. One of these risks is light volume. The three-month average volume is only 12,858 shares. Another risk associated with micro-cap stocks and Tandy Leather Factory is volatility. The stock has traded between $5.01 and $8.80 in the past 52 weeks. Since leather is sold internationally, market conditions abroad will likely affect the price of domestic leather. Outbreaks of mad cow and hoof and mouth disease can have a huge impact on the price of leather that Tandy Leather Factory purchases.
Company Future
Recent developments from Tandy Leather Factory have been positive. In June, Tandy Leather Factory opened its flagship store at its corporate headquarters in Fort Worth, Texas. In addition to to the impressive sales numbers from its first-quarter earnings report, the company announced that its May sales were up 7% over May 2012. Also, June sales were up 7% from 2012. Tandy Leather Factory has not added new stores so far in 2013, but they plan to add one or more stores this year.
It is important that in the near future the company is planning to expand and upgrade existing store locations rather than build new stores. Shannon Greene said during the Q1 earnings conference call that they would like to increase the size of the stores from 2,000 square feet to 5,000 square feet. Tandy Leather Factory is only just beginning to expand internationally and the company only has three international stores. The company hasn't made it clear if a new store will be built this year, but there is certainly room for growth internationally.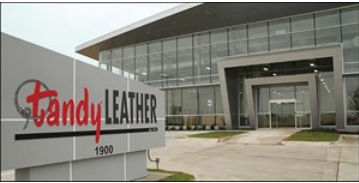 Conclusion
Tandy Leather Factory is a micro-cap bargain. The company is a specialty retailer that is basically undiscovered. These types of micro-cap retail plays have huge potential. The stock has a strong EPS growth track record, and sales have also been very strong so far this year. The company is spending heavily on marketing and they have plans to upgrade their existing stores. Both of these things will help to continue to drive growth. The company is just now establishing itself in international markets, which offers huge amounts of growth potential. The company has performed well so far this year and the company's successes should continue well into the future.
Source: Data taken from Yahoo Finance.
Disclosure: I have no positions in any stocks mentioned, and no plans to initiate any positions within the next 72 hours. I wrote this article myself, and it expresses my own opinions. I am not receiving compensation for it (other than from Seeking Alpha). I have no business relationship with any company whose stock is mentioned in this article.