When measured by its dividend, PDL BioPharma, (NASDAQ:PDLI), stands out as one of the best stocks to buy in the biotech field. In fact, it's one of only four dividend paying stocks in this sub-sector.
Biotech is a group which isn't normally favored by income investors, due not only to its lack of high dividend stocks, but also due to its lack of many dividend stocks at all, not to mention its members' earnings and price roller coaster rides.
What makes PDLI different from the rest of the biotechs? They recently spun off their biotech business into a separate stock, Facet Biotech, (FACT), which leaves PDLI functioning as a royalty-collecting operation for its 7 "antibodies" patents, which it licenses to some very large firms, such as Wyeth (WYE), Elan (NYSE:ELN), and Genentech (Private:DNA).
These patents expire in 2013-2014, which some analysts say makes PDLI akin to a fixed-term 5-year investment. The future income streams from these royalties is over $1.3 billion, well in excess of the current market $1.01 billion market cap, and this estimate doesn't even account for any revenue growth.
PDLI recently upped its 2009 revenue guidance to the $310-$325 million range, and also increased its 2009 net income target by over 7%, ($200-$215 million); and its 2009 cash generation target by over 8%, ($285-$300 million).
PDLI closed at $8.47 Friday, 8/14/09, giving it a current dividend yield of 11.7%, which towers above the other 3 dividend stocks in the biotech group. The current mean analyst EPS estimate for 2009 is $1.21, and $1.33 for 2010, well above PDLI's $1.00/share annual dividend payout. The next semi-annual dividend payment will be $.50/share, payable to shareholders of record as of Sept. 17, 2009.
PDLI: 6 months ended 6/30/09 vs. 6/30/08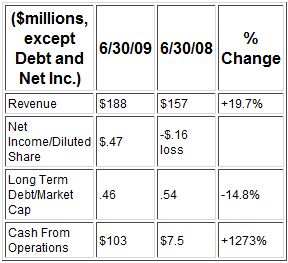 PDLI vs. Biotech Industry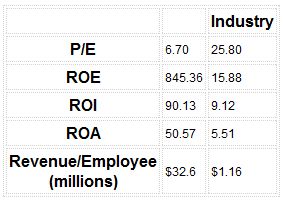 Negative issues facing PDLI are:
A lawsuit brought by a PDLI customer, MedImmune, who, after paying PDLI royalties for over 10 years, is now suing to try to stop paying royalties. PDLI has settled similar lawsuits in the past, with minimal monetary consequences.
Two $250 convertible notes, the first due in 2012, and the second in 2023. The 2023 holders hold a put option which they may exercise at $8.08 in 2010, which would increase the share count by 25%, which may, in turn, cause the dividend yield to decrease.
In addition to having the highest dividend in biotech, PDLI also has a very low PEG ratio of .27, which supports the argument that investors are getting a strong, uncommon mix of a supportable high dividend, AND cheap growth.
Disclosure: Author is long shares of PDLI