I've been on a little kick of late picking up healthcare stocks. The ones I have been holding recently are Covidien (COV), Abbott Laboratories (NYSE:ABT), and Amgen (NASDAQ:AMGN) but have only been buying Amgen and Abbott with enthusiasm. Abbott is up 2.14% since picking up my last batch in the stock and Amgen is up 10.72% since picking up that last batch while the S&P 500 is only up 3.14% and the Healthcare Spider ETF (NYSEARCA:XLV) is up 4.29% during the same timeframe. I'd like to find another dividend paying healthcare stock to add to the portfolio and I've been eyeing Johnson & Johnson (NYSE:JNJ) of late with its 2.86% dividend yield, so I'd like to take a moment to evaluate the stock on a fundamental, financial, and technical basis to see if it's worth picking up J&J right now.
Fundamentals
Johnson & Johnson currently trades at a trailing 12-month P/E ratio of 20.5, which is fairly priced, but I mainly like to purchase a stock based on where the company is going in the future as opposed to what it has done in the past. On that note, the 1-year forward-looking P/E ratio of 15.86 is currently fairly priced as well for the future in terms of the right here, right now. Next year's estimated earnings are $5.82/share. The PEG ratio (3.28), which measures the ratio of the price you're currently paying for the trailing 12-month earnings on the stock while dividing it by the earnings growth of the company for a specified amount of time (I like looking at a 5-year horizon), tells me that Johnson & Johnson is expensively priced based on a 5-year EPS growth rate of 6.25%.
Financials
On a financial basis, the things I look for are the dividend payouts, return on assets, equity and investment. Johnson & Johnson boasts a dividend of 2.86% with a payout ratio of 54.4% based on earnings while sporting return on assets, equity and investment values of 10.8%, 20.1% and 13%, respectively; which are all respectable values. If maybe you feel the market will retract a little and would like a safety play then the 2.86% yield of this company is good enough for you to take shelter in for the time being.
Technicals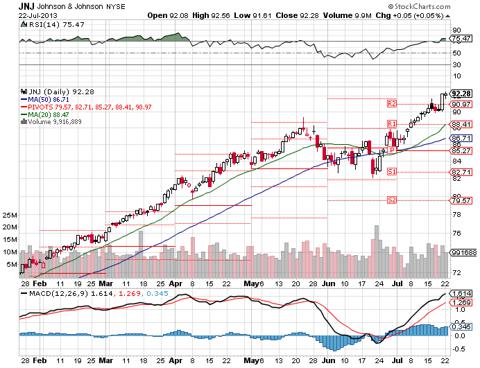 Looking first at the relative strength index chart (RSI) at the top, I see the stock in overbought territory with a value of 75.47, which kind of scares me in the sense that there may be a short-term sell-off coming soon. Next, I will look at the moving average convergence-divergence (MACD) chart next and see that the black line is above the red line with the divergence bars flattening out in height, which tells me that the stock may be getting winded here. As for the stock price itself ($92.28), it is trading at all-time highs and I'd expect $95 to act as resistance and $90.97 to act as support. If the stock can't break through the $95 resistance, I see it going down to the 20-day moving average and then possibly down to $88.41. However, if it can break through the $95 resistance level, I think it can go to $100 as it is already at all-time highs. These scenarios provide for a risk/reward ratio of -4.19% to 8.37%.
Recent News
Johnson & Johnson recently reported in the morning of July 16, 2013 an EPS of $1.48, beating estimates by $0.09 and revenue of $17.88 billion, beating estimates by $0.17 billion.
The company announced a dividend o $0.66 per share quarterly dividend with an ex-date of August 23, 2013 and pay date of September 10, 2013 for a current yield of 2.86%.
Johnson & Johnson's Janssen research and development unit received FDA approval for Simponi for use in combination with methotrexate for treating rheumatoid arthritis, which can affect Amgen's competitor drug Enbrel. I'm looking at Simponi to steal market share from Amgen (I hold Amgen in Abba's Aces).
Conclusion
Johnson & Johnson is still fairly valued based on future earnings, and I'd like to see the price come down a little bit before I can initiate a position in the stock. The company is expensively priced based on future growth prospects, and I'd like to see higher earnings growth to make it a bit more attractive or see the price drop. I believe the approval of Simponi can lead to that earnings growth I seek and will consider beginning a position in the stock and dropping Amgen from my portfolio if only I can see JNJ drop in price a little bit. Financially, the payout ratio is a bit higher than what I usually like it to be, but at a dividend rate of 2.86% I'm not going to complain about it right now. The technical situation of how the stock is currently trading is what is disconcerting about it. While trading at all-time highs the RSI and MACD charts actually scare me a bit from creating a position right now. I will continue to watch the stock like a hawk right now in terms of price action to pounce on an excellent entry point; I'd like to see the RSI chart start a downtrend and the black line on the MACD chart get below the red line.

Disclosure: I am long AMGN, COV, ABT. I wrote this article myself, and it expresses my own opinions. I am not receiving compensation for it (other than from Seeking Alpha). I have no business relationship with any company whose stock is mentioned in this article.
Disclaimer: These are only my personal opinions and you should do your own homework. Only you are responsible for what you trade and happy investing.