This past Friday was the 45th day of the third quarter and also the deadline for fund managers to file the 13Fs that reflected their holdings as of 6/30/09. Especially given the current market circumstances, 45 days is a LONG time and thus the data can potentially be relatively stale and not reflective of these managers' current portfolios. Heck, in this market data that is 7 days old may not be indicative of a manager's current investment philosophy.
Having said that, it is often instructive to take a look at the changes made during Q2 to get a sense of what themes managers are focusing on. Of course, we cannot see their short portfolios so for many of these managers you really only get half the story. But on the long side, having the data from Q4 2008, Q1 2009 and Q2 2009 all together, it is sometimes possible to re-engineer a certain manager's strategy.
Accordingly, I have taken a sample from an eclectic group of managers. Some are concentrated while others have much smaller positions sizes. Some add and subtracts positions while others hold very steady. Some are focused on certain sectors and special situations while others are much more diversified. All in all I think the following group of managers provides some useful insight into how the pros navigate volatile markets. (Click on the images to see the specifics of the portfolio moves)
Here are some high level themes I think should be highlighted:
Gold is still very a popular investment.
Some of the banks whose shares had been hit the hardest garnered a lot of interest from these managers. Specifically: Bank of America (NYSE:BAC), Regions Financial (NYSE:RF), SunTrust Banks (NYSE:STI), and Fifth Third (NASDAQ:FITB).
Large cap tech names like Hewlett Packard (NYSE:HPQ) and Oracle (NASDAQ:ORCL) seemed to offer compelling value.
A number of managers either added or hold a position in McDonald's (NYSE:MCD).
Many of these funds run way too much money to buy small and micro cap companies. However, there seemed to be a trend towards buying some of the best known blue chips as they had not had the same run up as the lesser quality, more levered companies.

A number of managers made drastic changes to their portfolios by either trimming or completely selling out of existing positions to establish stakes in new companies.
Paulson and Co.: Manager, John Paulson
Commentary
I have already discussed my impressions of Paulson's bet on financial companies so there is no need to rehash that here. Aside from that the main theme that is ever present in his portfolio is his affinity for gold. While he held steady with 31.5M shares of GLD, he added 23M shares of Gold Fields (NYSE:GFI), 6M shares of the Market Vectors Gold ETF (NYSEARCA:GDX) and over 42.8M shares of Anglogold Ashanti (NYSE:AU).
When I saw Paulson speak he made it very clear that he was troubled by the actions of the Fed and the Treasury and he obviously remains quite concerned about the possibility of inflation and the declining value of the dollar.
This is such an overwhelming thesis among the hedge fund managers I follow that I don't know whether to take it as a contrarian indicator that these people love gold so much or to be really scared about the potential for inflation. Only time will tell. But I continue to hold a large percentage of my investment portfolio in shares of GLD.
Two other minor things to note. First, Paulson bought shares of Pepsi Bottling (PBG) and PepsiAmericas (PAS) during Q2. The only reason that stands out to me is that Dan Loeb, the manager of Third Point (discussed more below) also established a stake in those companies during the second quarter. Could be some good research fodder.
Finally, Paulson seems unafraid to dip his toe into the real estate-based stocks (other than just that banks that are obviously inextricably tied to real estate). In Q2 he purchased shares of homebuilder Centex (CTX), commercial REIT Kimco (NYSE:KIM) and continues to hold over 13M shares of CB Richard Ellis (CBRE), a firm whose fortunes will ultimately be tied to the struggling commercial real estate market.
click images to enlarge
Third Point: Manager, Dan Loeb
Commentary
Loeb was very active during Q2, adding a lot of companies to his portfolio. Most of the additions are well-known blue chips such as Apple (NASDAQ:AAPL), Hewlett-Packard (HPQ), Oracle (ORCL), and Yahoo (NASDAQ:YHOO). Notice a theme there? He definitely thought that the large cap tech players were undervalued when he bought. Obviously the Nasdaq has had quite the nice run since the end of Q2 so it is anyone's guess whether or not he has since trimmed these positions. In other moves, it appears that Loeb either realized the returns he was anticipating or soured on the SPAC/blank check company space during Q2. After being active in a number of these, including VRY, TCW, LIA, and TOH, Loeb sold out of all of them other than Trian Acquisition (TUX).
Finally, Loeb sold a large chunk of his disastrous investment in Guaranty Financial (GFG-OLD), a bank that looks like it is on the brink of FDIC receivership. The first time I looked at GFG it prompted me to run into my boss's office to tell him that I found a great new short candidate. It had just been spun off from Temple Inland (NYSE:TIN) and it was unambiguous from my perspective that the toxic MBS the company had taken onto its balance sheet was going to cause GFG a lot of heartache. It just goes to show that you better really understand the underlying balance sheet of financial companies before jumping in.
GFG in particular has hurt the returns of a number of prominent funds, including Greenlight, Icahn Capital and Third Point.
Glenview Capital: Manager, Larry Robbins
Commentary
Wow, Larry Robins was a busy man during Q2. He significantly trimmed his stake in many existing portfolio companies to add a slew of new names. Similar to the strategy employed by Dan Loeb, Robbins focused his new purchases on well known large cap companies such as Express Scripts (NASDAQ:ESRX). Mastercard (NYSE:MA), Sealed Air (NYSE:SEE), Monsanto (NYSE:MON) and Tyco Electronics (NYSE:TEL). Also, like Paulson and Loeb, Robbins added shares of Bank of America (BAC), along with other financial companies such as Regions Financial (RF), Capital One (NYSE:COF), US Bancorp (NYSE:USB), and Fifth Third (FITB).
As I noted in my Paulson piece , these stocks have had a strong run since the end of Q2 so it is possible these positions have been trimmed a bit. However, I am impressed by the way he and Paulson anticipated a recovery in the shares of some of the most troubled and beaten down banks. Were they lucky or were they good? Tough to tell but my guess is that their investors don't care either way.
Finally, it is interesting to see what Robbins sold to fund these new purchases. He sold his entire stake in Genworth Financial (NYSE:GNW) and RII (formerly Reliant) Energy (RRI). He also made meaningful cuts to his positions in Aetna (NYSE:AET), Cigna (NYSE:CI), Fidelity National (NYSE:FIS) and Fiserv (NASDAQ:FISV). I wonder if he is concerned about what ObamaCare has in store for health service organizations such as CI and AET.
BP Capital: Manager, Boone Pickens
Commentary
Boone Pickens did a whole lot more selling than buying in Q2. He closed his positions Consol Energy (NYSE:CNX), Fluor (NYSE:FLR), Massey Energy (NYSE:MEE), Alpha Natural Resources (ANR) and Foster Wheeler (FWLT). These moves are interesting because many of the original purchases were made in Q1 and quickly closed out by the end of Q2. The only positions he added to were Cabot Oil and Gas (NYSE:COG), Questar (NYSE:STR), and Forest Oil (NYSE:FST).
All in all it appears that Pickens had ratcheted down his exposure to the energy sector, at least through BP Capital. It makes you wonder whether he is expecting a short term correction within what we know he believes is a secular bull market.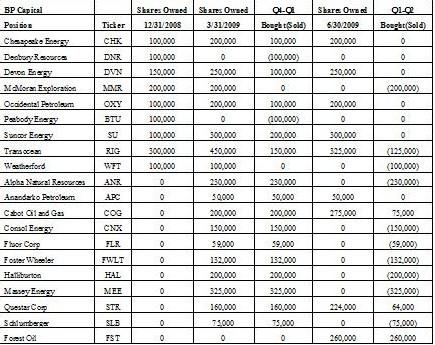 Wintergreen Funds: Manager, David Winters
Commentary
After a tough year in 2008, David Winters has not made dramatic changes to his portfolio in 2009. In Q1 he sold out of his Fomento Economic (NYSE:FMX) and Wynn Resorts (NASDAQ:WYNN). In Q2 he trimmed his stakes in Chesapeake Energy (NYSE:CHK), Leucadia National (NYSE:LUK), and Reynolds American (NYSE:RAI) while adding small positions in McDonald's (MCD) and Fairfax Financial (FFH). He also bought back into WYNN during Q2.
In contrast to Dan Loeb and Larry Robbins, Winters has pursued the strategy of concentrating on the names he is comfortable with and not tinkering too much with the portfolio. The reason it is interesting to examine Winters' strategy is that it gives potential investors an idea of how he approaches volatile markets in comparison to managers like Loeb and Robbins.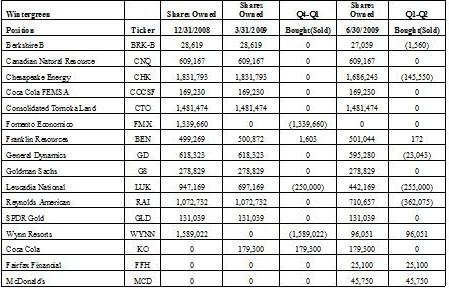 Icahn Capital: Manager, Carl Icahn
Commentary
What stands out about Icahn's Q2 portfolio is the utter lack of activity. Aside from adding to his bet on Lion's Gate (LGF) and increasing his stake in the Proshares Ultra Short Real Estate ETF (NYSEARCA:SRS), the only other position change was the sale of his remaining stake in Williams Companies (NYSE:WMB).
However, Icahn still holds large stakes in Blockbuster (BBI), Motorola (MOT), and a number of pharmaceutical and biotech companies. From what I have read he continues to take an activist role with a number of these companies. The thing about special situations in general is that sometimes the returns are market agnostic, meaning that the outcome of the activist's attempts to influence the company play a bigger role in the movement of the stock than does the overall direction of the market.
Accordingly, investors cannot assume that the lack of changes in the portfolio, despite many compelling valuations during Q2, is necessarily negative.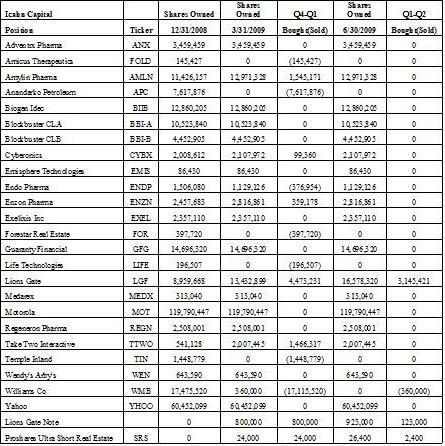 Lone Pine: Manager, Steve Mandel
Commentary
Steve Mandel definitely took a page of out the Larry Robbins playbook (or vice versa) in Q2. Mandel took the initiative in Q2 to trim his positions in a number of companies to buy some blue chips such as Nike (NYSE:NKE), MCD, and HPQ. He also added large stakes in Smithfield Foods (NYSE:SFD) and Melco Crown Entertainment (NASDAQ:MPEL) as well as dipping his toe into the financial space by buying FITB and SunTrust Banks (STI). To finance these acquisitions he sold out of a number of positions, including: Pepsico (NYSE:PEP), SLM Corp (NYSE:SLM), Medco Health Solutions (NYSE:MHS), Deckers Outdoor (NASDAQ:DECK), Apollo Group (NASDAQ:APOL), Las Vegas Sands (NYSE:LVS), Carnival Corp (NYSE:CCL) and Activision Blizzard (NASDAQ:ATVI).
He also meaningfully cut his stakes in Urban Outfitters (NASDAQ:URBN), Visa (NYSE:V), Union Pacific (NYSE:UNP), and America Movil (NYSE:AMX).
However, one of the most interesting moves from my perspective is his sale of 23M shares of GLD. Did he move to bullion instead? Did he change his position on inflation and dollar debasement? Was it just a hedge that he felt he could take off? He still owns about 3M shares but this was a significant move within his portfolio.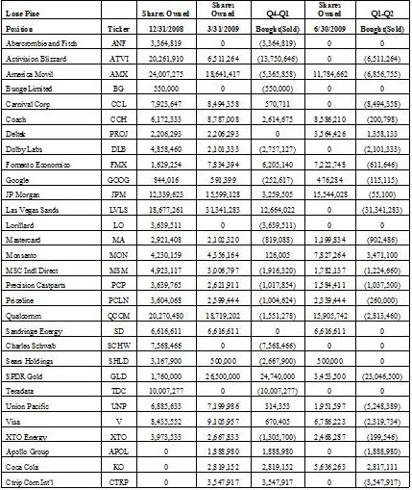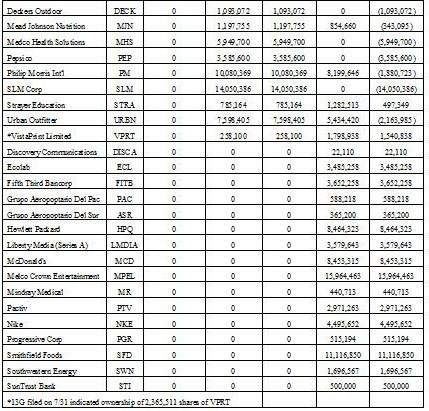 Disclosure: Long GLD