Italy's Eni (NYSE:E), a large vertically integrated oil and gas company, appears to be significantly undervalued at its current level and thus offers an opportunity for investors looking for a good risk-reward tradeoff. The company is one of the largest companies in Italy, boasting a market cap of $79.01 billion as of the time of writing. Indeed, this status as a large Italian firm may be one reason for the stock's undervaluation. However, as I will show in this article, the company itself is not as exposed to the country's struggling economy as the market seems to believe.
Eni is truly a global company. The firm currently operates in 43 different countries. The company had operations in thirty countries in 2005 so it has become much more internationally diversified over the last decade and this has resulted in it being less exposed to any one nation than it was in the past.

Source: Eni
Approximately 55% of Eni's operations are located in Africa and, in fact, it is one of those operations that provides one major opportunity for Eni.

Source: Eni
In late 2011, Eni discovered a massive natural gas field at the Mamba Complex off of the coast of the African nation of Mozambique. This discovery was one of the largest natural gas fields ever found at an estimated size of 15 trillion cubic feet of gas in place. Since that announcement, Eni has made additional discoveries in the Mamba Complex and the nearby Coral Complex. As of April 24, the total volume of natural gas believed to be located in the area stands at 80 trillion cubic feet. Interestingly, the stock price has barely responded to this news at all.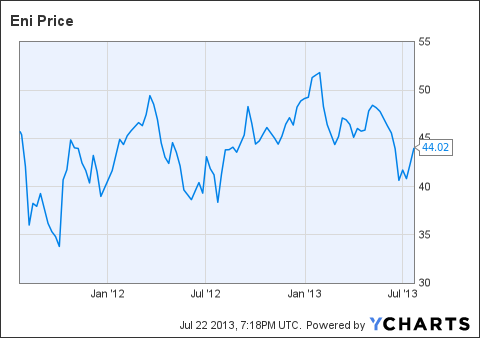 However, I believe that the stock price should have responded positively due to the opportunities that these discoveries have afforded the company. I discussed these opportunities in a recent Pro article about Statoil's (NYSE:STO) potential to profit off of increasing Asian demand for natural gas. Eni's potential is perhaps even greater as its resources in Mozambique are exponentially greater than Statoil's resources in Tanzania.
Summary of Eni's Opportunity in Asia
Mozambique is located on the East coast of Africa and thus allows for easy transportation of the extracted gas across the Indian Ocean to Asian markets.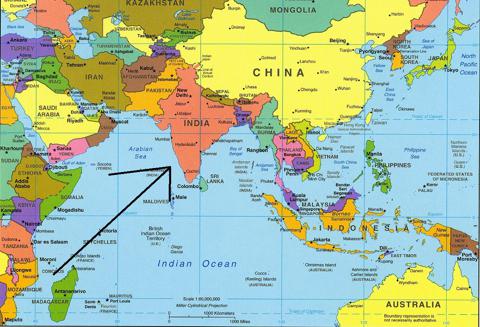 According to the U.S. Energy Information Administration, Asia is expected to account for 48% of the world's population growth, 52% of global gross domestic product growth, and 64% of the growth in primary energy consumption going forward. The Administration expects the nations of Thailand, Singapore, Indonesia, Malaysia, Vietnam, and Bangladesh to become net importers of liquefied natural gas by 2017. This last point is something that is very important to consider.
Unlike oil, natural gas cannot be easily transported. It is not economical to transport in its natural state because, as a gas, it would require too much space. Therefore, one common method for transporting natural gas is to compress it down into a liquid and then ship the liquid natural gas across the ocean on a specialized tanker. This liquefied natural gas (NYSEMKT:LNG) is then converted back into its natural gaseous state at the destination. This is what the countries listed in the last paragraph are demanding - this liquefied natural gas which will then be converted back into its natural state at regasification facilities located within the respective country.
In order for this scenario to play out, Eni needs to have a liquefaction plant in Mozambique and these are very expensive to build. Fortunately, the quantity of gas is high enough to make the construction of one of these plants economical. At the end of last year, Eni and Anadarko (NYSE:APC) announced that they will jointly be constructing the second largest LNG plant in the world. The partners plan to have this plant operational and ready to export LNG by 2018. This positions the company very well to be exporting natural gas to the aforementioned six Asian nations that are expected to be net importers by 2017.
Here is some country-specific information that should provide investors with an indication of how large the potential opportunity is here:
China
China is the largest consumer of energy in the world. The rapid industrialization of the nation has also resulted in the country needing to secure new sources of energy to feed its burgeoning demand. China's current source for most of that energy is coal. The black rock made up 70% of the nation's energy consumption in 2009.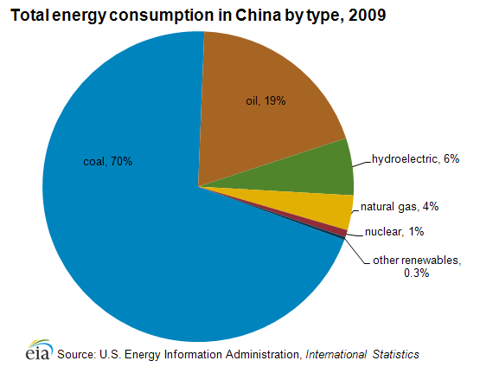 China's policy makers are determined to reduce this dependence on coal in coming years, ostensibly to reduce carbon dioxide emissions. The country wants to replace coal with non-fossil fuel energy sources such as wind power. The Chinese government's five-year plan states that the authorities want to develop these alternative sources of energy sufficiently that the country can produce 11.4% of its required energy from non-fossil fuel sources by 2015.
The Chinese government also intends to substantially boost its consumption of natural gas by 2020 in a further attempt to reduce the country's emissions of carbon dioxide. The country's ruling party want natural gas to increase from 4% of the energy mix currently to 10% by that year. Achieving that goal will require massive imports of liquefied natural gas despite the fact that the company is already sitting on 107 trillion cubic feet of reserves according to Oil and Gas Journal. The country imported more than 1 trillion cubic feet of natural gas in 2011 to meet its demand.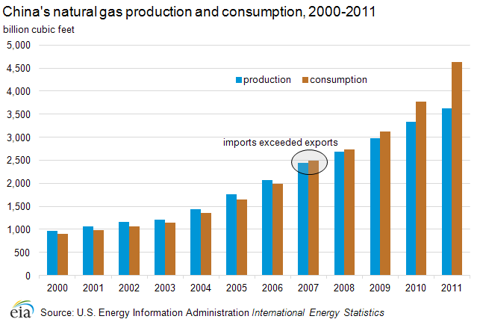 The Energy Information Agency projects that achieving the policymakers' goal will require the country's natural gas consumption to increase to 11 trillion cubic feet per year by 2035. That consumption level would exhaust the country's massive reserves in under a decade without imports so clearly the nation will need to import heavily. As of 2011, 22% of the country's consumed natural gas is imported. If we assume that rate to remain static (which is unlikely), the country will be importing 2.42 trillion cubic feet per year in 2035. Imported gas accounted for 12% of the country's consumption in 2010. Thus, imports made up 10% more of the country's consumption year over year. The country's natural gas production increased by 9% over the same time period and it still had to greatly increase imports. This trend is likely to continue going forward, benefiting suppliers to the nation.
Thailand
Natural gas makes up nearly one third of this net importer's energy mix. This makes natural gas second only to oil in providing power to the nation.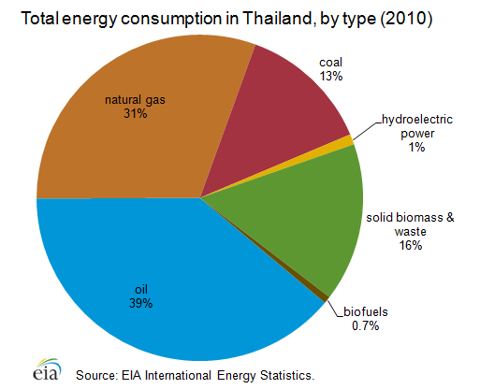 Thailand has seen its natural gas production increase steadily in recent years and it is likely to continue to increase for the next few years. The nation's largest gas field, Bongkot, produces 600 million cubic feet per day. Production at this field is controlled by a consortium of three companies: Total (NYSE:TOT), BG Group, and PTTEP (Thailand's national energy company). These three companies are planning to increase production from this area by bringing the new Bongkot South field online. Bongkot South is expected to produce 320 million cubic feet per day at peak capacity. The Malaysia-Thailand Joint Authority, an organization created to manage the natural resources of a 7,250 sq. km area of the Gulf of Thailand on behalf of both countries, has also been bringing production online. However, this new production will not be and has not been enough to meet the needs of the thirsty Thai population and industry.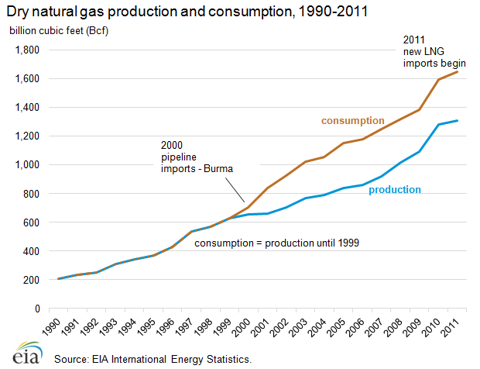 The Energy Ministry of Thailand is also concerned that the country's production may be nearing its maximum. According to that agency, production of natural gas will peak in 2017 and then begin to drop out before all the resources are exhausted in 2030. If the agency is correct, this will require Thailand to import an increasing amount of natural gas to replace the gas that it is producing now. This amount will increase as the production declines, particularly if consumption of natural gas continues to grow.
Vietnam
Vietnam currently has some of the largest natural gas reserves in the entire Asia Pacific region, totaling 24.7 trillion cubic feet of proven reserves. This has allowed the country to be self-sufficient in natural gas so far but this desirable state of affairs will not last. Vietnam's gross domestic product has risen by an average of 7.2% per year over the last decade. This has resulted in rapid growth in demand for all energy resources, including natural gas.
In 2010, Vietnam produced 290 billion cubic feet of gas or approximately 800 million cubic feet per day. This was equal to the country's consumption of 800 million cubic feet per day. The country has been successful in attracting foreign and domestic investment to its energy sector and so it expects to see production increase to 1.4 billion cubic feet by 2015. This should still be enough to service its expected consumption of 1.3 billion cubic feet per day by the same year. However, PetroVietnam predicts that demand for natural gas will outstrip demand by 1.3 billion cubic feet by 2025. This is because production growth will not be able to keep up with the growing demand for gas as the country continues to industrialize.
The market appears to be completely ignoring the company's potential to be a major supplier of natural gas to these industrializing Asian economies. In fact, Eni is among the cheapest of its peers when valued on an enterprise value to EBITDA basis.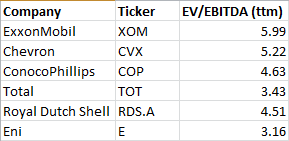 Source: Figures from Yahoo! Finance, Chart Assembled by Me
As the chart shows, Eni is significantly cheaper than its European peers Total and Royal Dutch Shell (NYSE:RDS.A), let alone its American peers. The company's stock price would have to increase by 8.70% just to equal the valuation of Total, which is the second cheapest company listed.
Eni can also offer an additional return to investors in the form of its high dividend yield. The company pays a semi-annual dividend in May and September. The last two payments totaled 1.08 euro, which gives the stock a dividend yield of 6.45% (calculated using the current price on the Milan exchange and ignoring withholding taxes). This yield is well above the average for the oil and gas industry and will likely rise with the company's profits going forward.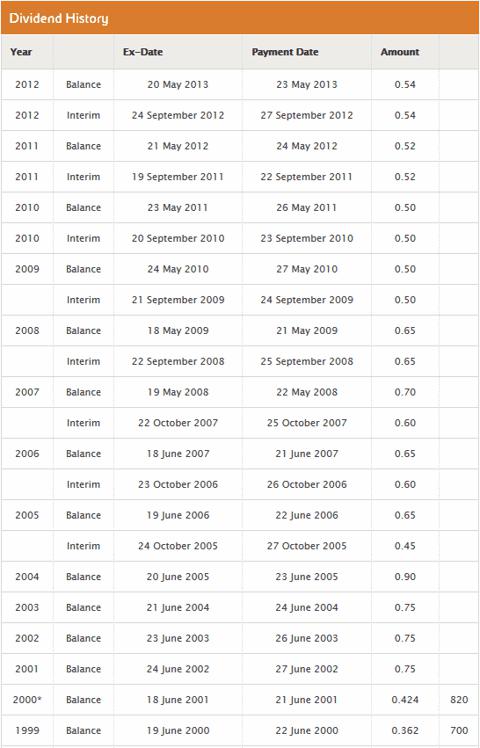 Source: Eni
As previously mentioned, Eni is one of the largest companies in Italy and this is likely one reason for its undervaluation. The company's large size means that it is overrepresented in ETFs and index funds that track the MSCI Italy index. For example, Eni makes up just over 20% of the holdings of the iShares MSCI Italy Capped ETF (NYSEARCA:EWI). Italy is one of the PIIGS nations that are considered to be at the epicenter of the ongoing European financial crisis and among the most troubled economies in Europe. This has resulted in a sell-off of Italian assets and a pervasive market fear of such assets, justified or not. This can be clearly seen by looking at the prices of the Italy ETF over the past few years.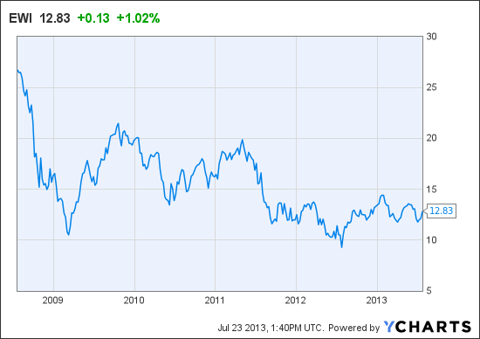 As the chart shows, the Italy ETF suffered a sell-off from 2008 and into 2009 along with virtually everything else. However, it did not participate in the rally that followed. One unfortunate reality of ETFs is that these vehicles are indiscriminate with the assets that they buy and sell so even good stocks will get sold off if money flees the ETF. Likewise, undesirable stocks can get purchased if investors begin to put money into these funds and so have buying pressure put on them. In this case, Eni stock was sold off en masse when investors dumped the ETF in 2008. Since that time, investors have put money back into many ETFs and other passive vehicles, which has resulted in buying pressure on the stocks of other oil companies, but Eni has not seen this due to investors avoiding Italy. Since most retail investors invest their money through one of these funds instead of by buying individual stocks, Eni has not seen the retail buying pressure that its peers have.
Another reason for the stock's decline is short term and may provide a short-term catalyst for the stock. Eni had lower production in the first quarter of 2013 than in the fourth quarter of 2012. In the first quarter, the company had total oil and gas production of 1.6 million barrels of oil equivalent. This represents an 8.41% decline over the fourth quarter 2012 production level of 1.747 million barrels of oil equivalent.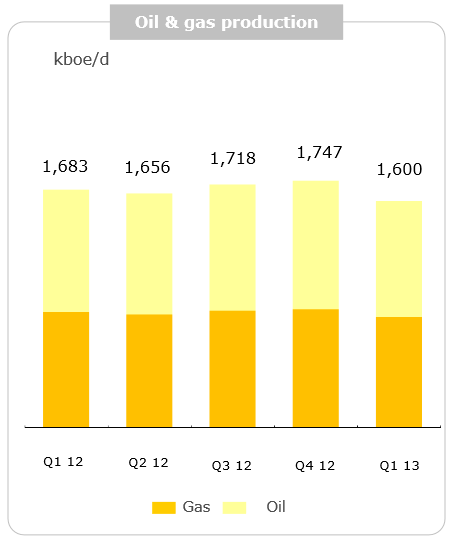 Source: Eni
In its first quarter 2013 earnings announcement, Eni states that the reason for the production decline was force majeure events in Libya and Nigeria. That appears to be the case. The widespread protests in Libya and the persistent thefts of oil from pipelines in Nigeria have forced Eni to shutdown production in the two nations. These are both short-term issues though and it is likely that Eni will restart its production at these sites once these nation-specific problems are resolved. When that happens, possibly as early as sometime over the next year, Eni stock could return to the levels that it held earlier this year. This would represent a 9.89% or greater gain (assuming a return to an ADR price of $48-$49) for investors.
Disclosure: I am long STO. I wrote this article myself, and it expresses my own opinions. I am not receiving compensation for it (other than from Seeking Alpha). I have no business relationship with any company whose stock is mentioned in this article.