Companies which service the Auto and E&C (Engineering and Construction) industries have had to bear the worst of the recession and Autodesk, Inc. (NASDAQ:ADSK) has been no exception.

With the severe downturn that impacted Autodesk customers, the revenue decline has been expectedly sharp.
[click to enlarge charts]


Revenue Decline Has Been Steep...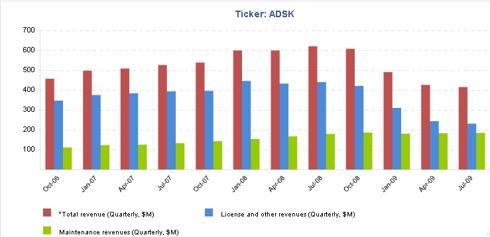 Click to enlarge
Source: Gridstone Research

Clearly customers are in no mood to spend money on adding additional seats of Autodesk products as their R&D headcounts would have reduced substantially.

Sequential Decline In New Seat (License) Revenue Has Been The Culprit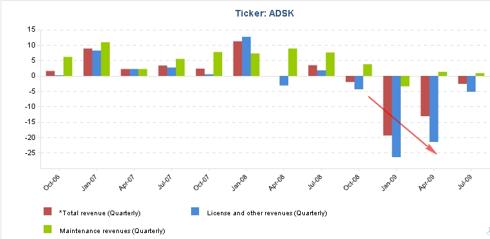 Click to enlarge

Source: Gridstone Research

While many Tech sector companies have reported signs of stabilization, Autodesk has also struck a cautiously optimistic tone in its latest earnings call. Note CEO Carl Bass's comments about demand stabilization below:
Relative to what we experienced late last year and early this year, our business was less volatile as we exited the second quarter. The environment is still challenging but it feels like global demand for our products is showing signs of stabilizing.
But the question remains if license revenue will ever come back to the highs of 2008. Clearly the main driver for increased seat revenue would be more employee additions in the Auto and E&C segments and when that would happen is still unclear. Alternatively, it probably would never reach the headcount figures of 2008 as the Auto industry has seen some rules re-written and looks set for a prolonged period of downsizing and cost-reductions. Keeping this in mind, Autodesk had embarked on a cost-reduction program in the Jan 09 quarter itself.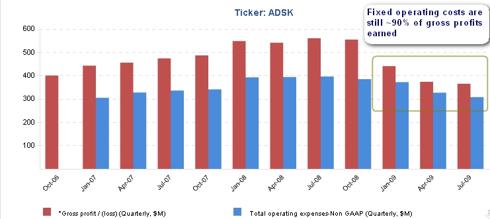 Source: Gridstone Research
Though ongoing Opex (excl. one-off expenses/charges) has been curtailed to ~$300-320M per quarter rate, Autodesk wants to achieve total expense reduction to the tune of $300M in FY10(FYE Jan10) compared to FY09.
CEO's comments on OpEx Reduction in 2Q10 Earnings call:

We now anticipate reaching nearly $300 million in pretax cost-savings in fiscal 2010 versus fiscal 2009. Of course we'll continue to examine our business on an ongoing basis for more ways to improve our long-term efficiency.
However this itself looks insufficient compared to the rate at which gross profits are falling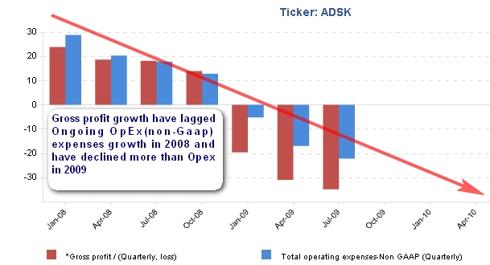 Click to enlarge
Source: Gridstone Research
On a YOY basis, gross profits have either grown at a lesser pace or declined at a higher rate than OpEx (non-Gaap) in all of the last seven quarters. Clearly this trend cannot continue as OpEx spends need to be drastically re-adjusted to the revised revenue outlook for FY10/11. If we assume that quarterly revenues will be in the $400-450 million range over the next few quarters, total cost and expenses(Cost of Revenue+OpEx) would need to be well below that at around $320-330M. We need to remember that other non-cash costs ($50-60M per quarter) - some one-time like restructuring and some continuing charges like D&A would anyway eat into a portion of the remaining profits too and thus ADSK has no scope for having an expense rate above the $320-330M quarterly rate
Total Expenses Need To Be Maintained At Jun09 Quarte Levels Till Demand Picks Up


Click to enlarge
Source: Gridstone Research
The revenue outlook that Autodesk has provided for the Oct 09 quarter is bleak and this strengthens the case for strict control of OpEx continuing at Autodesk. The outlook suggests that Autodesk does not expect revenue declines to ease on a YOY basis in the Oct 09 quarter too.
Steep Revenue Declines To Continue


Click to enlarge
Source: Gridstone Research
Autodesk revenues, both new seats and maintenance revenues, are highly co-related to more R&D heads being employed at its customers. Customers have probably let maintenance contracts for many seats lapse as the seats themselves have become redundant. So this double whammy of significantly lesser seat additions and customers purging some 'existing' seats(which means lesser maintenance revenue) has re-set the revenue expectations for Autodesk, a reality the mangement is reconciled too:
CEO's comments on Revenue Expectations Being Reset in 2Q10 Earnings call:
The caveat is that our business has been reset at a lower level, so whether this economic cycle is going to be U-shaped or L-shaped or any letter or number or hieroglyphic,... We are going into the third quarter confident that Autodesk is well-positioned for the market's eventual recovery."
To sum-up, Autodesk is still not out of the woods by any measure and they would do well to curb costs at planned levels (or even more) so that any incremental revenue from current levels will go straight to the bottom line. However, with no visibility as to when this incremental revenue would start flowing in, the ~33% run-up in Autodesk's stock price YTD (2009) to $25.38 (Aug 13 '09 close price) seems too early and too fast.