Drinking too much coffee can surely cause an upset stomach, and having too large of a position and being on the wrong side of the market of late likely could end in the same result. In recent sessions, it's been like the Wild West with a range H/L of over 12 cents in 2 sessions last week. As one can see after the spike higher last week that lifted futures to the highest trade since 5/23, prices have settled back and appear to be finding support at the 20 day MA (light blue line).
I have been advising scaling into bullish trade for weeks now and it appears prices are finally starting to cooperate. After range bound trading for several weeks just above $120, markets awoke last week. This week is far from over, but a positive week would translate into higher trade 4 out of the last 5 weeks… stay tuned.
Chart 1: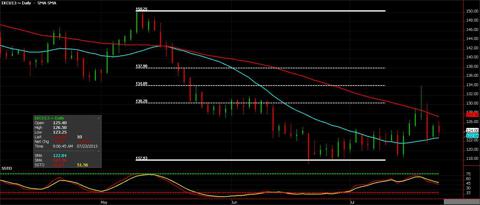 My favored play for clients is a three legged trade. Like a bar stool, I do not think it is adequate unless all three legs are utilized. Long December futures (1) sell (1) out of the money December call, collecting theta with a cushion against a retracement lower. My advice is sell a strike with a delta between 40-50% so if we are correct and get a spike higher, there is room to make on the futures, as the sale of the call option will result in a loss on higher trade. The third leg is purchasing (1) September out of the money put. There is just less than three weeks' time so you are not paying an immense premium, and this should only serve as a safety net if we retest the lows. On a trade back near $120, I would offset this leg and go to cash on this leg.
So why a bullish trade in coffee? After a 20% decline in the last three months, we are finding value in recent weeks. Futures last week traded above the 50 day MA (red line) for the first time since mid-May. Potential freezes in Brazil that could cause crop damage. Even if major coffee regions avoid the cold weather, at a minimum, it could trigger short covering, as a recent COT report shows a large short position with funds and spec traders. See the weather map of regions of Brazil below. When you think coffee, you think Brazil, as they produce approximately 25% of the world's coffee. A recovery in the Brazilian real could also be supportive.
Just to be clear, a spike if we get it to the 50% ($134) or 61.8% ($138) Fibonacci levels as seen on the chart above should be viewed as exit doors.
Chart 2: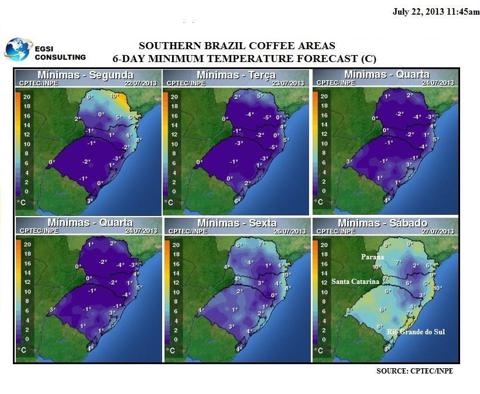 Chart 2 provided by EGSI Consulting: EGSI is a US-based multi-disciplinary consulting firm founded in '09 on principles of scientific integrity, sustainable development, excellence in quality, and customer satisfaction. EGSI has developed an array of products and services to address the scientific research, development, production and operational requirements of its clients. Rao Achutuni established EGSI on the foundations of his 30 years of combined experience, formerly with the USDA and NOAA.
Risk Disclaimer: This information is not to be construed as an offer to sell or a solicitation or an offer to buy the financial products herein named. Trading futures, options, and Forex involves substantial risk of loss and is not suitable for all investors. Past performance is not necessarily indicative of future results. This report contains research as defined in applicable CFTC regulations. Both RCM Asset Management and the research analyst may have positions in the financial products discussed.
Disclosure: I have no positions in any stocks mentioned, and no plans to initiate any positions within the next 72 hours. I wrote this article myself, and it expresses my own opinions. I am not receiving compensation for it. I have no business relationship with any company whose stock is mentioned in this article.