Buy Japanese Stocks: Abe Elections Create Bullish Outlook
Last weekend's Japanese elections resulted in a victory for Prime Minister Shinzo Abe, which makes it much more likely that we will see prolonged stimulus programs aimed at promoting prospects for investment and upward pressures on consumer inflation. We are still well below the Bank of Japan's inflation target of 2%, so we the current stimulus programs that are in place in Japan will likely be in place for the foreseeable future. In addition to this, the results have solidified control over both parliamentary chambers for the Liberal Democratic Party headed by Abe, making it easier to pass needed reforms.
So far, this commitment to enacting structural reforms has been a large positive for Japanese stocks and a major source of weakness for the Japanese yen. With the latest election results, investors can play these trends by using the iShares MSCI Japan Index ETF (NYSEARCA:EWJ) for buy positions while assuming a bearish stance on the CurrencyShares Japanese Yen Trust (NYSEARCA:FXY).
But to detail the opposing view, a few factors should be noted. First, a good deal of skepticism has been expressed toward Abe, given the fact that we have seen roughly 15 different Prime Ministers in Japan in the last 20 years -- all promising sweeping economic reform and little to be seen in the way of material progress. In addition to this, some could argue that the "easy money" in Japanese stocks has already been made as both the Nikkei 225 and TOPIX are up by about 40% year-to-date. But when we look to comparative valuations (using global counterparts in Europe and the US), Japan's benchmark stock indices still look very attractive. And when we add to this the political commitment to continued monetary stimulus, the iShares MSCI Japan Index ETF, offers a low risk, high reward buying opportunity.
So far, Abe's monetary stimulus programs have pumped over $130 billion into the economy and helped to revive markets and spur inflationary pressures (a long-term problem in Japan). LDP now has the mandate it needed to carry forward, but investors will need to look ahead to September when more specific details on how the stimulus programs will proceed from here. Either way, it remains clear that Abe's government is focused on meeting its inflation target of 2% in the next two years, and on enacting measures to weaken the yen in order to support the outlook for export companies.
Valuations remain supportive as well. Japanese stock markets are trading roughly 60% below their all-time highs, which is relatively rare as we look at comparative valuations for major markets around the world. For example, the TOPIX is currently trading at a price-to-book value of about 1.3, whereas the Euro Stoxx 600 is seen at 1.7 and the S&P 500 is trading much higher at 2.5 times its posted book value. All of these factors in combination make Japanese stocks look highly attractive on a comparative basis, with very little in the way of downside risk expected. The inversely correlated Japanese yen should continue lower as this occurs, as the currency should continue to show significant weakness into the end of this year.
Chart Perspective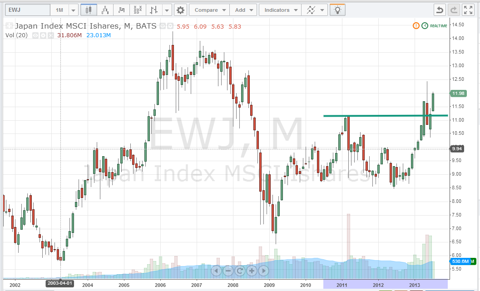 EWJ has made a forceful push through resistance levels at 11.15, cementing the bullish bias from a technical perspective. This area can now be used as a buy zone, as resistance turned support should contain prices and generate bounces on at least a medium term basis.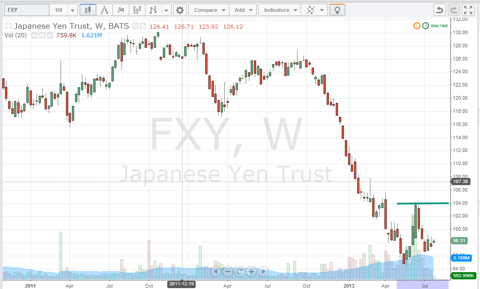 The declines in FXY have been pronounced, so any rallies out from here should be viewed as new opportunities to get bearish. The next level of major resistance can now be found at 103.95, so any investors still long here should look to take profits once prices approach this area.
Disclosure: I have no positions in any stocks mentioned, and no plans to initiate any positions within the next 72 hours. I wrote this article myself, and it expresses my own opinions. I am not receiving compensation for it (other than from Seeking Alpha). I have no business relationship with any company whose stock is mentioned in this article.