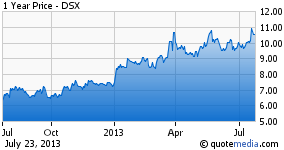 A few years ago, Dry bulk was the favourite industry of investors when demand for ships was high. Dry bulk companies had started ordering new vessels believing that demand will increase further, but this decision resulted in oversupply of ships. Diana Shipping (NYSE:DSX) also suffered a lot from this recession, but due to a strong relationship with customers it is still creating shareholder value. The analysis below shows that Diana is a good long term bet in a troublesome industry.
Diana Shipping
Diana Shipping is a leading global shipping company which provides transportation services. It is specialized in transporting dry bulk cargoes and other raw materials worldwide. The company generates revenue by chartering is vessels to other companies, which involve the delivery of commodities like iron ore and wheat.
Winning Strategy
The company has attained a more cost efficient operation due to modern ships, which are less expensive to maintain. These are fuel efficient ships which allow the company to compete on price. It also tries to focus on replacing only old ships rather than spending huge amounts on unwarranted expansion. This has benefited Diana Shipping in its approach to expand business slowly by maintaining a low level of debt and comparatively lower operating costs.
Recent performance
In the first quarter of 2013, Diana reported a net loss of $3.2 million or $0.04 per share, compared with net income of $20 million or $0.25 in the first quarter of 2012. First quarter contained a loss of $3.3 million of non-cash impairment arising from the sale of older container vessels from Diana Containerships. This is a one-time and non-cash expense, excluding the impairment, the company's net loss would turn into a little profit.
Vessel operating expenses have increased by 22.5% year-over-year. Vessel expenses include crew charges, insurance and maintenance cost, taxes and other miscellaneous expenses. Total revenue decreased 26.77% year-over-year to $42.6 million in the first quarter. Wall Street had expected loss per share of $-0.03 while revenue estimate was $41.54 million for the first quarter. The company will announce the second quarter results on Tuesday, July 30, 2013.
Strong customer base
Diana has recently signed a time charter contract with the Cargill International S.A and Clearlake Shipping. The combined value of these contracts will give Diana shipping gross revenue of approximately $15.4 million minus a 4.75% commission paid to third parties.
Diana shipping has also signed time charter contracts in the month of June and May. From the contract signed in June, the company will generate nearly a gross revenue of $5.1 million while from May contract it will receive a $16.3 million of gross revenue.
These large numbers of contracts are a testament to the strong customer relationships and marketing ability of Diana.
Diana Containerships
Diana Containerships was a wholly owned subsidiary of Diana Shipping, but now it only owns 10.4% of outstanding shares. In the first quarter of 2013, Diana Containerships reported revenue of $15.1 million, up from $12.4 million a year earlier. The increase is due to the increase in the number of vessels in the fleet delivery. The first quarter net loss was $31.8 million, down from net income of $1.9 million in the first quarter of 2012. This loss is due to the non-cash impairment loss of $32.6 million recorded during the quarter, without which profit would be $0.8 million.
Diana Containerships declared a cash dividend of $0.30 per share common stock. I believe impairment is a one-time and non-cash expense, so Diana Containerships is actually in profit.
Balance sheet
The company has a strong balance sheet with higher current ratio, impressive cash equivalent and low debt. Its long term debt of $410 million is down from $414 million a year earlier and it currently has cash & equivalents of $412 million. The debt to equity ratio 0f 0.372x is also pretty low as compared to industry averages. This strategy of maintaining a low leverage has allowed it to control interest payments and generate positive cash flow. The CFOs are also positive due to its efficient operations.
The company has a current ratio of 7.124x (industry average: 1.03x) and ensures that it is highly liquid. Some would argue that Diana could earn more for shareholders by increasing leverage and investing in expansion. I disagree, in the current shipping industry scenario, the best strategy is to play safe and avoid risky bets. The strategy of growing with customers rather than with capacity has worked so far and Diana should stick with it. Diana Shipping is trading at $10.92 and surged 49% year to date. The 52-week high is $11.09 and 52-week low is $5.89.
Bottom line
Overall the shipping industry is in a depression, but the Diana Shipping is still growing due to its efficient operations. Its specialty is focusing only on dry bulk cargoes and its strong customer relationship. The company is financially strong with low debt and a large cash pile. The current loss is due to one-time non-cash impairment and is non-recurring. I believe the company has a potential to grow and create long term shareholder value.
Disclosure: I have no positions in any stocks mentioned, and no plans to initiate any positions within the next 72 hours. I wrote this article myself, and it expresses my own opinions. I am not receiving compensation for it (other than from Seeking Alpha). I have no business relationship with any company whose stock is mentioned in this article. The article has been written by Equity Whisper's industrials analyst. Equity Whisper is not receiving compensation for it (other than from Seeking Alpha). Equity Whisper has no business relationship with any company whose stock is mentioned in this article.