This chart published at Fast FT via Bank of America-Merrill Lynch intrigued me.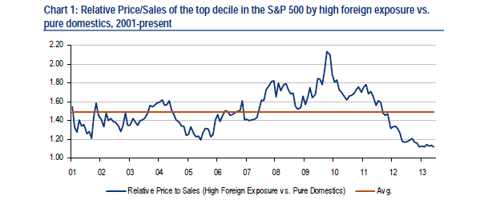 The US market, at least, has fallen out of love with more globally-oriented companies. There are issues in both non-US developed and emerging markets but the valuation opportunity seems to lay with the more global S&P500 businesses.
I had this in the back of my mind when I saw the results from McDonald's (NYSE:MCD) yesterday, particularly as I have generally regarded consumer staples stocks as being a bit expensive generally.
McDonald's numbers were a bit dull headline-wise with low single digit year-on-year growth in most metrics:
•Global comparable sales increase of 1.0%
•Consolidated revenues increase of 2% (2% in constant currencies)
•Consolidated operating income increase of 2% (3% in constant currencies)
•Diluted earnings per share of $1.38, up 5% (6% in constant currencies)
•Returned $1.2 billion to shareholders through dividends and share repurchases
On the earnings call the company elaborated on the numbers although I felt the lack of a viewable presentation was disappointing. (As an aside, I did not find McDonald's corporate website particularly helpful, certainly not class-leading).
Don Thompson, President and CEO and Peter Bensen, CFO made a number of useful points on the conference call:
On a muted outlook -
global comparable sales are expected to be relatively flat in July. Based on our recent sales trends, our results for the rest of the year are expected to remain challenged.
On a difficult eating out market…apparently they gained 10 basis points market share in the US during the quarter -
The one thing we do see in the broader industry is we're seeing a lot of discounting, price discounting, rather than consistent value platforms
Tough pricing -
We expect the dynamics of this cycle to persist in the near-term, namely flat to declining in formal eating out markets, increasingly less ability to take price, cost pressures throughout our P&L
The full year outlook for the increase in our U.S. Grocery basket remains at 1.5% to 2.5%...At the end of June, our U.S. Price increase was 1.5%. which is about 120 basis points less than one year ago…As we move through the second half of the year, we will consider future price increases
Those international non-US opportunities are surprisingly better in Europe at the moment -
in China comparable sales were down 6.1% for the second quarter, reflecting the negative impact from Avian Influenza which continues to dissipate

we are continuing to gain marketshare across the majority of European countries and that is the position we wanted to be in
So, not the easiest environment but they are hopeful of some price increases.
McDonald's is what I would call an 'annuity plus' business. It rumbles forward with not too many surprises. At a Monday close share price of about US$97.5 the company has a market cap of about US$98bn and an EV of about US$109bn.
The company generated US$8.6bn operating profit last year and that is likely to edge forward this year but edge forward is the right way to think about this. An EV/ebit north of x12.5 is just a little too rich even for a global franchise.
A better point is the 6% free cash flow yield, approximately half paid out as a dividend, half bought back as shares. Investors can get their heads around that.
Turning to the technicals the share has failed a number of times at the US$100 level so far this year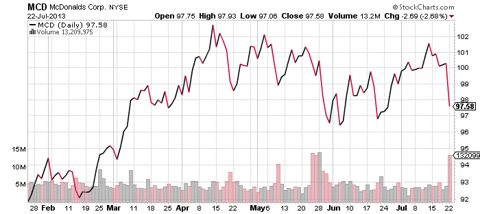 So what is my conclusion? Not an easy environment but the franchise continues to move forward. They are a survivor. I want to buy sub x12 EV/ebit which equates to US$93.5. At that level I think you have a good opportunity to trade the stock back to US$100 and probably pick up a dividend to augment the return. This consumer staple remains a bit expensive but it is getting more interesting... Keep it on your watch list.
Disclosure: I have no positions in any stocks mentioned, and no plans to initiate any positions within the next 72 hours. I wrote this article myself, and it expresses my own opinions. I am not receiving compensation for it. I have no business relationship with any company whose stock is mentioned in this article.